Analysis Of "Lidl"
Remember! This is just a sample.
You can get your custom paper by one of our expert writers.
Get custom essay
83 writers online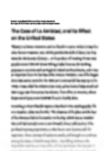 Introduction
Lidl is a German discount supermarket, operating a chain of over 9000 stores across Europe. In Germany Lidl has an upmarket image attracting the middle class. However, Bulgarian consumers perceive Lidl to be down market retailer attracting low income families.
History of the company
Schwarz Beteiligungs GmbH is the holding company of the Handelshof and Kaufland store chains and Lidl Stiftung & Co KG, a wholly-owned subsidiary which owns supermarket Lidl. The company was founded in Germany in the 1930's by the Schwarz family as a wholesale foods company under tha name Schwarz Assorted Wholesale Foods. The business was then destroyed in 1944. After ten years the business was rebuild and the first Lidl store opened in 1973. By 1977 the Lidl chain comprised 33 discount stores. Today Lidl operates approximately 9000 stores across 20 Europeans countries. In Bulgaria, Lidl opened the first store in 2010 and now services 64 stores across the country. The latest history of the company Lidl was clouded by the observation scandal in 2008. The company was accused of observing their employees. This scandal damaged their image. Lidl has appologized for the incident and has assured that they would promote immediate moves to prevent such incidents to happen again in the future.
Retail market in Bulgaria
Retailers in Bulgaria currently hold a market share of 35% and it is likely to reach 50% in 2014.At the same time, according to the Bulgarian Retailer's Association, the market has shrunk with one billion Euro for the last few years due to the declining consumption. While in 2008 the market was estimated at 12 billion leva, in 2010 it was estimated at 10.7 billion leva and 10.5 billion leva in 2011 (source: ICAP consultancy).
Competitors:
Top three retailers in 2013 are Metro Cash&Carry, Kaufland and Billa. The largest chain continues to be Metro. However, in 2013 it showed 12% lower sales although it has very good profitability of 9.5%. Kaufland makes every effort to take over the leading position although their profitability is behind the leader with 2.36%. It made more sale due to the new outlets. Billa ranks third (profitability of 2.48%). Its profits decreased substantially. The second group of chains is those which are relatively new on the market. Slovenian Mercator (Roda Market) has 4 outlets (two in Stara Zagora) and plans a new one in Sofia. The retailer operates at a loss and does not plan to make a profit although the strategy is to become at least the 5th largest retailer in Bulgaria.
Penny Market entered the country together with Lidl and they became true competitors. In 2010, the chain is on 12th position with 100 million leva (51.1 million Euro) sales. German HIT also registered a decline in sales. Maxima (T-Market) works at a loss due to opening of new stores, and plans to open 15-20 new outlets. A third group consists of smaller local chains. In most cases, they were acquired by larger retailers. Kaleia became a part of T-Market, and Verde was sold to a new owner in 2011. Increasingly, independent stores rebrand under the brands of larger retailers.
Lidl currently differentiate themselves in the market by offering quality products at a low price. However, the main reason why Lidl is not among top three retail companies in Bulgaria is that the company is perceived by the Bulgarians as being low quality and low price. Existing brands and strategy of Lidl
Lidl stocks very few market leading brands and mainly stocks their own unfamiliar captive brands, which encompasses food and non-food products. Many ranges focus on the ethnic origin of products. Its Italian brand Combino covers everything from dry pasta to pasta sauces; El Tequito signals Mexican food. Lidl offers also a fair trade brand, Free Globe, which provide Lidl consumers with an ethical alternative. Captive brands are in line with Lidl's operating strategy as a discount retailer. Own label, captive brands are cheaper than branded label products as Lidl controls the costs and production thereby ensuring higher profit margins.
Competitive Advantage
Consumers like private labels due to their price/quality ratio which is almost always good. Lidl tries to cover the full range of consumer products under their private label lines in order to attract as large number of consumers as possible. Private labels also bring benefits to local food manufacturers which are the usual suppliers. Lidl offers small local manufacturers the chance to sell their private label products abroad as well as in the country. Overall, however, these advantages remain underestimated by food producers. Most are still trying to maintain own brands but admit that the price difference for the same product under the own brand and under the private label is almost double, and the cost of keeping own brands grows so significantly that it becomes unaffordable for smaller companies. Ultimately, Lidl is more competitive, ensures a higher image, achieves a greater turnover, makes cost savings, achieves higher revenue and profits and creates customer loyalty through their private labels.
Social Responsibility
In the matter of the important topic Corporate Social Responsibility, Lidl started a project called "ECO2LOGISCH". This project is about building stores that are energy-efficient and sustainable. This is a new store generation. For example the new stores will be 100% heated using the waste heat from the refrigerated sections. Lidl plans that from 2010 on all Lidl-stores should be build "ECO2LOGISCH". With this project Lidl is the first food retailer which sets sustainable building services engineering as a standard. Another important social activity is the Green bus line "Vitosha". This line is financed by LIDL Bulgaria and transports citizens and guests from the National stadium "Vasil Levski" to Zlatnite mostove in Vitosha for free. The bus is in harmony with nature and everybody experiences positive emotions.
Organisational strategy
Lidl's no frills approach to retailing enables them to eliminate all extra costs such as carrier bags and customer services. It avoids expensive flooring, furnishing and uses basic fixtures such as pallets and simple shelving. Lidl do this in order to keep their operating costs as low as possible which allows them to maintain low product prices and offer their customers value for money. It also has a narrow product assortment, offering one or two items in each category. Therefore, the company is able to buy large amounts of stock achieving economies of scale, enabling Lidl to offer quality products at a low competitive price.
PEST analysis
Political factor: This factor determines on what degree the government intervenes in the economy. This can affect supermarkets such as Lidl in a number of ways. For instance, the minimum wage in Bulgaria is 340 leva. Not only does it affect Lidl, but also it affects the low-skilled workers. The reason is that the company would prefer to employ fewer workers because of the minimum wage. Taxation in Bulgaria also affects the company. The higher the income tax, the less disposable income consumers have. Therefore, Lidl makes less sales. Generally, the government plays a big role in the economy. Economic factors: The economic factors that influence Lidl include interest rates and cost of living. The interest rates affect the company's cost of capital, which determines whether it can grow or not. Lidl is stimulated to invest in Bulgaria by a favorable fiscal policy, flat corporate tax of ten per cent (lowest level in the European Union) and low operational costs.
Nevertheless, the country is still ranked as the lowest income member of the EU. As revealed by Eurostat data, the GDP per capita in Bulgaria expressed in Purchasing Power Standards stands at 40% of the EU-27 average based on latest GDP data. That is one of the reasons for the declining consumption in the country. Social factors: It is very important for Lidl that consumers spend more money in their stores. However, according to Industry Watch, private savings have increased with 30% during the last few years as a result of the economic crisis, which has threatened the financial security of many citizens. Households prefer saving in this difficult time and they cut largely on their consumption. Families are more conservative. Another problem is the demographic crisis in Bulgaria. The population has been increasingly declining for the last twenty-four years.
Political:
Government policies
Current legislation
Tax policy
Employment legislation
Economical:
Interest rates
Fiscal policy
Cost of living
Social:
Education
Consumer attitudes and opinions
Private savings
Major events
Technological:
Innovation
Communications
New technology
SWOT analysis
Sthrengths:
Weight:
1. Has private labels and a good range of other branded products too.
2. Strong online presence and online selling.
3. Placement, they build in deprived areas where cheap food is required. They sell reasonable food that appeal to all incomes.
4. Open on Sundays and holidays.
5. Has over 9,000 stores across Europe
0,35
0,26
0,22
0,12
0,05
Total: 1
Weaknesses:
Weght:
1.Still relatively small as compared to other brands
2. Hasn't been able to impact globally as there are a few other chain stores
3. Observation scandal
0,67
0,22
0,11
Total: 1
Opportunities:
Weight:
1.To gain a further strong hold in European markets
2. Expanding into growing economies like Africa, Asia etc
0,6
0,4
Threats:
Weight:
1. International expansion of other brand would increase competition
2. Price war with other retail chains brands
0,5
0,5
Five forces model
Buyer power
There is one important change in the consumer's behaviour to which the retailers have to respond to. Nowadays the importance of health gets bigger and bigger. The convenience food becomes less important and consumers are more interested in fresh and healthy food. Another important fact is the price. Because there is a wide range of large retailers in Bulgaria, the consumer faces no switching costs and thereby the retailers have to have an attractive price scheme. All in all the buyer power is moderate.
Supplier power
The big Bulgarian retailers often have a large range of suppliers. With this strategy the retailers ensure stability. They avoid possible delays in deliveries and price fluctuations. In addition to that some large retailers have started to sell own brand products. These two facts weaken the supplier power in the Bulgarian food retail industry. Generally, the supplier power is moderate.
New entrants
It is not easy for new entrants to enter the market because of the aggressive marketing and pricing schemes of the large retailers in the industry. Nevertheless there are low entry and exit costs in the food retail industry and the changes in consumer's behaviour gives new entrants a possible niche to enter the market successfully. Besides the low growths rate makes the industry not that attractive to new entrants. In conclusion the threat of new entrants is moderate.
Substitutes
The only real substitute to the food retail is the food service represented by fast foods restaurants, sit-down restaurants and delivery services. But for consumers the food service is more a complement than a substitute. A more direct substitute are individuals and families who cultivate their own food. This is no longer used nowadays but in the long term it is possible because of the changes in the consumer's behaviour and the threat of economically and politically instability. The threat of substitutes is therefore weak.
Rivalry
A high competition in the food retail industry exists. The main reasons for this are not the existing switching costs for the consumers. The similarity in the basic products of the large retailers pushes them into a competitive pricing scheme. This leads the price wars. These are encouraged by the consumers who are now comparing more and more. They have a look on special offers and the lowest price. The Bulgarian food retail industry has a lot of competitors. Therefore, rivalry is strong in this industry.
Conclusion
The financial crisis has a negative impact on shopping in Bulgaria. Therefore, Lidl needs to be able to compete on more than just price in order to retain more affluent consumers in the future. Thus, the company's personality should be distinct from its competitor's offerings. Lidl's brand personality reflects an outdated and cheap product range, which is negatively perceived by some consumers. In Bulgaria, Lidl's products lack symbolic meaning and have few strong associations with the company. In order to gain more market share, Lidl should be presented as honest and trustworthy, offering quality and fresh products at competitive price.
Resources:
www.icap.bg
http://www.capital.bg/klasacii/kapital_top_100/2013/07/16/2103477_k100_riteil_edna_malko_po-dobra_godina/ Retail market report (from 2012, prepared by Mila Boshnakova)