How to Write a Descriptive Essay
Remember! This is just a sample.
You can get your custom paper by one of our expert writers.
Get custom essay
75 writers online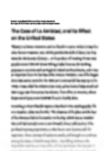 Descriptive essays are often subjective tasks. The first issue at hand is to make sure you know what type of paper you are writing. The descriptive essay is often creative, personal, or simply artistic. Discuss the assignment with your professor or teacher before you begin. Even though your descriptive essay is more personal than a standard five-paragraph or compare-contrast essay, there is still quite a bit of homework to be done. Here is a list of important rules to follow as your write this essay.
1. Understand the concept;
2. Do your research;
3. Outline the paper;
4. Write the paper;
5. Re-write the paper;
6. Edit (outside editors).
Descriptive essays rely on their nominal stature. It is more important to use imagery and metaphorical language than scientific data. Descriptive essays are not mathematic entries, nor are they always factual. They are opinions. Consequently, you can try to write and describe anything you desire. You simply have to do it well. As horrible as that sounds, your professors and teachers will tell you the same thing. Here are some tips to remember when writing your descriptive essay:
1. Actually describe something;
2. Use concrete and abstract images;
3. Use concrete and abstract ideas;
4. Do not go overboard with adjectives and adverbs;
5. Do not go overboard with similes and metaphors;
6. Give it to someone else to see if your essay actually describes something. While it may seem rather vague initially, sometimes a descriptive essay can be the most liberating and pleasurable essay to write. You are just writing something as you see it. If you can prove and describe an idea or image in language, then you have accomplished your task. Documentation and hard research are not always necessary components (although they may be).
What is a Descriptive Essay?
http://owl.english.purdue.edu/owl/resource/685/03/
The descriptive essay is a genre of essay that asks the student to describe an object, person, place, experience, emotion, situation, etc. This genre encourages the student's ability to create a written account of a particular experience. What is more, this genre allows for a great deal of artistic freedom (the goal of which is to paint an image that is vivid and moving in the mind of the reader). One might benefit from keeping in mind this simple maxim: If the reader is unable to clearly form an impression of the thing that you are describing, try, try again! Here are some guidelines for writing a descriptive essay:
Take time to brainstorm
If your instructor asks you to describe your favorite food, make sure that you jot down some ideas before you begin describing it. For instance, if you choose pizza, you might start by writing down a few words: sauce, cheese, crust, pepperoni, sausage, spices, hot, melted, etc. Once you have written down some words, you can begin by compiling descriptive lists for each one. Use clear and concise language.
This means that words are chosen carefully, particularly for their relevancy in relation to that which you are intending to describe. Choose vivid language.
Why use 'horse' when you can choose 'stallion'? Why not use 'tempestuous' instead of 'violent'? Or why not 'miserly' in place of 'cheap'? Such choices form a firmer image in the mind of the reader and often times offer nuanced meanings that serve better one's purpose. Use your senses!
Remember, if you are describing something, you need to be appealing to the senses of the reader. Explain how the thing smelled, felt, sounded, tasted, or looked. Embellish the moment with senses. What were you thinking?!
If you can describe emotions or feelings related to your topic, you will connect with the reader on a deeper level. Many have felt crushing loss in their lives, or ecstatic joy, or mild complacency. Tap into this emotional reservoir in order to achieve your full descriptive potential. Leave the reader with a clear impression.
One of your goals is to evoke a strong sense of familiarity and appreciation in the reader. If your reader can walk away from the essay craving the very pizza you just described, you are on your way to writing effective descriptive essays. Be organized!
It is easy to fall into an incoherent rambling of emotions and senses when writing a descriptive essay. However, you must strive to present an organized and logical description if the reader is to come away from the essay with a cogent sense of what it is you are attempting to describe. How to Write a Descriptive Essay
by WriteExpress Staff Writers
http://www.writeexpress.com/descriptive-essay.html
More than many other types of essays, descriptive essays strive to create a deeply involved and vivid experience for the reader. Great descriptive essays achieve this affect not through facts and statistics but by using detailed observations and descriptions. What do you want to describe?
As you get started on your descriptive essay, it's important for you to identify exactly what you want to describe. Often, a descriptive essay will focus on portraying one of the following:
a person
a place
a memory
an experience
an object
Ultimately, whatever you can perceive or experience can be the focus of your descriptive writing. Why are you writing your descriptive essay?
It's a great creative exercise to sit down and simply describe what you observe. However, when writing a descriptive essay, you often have a particular reason for writing your description. Getting in touch with this reason can help you focus your description and imbue your language with a particular perspective or emotion. Example: Imagine that you want to write a descriptive essay about your grandfather. You've chosen to write about your grandfather's physical appearance and the way that he interacts with people.
However, rather than providing a general description of these aspects, you want to convey your admiration for his strength and kindness. This is your reason for writing the descriptive essay. To achieve this, you might focus one of your paragraphs on describing the roughness of his hands, roughness resulting from the labor of his work throughout his life, but you might also describe how he would hold your hands so gently with his rough hands when having a conversation with you or when taking a walk. How should you write your description?
If there's one thing you should remember as you write your descriptive essay, it's the famous saying: show don't tell. But what's the difference between showing and telling? Consider these two simple examples:
1. I grew tired after dinner.
2. As I leaned back and rested my head against the top of the chair, my eyelids began to feel heavy, and the edges of the empty plate in front of me blurred with the white tablecloth. The first sentence tells readers that you grew tired after dinner. The second sentence shows readers that you grew tired. The most effective descriptive essays are loaded with such showing because they enable readers to imagine or experience something for themselves. As you write your descriptive essay, the best way to create a vivid experience for your readers is to focus on the five senses.
sight
sound
smell
touch
taste
When you focus your descriptions on the senses, you provide vivid and specific details that show your readers rather than tell your readers what you are describing. Quick Tips for Writing Your Descriptive Essay
Writing a descriptive essay can be a rich and rewarding experience, but it can also feel a bit complicated. It's helpful, therefore, to keep a quick
checklist of the essential questions to keep in mind as you plan, draft, and revise your essay. Planning your descriptive essay:
What or who do you want to describe?
What is your reason for writing your description?
What are the particular qualities that you want to focus on? Drafting your descriptive essay:
What sights, sounds, smells, tastes, and textures are important for developing your description? Which details can you include to ensure that your readers gain a vivid impression imbued with your emotion or perspective? Revising your descriptive essay:
Have you provided enough details and descriptions to enable your readers to gain a complete and vivid perception? Have you left out any minor but important details?
Have you used words that convey your emotion or perspective? Are there any unnecessary details in your description?
Does each paragraph of your essay focus on one aspect of your description? Are you paragraphs ordered in the most effective way?