10 years from now
Published:
22 February 2016
Remember! This is just a sample.
You can get your custom paper by one of our expert writers.
Get custom essay
97 writers online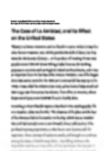 My primary goal over the next ten years is to graduate from the University of Florida. I will major in advertising and possibly minor in business administration. I will graduate with a Masters of Advertising (M.Adv.). In order to get this degree, I have to complete at least one hundred and twenty-four hours of credits. Some of the classes I will need to take for my major are Principles of Macroeconomics, Principles of Advertising, Advertising campaigns, and Media Planning. To earn a Masters of Advertising, at least thirty-three credits are required excluding undergraduate courses throughout the university. There are eighteen core credits out of the thirty-three. Some Classes unique to my degree are Advertising Planning, Advertising Theory, and Creative Advertising Strategies. Electives such as International communication and Advanced Media Planning are also required. A Business Administration minor at the University of Florida provides an overview of the major practical elements of business for non-business UF undergraduates. This minor can be completed on line, at UF or through a study abroad program. To earn a Business Administration minor, twenty four credits must be completed while maintaining a 2.0 or higher GPA in the minor. Obtaining a master's degree would be beneficial in that a higher pay is earned and greater expertise in that subject is attained. The average tuition cost for undergraduates living either on or off campus at the University of Florida is $20,220. My schooling will be paid for by family savings and a Bright Futures scholarship. During my time at the University of Florida I would like to study abroad. My top locations are Madrid, London or Rome. Studying abroad would be a great experience. Through this program I could improve and increase my language skills, gain different perspectives on vital global issues, encounter new things and meet new people.
The Department of Advertising at the University of Florida strongly encourages students to gain work experience through internships. Although internships are not required, they can have great benefit in the long run. Through internships, my interest, motivation and willingness to work hard could be noticed by future coworkers, clients and bosses. After completing schooling and internships I hope to become a Director of Public Affairs in Tampa, Florida. Directors of public affairs are responsible for developing effective communication plans that strengthens brand promise, create and launch new media and marketing and to resolve public affairs issues. Qualifications for this position include a Bachelor's degree in Communications, Public Relations or Journalism. Strong media relations skills and strong relationships with key media outlets such as print, television, bloggers and radio are preferred. The ability to multi task and to take initiative in a fast paced environment is favorable. The median pay for a Director of public affairs in Florida is $58,000. The tax rate for that income is $7,929 or 14.74%. A Director of Public affairs works with the management and assigns tasks to the staff. To ensure and maintain the company's good reputation, the Director of Public Affairs must supervise and review the activities of the staff.
In ten years, my main form of transportation will be by car. One of the most important factors considered when buying a car is price. I lean towards bigger cars such as a GMC Tahoe or a Honda Pilot. The estimated average cost of either of these cars ranges from $18,000 to $30,000. One of the disadvantages of driving a larger car is the high cost of fueling. As a result of the low MPG, a larger sum of money will have to be budgeted for gas every month. Before I begin the search for a car, a target price should be determined. It's important to also consider how much the car can be sold or traded for in the future. Another factor to consider is whether the car will be new or used. New cars are favorable because the car won't have any unknown problems prior to purchasing it. Used cars are beneficial due to their lower prices and shorter financing periods. In my opinion, the benefits of a used car outweigh the disadvantages. The ability to travel will play a key role in my job selection. I would like to travel around the world to places I've never been including places such as New Zealand, Australia, Italy, and Spain. I would also love to be able to go back to Scotland to see my family and visit parts of the country I've never seen.
Tampa, Florida would be my ideal city to live in. Downtown Tampa is the central business district of Tampa. Living in a two bedroom apartment with a roommate would make the most sense, financially, when I am starting my career. Bell Channelside is an upscale apartment community that would be suitable to both my needs and wants. The average cost for a two bedroom apartment at Bell Channelside ranges from $1442 to $1750 with a down payment of $300. These apartments have an impressive walk score of 82. The Tampa Aquarium, Channelside Bay Plaza, nightlife, dining and shopping are all in walking distance of Bell Channelside apartments. They are also conveniently close to the I-275 and the Crosstown Expressway. The crime rate in Downtown Tampa is less than 42% of the cities in Florida. Contrary to what many may assume about Downtown Tampa, it is safer than 77.9% of the neighborhoods in Tampa.

In order to stay out of debt and to maintain my funds, I will have to budget my spending. Ten years from now, student loans will likely still need to be paid off. Falling into debt would add unnecessary stress and would delay paying off my student loans and prevent me from investing for the future. The average yearly pay of a Director of Public affairs is $58,000 which calculates to an estimated $4,833 every month. A minimum of $750 will be paid each month for rent. Monthly utilities usually aren't included in the rent so at least $50 should be set aside for groceries and $65 to $90 for gas. The pie chart in the figure above breaks down the cost of living expenses in Tampa based on a monthly income of $4,000. I will also put money into long-term investments. Long term investing will aid future purchases and savings for houses, education and funds for traveling. If I stick to my budget and follow my plan, you will be able to find me living in Downtoan Tampa, working as a Director of Public Affairs, and driving a slightly used Honda Pilot in 2023.