Traffic jam
Published:
27 February 2016
Remember! This is just a sample.
You can get your custom paper by one of our expert writers.
Get custom essay
76 writers online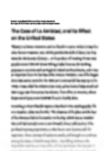 Men have stepped on the moon. Now they are going from one place to another within few hours. World fastest car is able to sprint 252mph, but the citizens of Dhaka (sometimes) cannot reach few miles to Gulistan from Mohakhali or any other place to our destination place within hours. You must go out from your house before two or three hours to reach destination which is only 20 or 30 minutes required. Who is responsible for this? Traffic jam is that magician. Traffic jam has become a great monster in our modern life. Traffic congestion is not only affecting our business but the education sector as well. Students cannot do other tasks such as photocopying or collecting notes before attending class in the morning because a lot of time gets wasted on traffic congestions. It wastes lot of working hours of students as well as teachers. In many occasions, students and teachers fail to attend classes in due time. And it is more painful when students fail to reach exam halls and fails just due to a social problem. Now just think everyday how much national time is wasting, how much economical activities are losing, for the traffic congestion problem. This assignment is focusing current situation of traffic congestion problem in Dhaka city.
What is Traffic jam? A traffic jam is a long line of vehicles that cannot move forward because there is too much traffic, or because the road is blocked by something. Over the last few years the traffic congestion problem of Dhaka City has visibly been deteriorating steadily. Limited resources, invested for the development of transport facilities, such as infrastructure and vehicles, coupled with the rapid rise in transport demand, existence of old transport and also huge number of non-motorized vehicles on roads, lack of application of adequate and proper traffic management schemes are producing severe transport problems in almost all the traffic route in Dhaka. Citizens constantly complain about the intolerable problems of traffic jam.
Background
Bangladesh is a populous country & Dhaka, as the capital of Bangladesh, has to accommodate a large share of this population. There are 18 Special Planning Zones (SPZ) in the Dhaka Metropolitan Area, where population has already crossed 11 million. Every year population is increase at the rate of 7 percent in Dhaka. Dhaka Metropolitan Area is expected to become one of the largest cities within the early next century. Everyday lots of people move to Dhaka for the purpose of earning money. Day by day the number is increasing and most part of Dhaka is badly affected by the population growth. Traffic jam has turned daily trips into nightmares to the people of Dhaka. The business community inevitably suffers for the constant waste of its most precious resource of time. Other commuters of being stuck in traffic jam for hours an end, while residents breathe in a lot more lead and almost 10 percent of its population seeks medical treatment each year for air pollution (Faulty vehicles, old vehicles, especially diesel run vehicles, and dust from roads contribute to air pollution) related respiratory illness.
The number of automobiles has been increasing in Dhaka city at the rate of at least 10 percent annually, which has been contributing to air pollution on the one hand and traffic congestion on the other. At rush hour, a distance of three to four kilometers can take about an hour to reach. Destinations like Gulisthan, Motijheel, Old Dhaka, Maghbazar, Malibagh, Gulshan, and Dhanmondi are nightmares for commuters from any point in the city. Especially frustrating are the points Hotel Sonargaon crossing, the road in front of the Prime Minister's office, Maghbazar, Mouchak, Malibagh, Khilghaon, Rampura, Elephant Road, Science Laboratory, Green Road, Jatrabari, Sayedabad, Mohakhali and old parts of the city mainly at Dholaikhal, Postagola, Bangshal, and Chowkbazar. People miss important appointments; are late for work, children and old people fall sick, not to mention the painful site that most of us choose to ignore – a blaring ambulance stuck in the middle of a traffic jam trying desperately to find a way. The heat released from the engines, especially the private cars that use air conditioners, increase the overall temperature of the city. Continued exposure to pollution from the streets during traffic jams, will have grave consequences in the future health of these people. The economy, meanwhile, is losing out in millions because of traffic jams. Government officials' estimate a loss of around tk15000 crore annually because of traffic jams.
Transport System of Dhaka
The transportation system of Dhaka is predominantly road based where non-motorized transport mainly rickshaw has a substantial share. Dhaka Metropolitan has heterogeneous traffic flows. Rickshaws are the dominating mode of public transport. Trips made by public transport especially buses are very low. A substantial part of total traffic is non-motorized vehicles which enhance serve congestion especially in road intersections. The contribution of Bangladesh Railways (BR) to urban public transport is very small. We listen about big plans of elevated express ways, underground metro rails etc., but in reality it is hard to believe that these plans can ever be materialized by this poor nation having massive corruption in all sectors, from judiciary to education. The 20 year Strategic Transport Plan (STP) includes 17400 square km of water and surface ways in Dhaka and neighboring Narayanganj, Narshingdi, Munshiganj, Gazipur and Manikganj districts. Metro train services, elevated motorways, Bus Rapid Transit (BRT), construction of roads connecting the east of the capital to the west, flyovers, footbridges, new roads, and repair of damaged thoroughfares are the main features of the plan. Under the plan, the government will construct and reconstruct 330 km of roads and highways including 50 new roads, flyovers, elevated expressways, metro (underground railway), circular waterways, bus rapid transit, rapid mass transit, bus-route rationalization, traffic system development and safe environment. The Major factor behind traffic Jam
There are many reasons behind traffic jam in Bangladesh. Among them some major factors are as follows:
1. Around 60 percent of the city roads are encroached by hawkers, and dumping of construction materials. 30 types of motorized and non-motorized vehicles are plying on the same street, causing haphazard traffic jams.
2. Undisciplined traffic signal in the road and also faulty traffic signaling systems. Traffic police have to maintain the signaling system. Sometimes they maintain the signal manually, which may create more congestion problem.
3. Unplanned growth of Dhaka, Dhaka centric development of the country, the lack of east-west connecting roads, unplanned construction inside the city, and increased number of private transports has the contributory factors to traffic congestion.
4. Indiscipline attitude among the road user, driver don't comply with traffic rules.
5. No knowledge about traffic rules which encourage people to violating the rules.
6. Outside the mall and right beside the road, occupation of tea-stalls and shops make difficult for pedestrians to use the pathway.
7. Enforcement of rules by dishonest persons (traffic police) who are busy in collection of illegal money from traffic rules violators.
8. Dhaka City has very inadequate road networks. For a standard city, where the minimum road requirement is 25% to 30%, Dhaka has only 7.5% road of its total area.
9. Illegal parking is another reason for traffic jam. Cars, trucks and other vehicles are parked almost everywhere.
10. Some traffic police officers are busy for extracting money for the illegal parking and violation of signal by stopping the vehicle in the middle of the road.
11. Inadequate manpower and narrow road spaces and overtaking tendency of drivers create pro-longed traffic congestions and intensify sufferings of commuters keeping people motionless as well as creating suffocating condition in the streets
12. There are bus terminals not authorized by the traffic department and the bus drivers do not go by traffic rules. Also buses stop randomly to pick up and drop passengers.
13. Each day around 80 trains enter and exit the city, which causes six hours halt of traffic in total through each level crossing. Such types of level crossing create intolerable congestion at Magbazar, Mohakhali, Staff road, Karwan Bazar and other places.
14. VIP protocol maintaining is another reason for frequent traffic jams in the streets
15. Divider problem in the city's different important roads also causes congestion.
16. On the same road the uncoordinated road digging by Dhaka City Corporation (DCC), Dhaka Electric Supply Authority (DESA), Water and Sewerage Authority (WASA), Bangladesh Telegraph and Telephone Board (BTTB), Titas Gas and other utility service providers without any integration together make reasons for further road congestion.
17. In any roundabout in Dhaka the plying CNG, rickshaw, bus, etc form multiple lines. They do this to grab a tiny space out of sheer desperation.
18. Most of time, we see that during jam traffic police just let one side go for like 5 minutes or more which increase the jam more. They should manage it more professionally.
19. With mass transport not allowed through BUET and DU it creates excessive pressure on the adjoining roads.
20. Illegal occupation of roads by small traders and vendors is one of the causes of traffic jam in the town. No one is aware about it. Bus drivers are mostly responsible for traffic jam. They even don't care about the traffic rules and signals, which may create the congestion.
21. Now a days the number of buses increases day by day. And the local buses are run very faster. They don't maintain the rules of the street. They just drive and occurring heavy traffic jam.
22. The numbers of old transportation are still in Dhaka city. Those are illegal. They don't have their fitness. But they are still running in the Dhaka city.
23. More than seven hundred thousand rickshaws ply the city road, but only seventy five thousand have legal number. This huge number of rickshaws is creating traffic congestion. From time to time attempts are made to reduce the number, but the initiative usually produces no results.
24. Most foot-over bridges and underpasses remain unutilized by the pedestrians reasoning dark and dodgy atmosphere inside as billboards block view from outside. Unhygienic passageways, steep stairs and pathway encroached by hawkers make it difficult to move on the bridge and that's why they don't want to use the foot-over bridge.
25. Many compressed natural gas (CNG) refueling stations and petrol pumps are located near to the intersections that disturb or block the streets when large queues of vehicles break into the road. Although there is rule to set up refueling stations having vacant spaces to accommodate thirty vehicles to wait inside the compound, it has been overlooked.
26. A lot of the plush shopping malls in the city have resulting illegal road occupation by vehicles. Between Panthapath and Sonargaon intersection the traffic jam at anytime of the day is horrible because of the city's biggest shopping mall constructed in the area.
27. Some people don't want to use the parking space, too many people are habituated and love to park them on the street so that can resulting traffic congestion.
28. The fines for traffic violations are too meager to raise fear to the violators. The following remedial measures can be adopted for eliminating the traffic congestion problem in Dhaka city. Here three types of remedial is discussed – Short term suggestions
1. All offices should start at 7.30 AM and all education institutes should start at 8 AM, Banking should start at 9 AM and all can be end within just 2.30 PM, 4.30 PM & 4 PM.
2. Water transport should be established like other developed countries surrounding Dhaka city. By that WASA don't need to block the street.
3. Population control must be implementing as very strictly like china, if we cannot control over the population then we cannot give the place to our next generation. From now, from today we should not take more than one child.
4. Pedestrian facilities should be increase. Cycle path should be provide
5. Political interface must be avoid
6. There should be a whole "park" to educate on traffic system for the residents and children especially since one of the main reasons for road accidents and drivers not following rules is because of the abundance of fake licenses
7. Through lane system different sort of vehicle will run in different lane. If any driver breaks the rule he has to face some legal consequences like jail and financial penalty.
8. The government has divided Dhaka into seven zones with shops and businesses in each to observe a different weekly holiday, which may resolve some pressure of traffic.
9. People are habituated and thus love using the shortest way by crossing over the street. Now, that it poses risk for the vehicles and create unnecessary traffic block let apart risking the pedestrians' lives, are not their concern. Create awareness to the people to use the foot over bridge, and zebra crossing to passing the road. Also make the passageway clear and hygienic to motivate people to use the foot-over bridge and underpasses.
10. Rickshaw and other non-motorized vehicle strictly banned from the street.
11. The rules for CNG refueling station have to be strictly maintained. Those are overlooked the rule are not able to do business. Midterm suggestion
1. CNG conversion for all types of personal cars (Private cars, light motor vehicles etc.) will need to be forbidden. This is to reduce traffic congestion on the streets of Dhaka city. In Bangladesh the price of CNG is comparatively cheap as a consequence many private vehicles were in the streets. In the year 2009 the number of registered vehicles was 5lac and 27,000 among these 2lac are private vehicles.
2. To reduce air pollution and traffic congestion in Dhaka city, the use of private motor vehicles must be abridged.
3. The number of rickshaw pullers is vast. Almost there are no roads or street or lane for them. So, DMP need to make an extra lane for keep the road free from traffic jam.
4. Installing of CCTV sets to monitor traffic movement.
5. Free the footpaths from illegal occupation of hawkers and bus counters.
6. Private vehicles with less than four or five passengers would not be allowed to ply the city streets.
7. From now the capital city of Dhaka should be blocked or fixed for limited persons as who can maintain living status of education, rules-regulations, civic sense, morality, regular tax payer and good service contributor etc.
8. The highway bus, truck enter and travel the city between 11pm to 6am. Other than it is banned to travel in city highway.
9. BRTC have to create lots of bus stoppage in the street but in a planned way, basically those place where so crowded. Without those stoppage any bus are not allow to stop. And also stoppage should be outside from the street, otherwise buses occupying road spaces which may block the traffic flow.
10. Traffic management system has to be stronger enough. Every driver should have to follow the traffic system. DMP have to create some steps by those citizens and drivers are able to make some knowledge about the traffic system. If the people are well known about the signal system than it will stop them to violating the traffic system.
11. In front of every shopping mall an extra road need to construct as a stoppage.
Long term suggestion
1. Government can shift all wholesale markets, government administrative offices, Dhaka central jail, all industries, tanneries, to outside of Dhaka city. Industrializations should be based on upozilla; it should not depend on metropolitan cities. Then rural areas will grow up step by step.
2. Every school has to own the transport for the student – especially at the primary level. There are around 400 private & government schools in the capital. BRTC has already launched bus service for school going students to ease off traffic jam in the capital.
3. All import-export connected offices should go to near port areas of Chittagong or Mongla, or in on the way to any port where they can send the goods easily for shipment. There is no need that those offices are to be Dhaka based.
4. DHAKA city's public transport service may have improved somewhat over the past year with the introduction of new Bangladesh Road Transport Corporation (BRTC) buses on major routes but it is not yet to be good enough to be of 'capital quality'.
5. All main roads should be one way. All type car parking must band in all roads.
6. Stopping of buses in middle of roads should be band except bus stops. All type stands of buses trucks, taxies, CNGs etc should band in the roads.
7. Flyovers are constructed at important intersections to reduce traffic congestion. Expressways should be introduced for passengers to cover long distances over busy routes, like from Gabtoli to Motijheel, Gulistan to Airport directly without any stoppage.
8. The city's lone dependency on surface transportation system should be diversified to monorail, metro rail, and elevated expressways. Like other developed countries in the world we also have to build the underway monorail, which minimize the traffic congestion.
9. There are lots of vehicles are travel in Dhaka but the parking place is very few. So, to minimize the traffic congestion government have to Increase Street parking facilities.
10. In Dhaka there are lots of school, college, and university, some of which were construct in front of main street, some of which were residential area and also some were in commercial area. Those have to build in some specific area, not to build in the residential or commercial area or in front of the street.
Conclusion
While very little can be done to change the larger picture now, there are a number of smaller factors which aggravate the traffic situation in the city. Mega city Dhaka would get better result through traffic management, physical restriction on car use, parking control, bus priority and provision for cyclists and pedestrians. While relocating some of these establishments may not be feasible any longer, especially since the university campuses have become an integral part of city life, which the authorities in these institutions could allow a better flow of traffic during extreme traffic scenarios and the government should develop alternate roads and flyover along these places to smoothen the flow of traffic. Road building is a supply side measure taken on the basis of time saving but added that over the last decade, there has been a change of emphasis because of the notion that supply generates its own demand.
The BRTA have to stop registration of small cars for a certain time and increase gas price have been shelved on the ground of socio-economic and political impact. Most of the cases, if any decision taken has gone against a certain quarter was either withdrawn or halted in the middle of implementation. The BRTA is yet to be strict on issuing new driving license and those of drivers driving with illegal vehicles. It has not done any improvement in its training module for both new and semi skilled old drivers keeping mind of the time. But the drivers are the forces responsible for killing more than 3000 people every year and deteriorating the traffic jam situation occupying the maximum road capacity. The minister admitted the government's failure in controlling the traffic situation in Dhaka. My point is failure or success comes after taking an action. But the government did not take any action at all to solve the problem.