Essay on 1983
Published:
18 September 2015
Remember! This is just a sample.
You can get your custom paper by one of our expert writers.
Get custom essay
84 writers online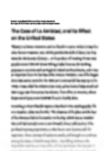 Different dictionaries provide a number of meanings to the word fool. Firstly, the word fool perhaps implies "a silly person", "a dumb" or even a "dunderhead". Apart from these negative connotations to the word fool, the term could also mean, "a professional in counterfeiting folly to draw entertainment for others, a clown, or a jester". Besides, a fool could a character in a script of other literal work that is created and manipulated to feature a fool. In Twelfth Night by William Shakespeare, there are several unconventional fools other than the clown Feste. Feste and the cauldron of fools in the play dexterously combine their unusual traits and wits to stimulate other characters into their charade eliciting their own form of foolery. This paper explores the role of the fool in William Shakespeare play, Twelfth Night.
To begin with, Feste plays a significant role in the Twelfth Night by William Shakespeare in the Illyrian society. He features a transcendental ringleader capable of trouncing conventional social hierarchies and leading them in his own views and interests, aside from the intense criticism of his environment. Feste's significance in the play is well embedded in his ability to socialize and interact with the nobles and the common with equal ease. In the play, Feste is an employed clown of Olivia's late father. Therefore, he is an "official fool" implying that he is permitted to speak the truth to people surrounding him (Act I. Scene V). This role reflects Feste and truthful fool in this Illyrian society, even though he mirrors a critic of his environment.
William Shakespeare also injects humor in the play through the characters and mannerism of Feste. For instance, Feste emerges as a conventional fool when he clad as the curate, Sir Topaz. He goes on to visit the imprisoned Malvolio incarnated as Sir Topaz in the company of like fools, Sir Toby and Maria. Shakespeare exerts a shower of humor and wit in the play through the Feste's charade. Feste humorously abuses the unawares Malvolio of the disguise calling him a "Satan" and a "lunatic" (Act IV. Scene II). In a punning twist and turns of words, the in-disguise Feste cum Sir Topaz wittingly confuses Malvolio bringing out the fool in the latter. Incidentally, Malvolio featured as an intentional ruin to people's pleasure in the play. Therefore, Feste's folly dawns an acceptable and just behavior among the audience in light of his condemnable actions.
Feste represents a genius with words character in the play. He has a knack for witty repartee and word play. Indeed, this justifies Cesario's description of Feste as the "wise fellow to play the fool" (3.1.14). Besides, Feste's penchant for excellent sizing up situations is dramatic and significant in the play. He points out other character's folly drawing a couple of bucks and a laugh. For instance, Feste's shrewd description of "the greedy and drunk" Sir Toby in an honest and humorous mockery justifies to the Elizabethan audience his legitimacy as a licensed fool. Notwithstanding, this folly acts offers an honest insight to the audience of the concealed and dark secrets and aspects of a character in the play.