Additive manufacturing technologies: rapid prototyping to direct digital manufacturing. 3D Printing
Published:
10 January 2016
Remember! This is just a sample.
You can get your custom paper by one of our expert writers.
Get custom essay
95 writers online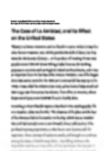 Technology is becoming an imperative aspect of the modern world; industrial and domestic applications are capitalizing on technology to improve services and product production. Technological trends are increasingly phasing out the conventional models of manufacturing and replacing them with up to date processes. 3D printing is a modern manufacturing process that is gaining much popularity in the engineering realm. The manufacturing concept is introducing technological shifts in product development and manufacturing processes.
3D printing, professionally referred to as additive manufacturing, is a manufacturing process with the capacity to make a three dimensional solid item from a digital model. 3D printing applies an additive manufacturing process in which layers of materials are added to each other; hence the name, additive manufacturing (Gibson & Rosen, 2010). Creating a 3D printed object involves applying an additive process of putting layers of a material together until the object is created. This is contrary to conventional manufacturing processes that capitalized on removal of materials or a subtractive process. Gibson & Rosen (2010) argue that using a Computer Aided Design in an additive manufacturing program, a virtual design is constructed and, consequently, leads to the creation of a new product. Through technological growth in the 21st century, 3D printing uses computer control to apply the additive manufacturing process. Su et al (2012) highlight that the pioneer successful attempts of additive manufacturing (3D printing) stemmed from technology developed in the 1970s. The technology underwent rapid developed and has been in constant use in the last 20 years. Industrial application of 3D printing has been on the rise.
There are diverse technologies used in the realization of the additive manufacturing process. In other words, 3D printers use various technologies to come up with 3D printed objects. The differences arise from the mode of arranging the layers to come up with a 3D object. According to Ilyas (2013), the Selective Laser Sintering and Fused Deposition Modeling technologies use softening or melting materials to come up with the additive layers. Stereolithography (SLA) uses photopolymerization processes to solidify liquid layers. An ultraviolet laser is responsible for the solidification of the liquid ultraviolet photopolymer, which joins the layers together.
Wohlers (2012) asserts that application of 3D printing has expanded to industrial purposes, construction companies, architectural designs, clothing, footwear and jewelry companies. Rapid prototyping is an application of 3D printing that has been widely used for industrial purposes. Industries use the technology to create a huge number of prototypes for their manufacturing processes. Initially, manufacturing companies would spent huge sums of money to create a prototype and wait for a long time before applying it. Additive manufacturing is increasingly proving useful in developing prototypes in the initial development stages of a product; hence, reducing the amount of time needed to develop the product. Thus, rapid prototyping in 3D technology has made it possible for companies to produce a vast number of prototypes at a reduced cost. For instance, companies like Nike capitalize on 3D printers to develop prototypes of shoes, which would have historically cost them time and money. Rapid manufacturing is another application of 3D technology that makes it possible to develop products that are ready for the final manufacturing process. Through the success and growth of additive manufacturing, it is possible to manufacture finished components directly.
Gibson & Rosen (2010) adds that mass customization has taken root in the technology industry today whereby companies are allowing their customers to customize objects through internet-based customization software. The customers can then order their customized items as 3D printed objects. For example, Nokia has taken the 3D application a notch higher by developing 3D designs for its case, and allowing its customers to customize cases for their phones, which are in turn 3D printed. Therefore, 3D application is a significant technology that makes it possible for users of various items to customize them to suit their tastes and preferences.
Moreover, mass production of objects has been made possible through 3D printing technologies. It is possible to make multiple prints concurrently through the technology. Mass production of 3D printed objects takes into consideration the different elements of the products. The possibility of mass production stems from the increased speed in the manufacturing process. Through the aid of digital technology, companies continuously apply the 3D printing technology in producing a vast number of objects at a lesser cost.
Su et al (2012) argue that the field of research has also widely capitalized on this technology especially in biotechnology. In this field, scientists have developed frameworks of using 3D technologies in creating body organs. In this technology, layers of cells are put on gel mediums and built to create 3D structures. Experts refer to this technological application as computer-aided tissue engineering.
Additive manufacturing or 3D printing presents a number of substantial advantages that distinguishes it from the traditional manufacturing process. Ilyas (2013) points out that speed is an imperative aspect of 3D printing. With utilization of the 3D printing technology, it is easy to print prototypes on demand within a short time. Moreover, it is possible to make parts of objects faster than before. The high speed of production is an advantage to companies as it saves them time to work on other manufacturing processes. Additive manufacturing is also cost effective because there is no need of creating a mold, which is expensive and time consuming. Changes to a design are made without any extra costs because of the high technology involved. The computer software applications enhances the manufacturing process; hence making it inexpensive.
Of importance still is the freedom of design in 3D printing. The freedom of design precipitates from the ability to customize a design to suit special needs and preferences. Additionally, changes to designs can be done quickly and with ease. Contrary to conventional manufacturing processes, 3D printing eliminates the constraints of subtractive processes, which might prove difficult in the end. On the same note, 3D printing is convenient because the designing and production processes can take place at the same place. Ideally, there is no need for tight scheduling in additive manufacturing because the process is less difficult.
Additionally, Ilyas (2013) highlights that 3D printing is vital in enhancing a manufacturing process that is design-motivated. In such applications, it is the design that influences the production process. This is critical in the production of complex structures that have the capacity to maintain functionality in different conditions. The varied applications of additive manufacturing are a clear demonstration of the creativity involved in the production process. Indeed, with the huge advantages edged in the technology, it is a viable alternative to the traditional manufacturing processes.
The future of additive manufacturing is certain, bearing in mind the trends that the technology is taking. Since its inception, the technology has brought numerous changes in the industrial and commercial realms, with companies realizing its potential in products production. 3D printing is an imperative process in realizing the concept of production on demand. Thus, companies are largely focusing on utilizing the technology because of the benefits it accords to them.
Advocates of the technology argue that 3D will definitely transform the manufacturing industry. With applications in virtually every pertinent sector in the public realm, it is undoubtedly, that 3D printing will continue to influence product availability and the products that people use. Development of products will certainly take the shape of the ever-increasing demand for customized products. The need for quality products will ultimately rise because of the influx of the technology in many industries. Therefore, companies will continue to capitalize on the technological revolution to bring into the market products that fit the descriptive standards of the consumers.
It is also widely expected that 3D printing will have a huge impact on commerce in the future. With the expansive trend on the technology and the ever-increasing applications of the technology, it is possible that customers will shift to personal manufacturing instead of buying products from companies. Customization knowledge and design freedom is increasingly motivating people to be on the forefront in the utilization of 3D printing. With 3D printing in the public domain, companies should brace themselves for a major commercial shift in respect to trading relations. Definitely, 3D printing is a manufacturing process that has, and will continue to revolutionize the industrial platform, as we know it.
References
Gibson, I., & Rosen, D. W. (2010). Additive manufacturing technologies: rapid prototyping to direct digital manufacturing. New York: Springer. Ilyas, I. P. (2013). 3D Machine Vision and Additive Manufacturing: Concurrent Product and Process Development. IOP Conference Series: Materials Science and Engineering, 46(3). Su, X., Yang, Y., Yu, P., & Sun, J. (2012). Development of porous medical implant scaffolds via laser additive manufacturing. Transactions of Nonferrous Metals Society of China, 22(3), s181-s187. Wohlers, T. T. (2012). Wohler's report 2012: additive manufacturing and 3D printing state of the industry: annual worldwide progress report. Fort Collins, Col.: Wohlers Associates.