The play "A Doll House"
Published:
31 October 2015
Remember! This is just a sample.
You can get your custom paper by one of our expert writers.
Get custom essay
91 writers online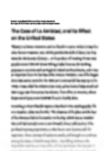 A Doll House
Introduction
            From the play, A doll house, it is clear that there is imbalance of power between Nora and her husband Helmer. The husband goes to work and earns for the family while the wife is left at home to do the chores. This brings about the theme of gender inequality. It is also clear that the writer puts more emphasis on the looks of Nora than those of her husband; this shows how the society views men and women differently. The husband is also displayed as being questionable about how the wife is spending the money on gifts even without considering that its Christmas time and they can now afford it from the salary he is getting. If Nora had not been that beautiful, may be Helmer would not have married her.
            The writer of this book emphasizes much on gender inequality, there is also the aspect of the very many lies that couple keep in their marriages in order to keep them alive which in most of the cases end up being the reason for the separation. There is also the aspect of man eat man society, Krogstad uses Nora in order to retain his job threatening her for a favor he had done a long time ago. At the end of the play, Nora feels her husband had taken her like a doll only to be admired for its beauty and that he did not trust her and therefore she left.
            The economic factors have really affected the society in a doll house especially the women to an extent of their ideas and choices about their marriages. Nora illegally borrowed money for the trip that she and Torvald took to Italy; she told Torvald that the money had come from her father. For years, Nora reveals, she has worked and saved in secret, slowly repaying the debt, and soon it will be fully repaid. This money was borrowed through Krogstad's help and when Helmer wanted to sack him,he asks Nora to use her influence to ensure that his position remains secure. When she refuses, Krogstad points out that he has in his possession a contract that contains Nora's forgery of her father's signature. Their conversation reveals that the two had been once deeply in love, but Mrs. Linde left Krogstad for a wealthier man who would enable her to support her family. She tells Krogstad that now that she is free of her own familial obligations and wishes to be with Krogstad and care for his children.
References
Ibsen, Henrik, Rolf Fjelde, CalistaFlockhart, Tony Abatemarco, Tim DeKay, Jeannie Elias, Gregory Itzin, JoBeth Williams, Rosalind Ayres, and Susan A. Loewenberg. A Doll House. Venice, Calif.: L.A. Theatre Works, 2012. Internet resource.