A paragraph on APA citation Racism in Middle East
Published:
5 December 2015
Remember! This is just a sample.
You can get your custom paper by one of our expert writers.
Get custom essay
80 writers online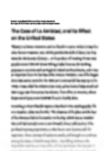 Racism is one of the biggest challenges for people living in Middle East. It exists between domestic citizens and foreigners, across the ethnic groups and religions. Although religion could be the only way to integrate people, it has not been possible and instead it forms part of racism. Akbaba (2009 p. 324) argued that, "the deliberate and selective restrictions on religious minority groups may strengthen the ethnoreligious identity of those groups". Racism is the main cause conflicts and wars among communities thus hindering it socioeconomic progress and as a result, the society lives in poverty. According to Ahmed, Nicolson, & Spencer, (2000) racism hinders populations from getting education and advancing their career thus their literacy progress being hindered. Therefore, it is important to find solution in the region so that people could assume their socioeconomic roles to improve their lives. However, this has not been an easy task to Middle East. Poor governance and political interference had led to worsening of the situation through trying to get solution through force by police officers and other authorities rather than solving it.
            The executive and legislative measures that have followed these initiatives ' have included mass arrests, secret and indefinite detentions, prolonged detention of '' material witnesses, '' closed hearings and use of secret evidence, government eavesdropping on attorney-client conversations, FBI home and work visits, wiretapping, seizures of property, removals of aliens with technical visa violations, and mandatory special registration, (Semati, 2010 p. 265).
           Lack of racism solution in Middle East can be attributed to selfish leaders who would like to remain in power for longer time and ignorant citizens who are not concerned about their development of the region. According to Ahmed et al, (2000) people in Bangladesh are aware of racism and its effects but have no time to solve the issues. A solution to racism can be found through courageous leaders who are informed and are concerned with the future of Middle East (Cohen-Almagor, 2013; Karsh, 2012; Baumann, 2013).
References
Ahmed, B., Nicolson, P., & Spencer, C. (2000). The social construction of racism: the case of second generation Bangladeshis. Journal of Community & Applied Social Psychology, 10(1), 41-46.
Akbaba, Y. (2009). Who discriminates more? comparing religious discrimination in Western democracies, Asia and the Middle East. Civil Wars, 11(3), 321-358
Baumann,, L. (2013). The impact of national culture on project management in the Middle East. Lars Baumann, Cohen-Almagor, R. (2013).
The failed peace process in the Middle East 1993-2010. Israel Affairs. N.p Karsh, E. (2012). The Middle East's real apartheid. Journal for The Study of Antisemitism, p. 38.
Semati, M. (2010). Islamophobia, culture and race in the age of empire. Cultural Studies, 24(2), 256-275.