A Ralph Lauren company
Published:
19 September 2015
Remember! This is just a sample.
You can get your custom paper by one of our expert writers.
Get custom essay
93 writers online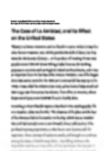 Todays globalization and the economic environment have paved way to the increasing importance of brands and management of the brand. As stated by Kotler and Armstrong (2010) the skills which are very distinctive for marketers of 21st century is that ability to manage and build brands.Brand is the company's most treasured assets, it represents the spirit of the company and functions as uniqueness for the business and most importantly as decision-making tool for their customers (Aaer, 1996;1991; Keller, 2008:1993). An effective brand has the ability to grasp customers' preferences and loyalty (Kotler and Armstrong, 2010). This clearly shows branding is crucial in marketing strategy and it creates reputation and corporate identity. In the recent global economy, efforts and branding are unlimited to traditional "consumer" products. Various firms in various industries keep on trying to utilize branding strategies n building strong brands. In our case we shall look at the Ralph Lauren case. Rauph Lauren is a recognized, well known global brand due to its products.It has been serving accessories, product of apparel and has firmly stood in premium lifestyle.It has gone further in creating sub brands in a distinct design diverse, innovative super craftship, like polo, rugby (trefoils Team, 2013) and club Monaco. The products offered serve a large market in Europe, Asia, America and in Africa. Though these products were initially aimed to men market women market followed and later the different ages through the country across online shops and to various in store retailers.Ralph Lauren is facing major changes from it's competitors like calvn klein, chanel and other private brands label. Therefore, this study is not purposed only to assist Ralph Lauren to continue dorminating in the market and develop new clients, but also comprehend what people wish, behavors and attitude.
Six building blocks of keller in ralph lauren case
        The case study presented in this paper is for a Ralph Lauren company which has utilized the six building block Keller (2003, 2008 and 2011). It is distinguished by the category of products it offers to its clients and the mode in which it does to satisfy it's customers. In this paper, we will discuss the application of six brand building blocks of Keller's Customer- Based Brand Equity (CBBE) pyramid in Rauph Lauren.
To start with, the first building block of CBBE is the salience. Salience is at the bottom layer of the pyramid and it answers to the brand identity. Brand salience measures the awareness of a brand, example of how easily and often a brand can be invoked in various circumstances or situation (Keller, 2008). The know how of the brand can be measured in terms of the depth and the breadth. The depth of the brand cognizance measures, how is it likely for the brand element to linger into someone's mind, and the comfort with which it does. The breadth of brand alertness measures the range of usage situations by which the brand element may come into the mind and the purchase and this depends largely on the product memory knowledge and the organization of the brand. The survey that was conducted showed that awareness of the Ralph Lauren brand were known through breadth and depth.In Breadth the range of products offered by the Ralph Lauren were well advertised through various media that impacted a message to very many people's minds. Ralph Lauren products were advertised consistently for long and this created long term memories in the client's mind and the potential customers. The identity of the product was grasped long before the 20th century. Customers think of the products across a wide range of products that can be consumed or employed and they usually make sufficient purchases.
The second building block of CBBE is performance. In accordance with Keller (2008). "There are five important attributes and benefits that often underlie brand performance" These are;
1 Product reliability, serviceability and durability,
2 Supplement features and primary ingredients,
3 Efficiency service effectiveness and empathy,
4 Designs and style
5 Prices.
Based on the survey results brand performance was expressed as the best clothes and other accessories producer for the recent three decades. Based on the quality of products and range of variety the Ralph Lauren offers brand that has the best style and design. The other attribute they offer is that their products are durable and they are reachable. Ralph Lauren products based on the research done their performance have an attribute service effectiveness and they are serviceable. In addition the performance statement that focused on customers' perception of inclusiveness and quality or lack of perception in either quality or inclusiveness showed that their prices are favorable. The auditing of Ralph Rauren's overall brand performance indicated and an opportunity to market a message that is consistent regarding the brand assistances and related performance skilled by the current and past clients.
Third building block of CBBE is brand imagery. Keller (2008),' brand imagery hang on the extrinsic assets of the product or service, plus the ways in which the brand tries to meet customers' psychological or social'. Keller (2008) states there are many types of intangibles that can be associated with a brand. The main one are
1 Usage situations and purchase
2 User profiles
3 Heritage, history and experience.4 Values and personality
This was proven by the Ralph Lauren brand survey results. The conclusion of the survey was that the brand imagery was expressed primarily as a private, large scale public provider, with excellent management, clients had big scale feelings about the company and smart entrepreneurship. Overall, imagery statements draws conclusion that Ralph Lauren provides a high quality service in public and is well value priced.Fourth building block of CBBE is judgement. Brand judgement are clients personal opinion about and also evaluations the brand, by which customers forms while putting together all the dissimilar brand presentation and imagery associations. Keller (2008), states that "there are many types of rulings with veneration to the brand but the following following four types of quality, credibility,consideration and superiority are particular important." For brand judgements the following statement were shared in survey participants:The Rauph Lauren products has exceeded my expectation; Rauph Lauren is great love their commodities and the relationship I have fomed ;The products offered by this company have a wide range;the quality of the products offered met my expectation.Based general survey results , concluision can be drawn that brand judgmements rated or above expectations in the three of the four important types of judgement of credibility, quality and superiority.Rauph Lauren clients said good things regarding their choice and experience related to others.
The fifth building block of CBBE is feelings. The brand feelings are customers' reactions and emotional responses towards the brand Keller (2008),"It is essentially how I feel when I use the brand and how my relationships are impacted by using the brand" For Rauph Lauren, the respondents from the survey shared the following feelings about the brand: Enjoyable; OK; fulfilling; ambiguous and whole. For the brand to have the powerful position in the building blocks of the feelings, there is a strong association of customer and the brand whenever a brand is used. Based on the brand audit of VU, there is still an opportunity for the Rauph Laurent5o continue building the aspect of brand building block. However, a positive emotion may consistently be evoked, it s not always a very strong emotion and positive one.
Sixth building block of CBBE is resonance.Band resonance demonstrates the nature of the relationship that exist between clients and the brand and the extent the clients feel they are "in sync " with the brand. According to Keller(2008)," Brand resonance can be measured in terms of behavioural loyalty or repeate purchases and how much they purchase."THgh ,behavioral loyalty is an aspect of brand resonance.To a further extent behavioral loyalty,there should be a very strong personal attachment to the brand Keller (2008).This type of brand resonance is frequently characterized by client as a requisite have the products or services and they remain in love with the situation and look onward to the next chance for usage. Based on the survey outcomes , brand resonance for the Rauph Lauren brand,the following expressions were alluded : fulfilling, genuine, growth dynamic and great.It's obvious that these words were in line with the clients who have reached the final relationship with the Rauph Lauren brand.It can be established that these clients will use the brand again and again and inspire other to ruminate the brand too.
Resonance
          Resonance has been achieved in this case study of Ralph Lauren.Resonance shows brand relationship between the customer and the brand. The kind of association between the customer and the brand and to what extent of a linking would I admire to have with you. According to Keller " Customer- based brand equity (CBBE) occurs when the customer has a high level of awareness and familiality with the brand and holds some favorable, and unique associations in memory" (Keller,2008).Ralph Lauren according to the survey showed a strong customer brand relationship although not all the respondent showed the strong attachment to the product.Ralph Lauren has made lots of loyal customers across the globe.The survey showed repeated purchase by customers and this showed that although the brand has competitors the loyal clients to the brand did not turn away from buying what they believe is the best. The brand has a sense to the community and there is strong attachment that is experienced by its consumers.There is a deep psychological bond which exists between the customer and the brand.There is the tendency of the consumer to execute brand loyalty and how it reflects in everyday consumption situations and consumer behaviors.Brand resonance is achieved to the extent explained above due to brand loyalty.
Points of parity( pop) and points of difference (pod)
          They are components of brand audit. POP and POD are crucial to be determined because of the identification of the target market, the precise type of competition and a good definition of the brand's position.Point of difference are those qualities or benefits that a clients strongly linked with a brand, positively assess, and have faith in that they could not treasure of the same degree with a competitive brand"(Keller, 2008). Point of difference comprise of performance – linked qualities, distinct profits, unique proposals in selling maintainable competitive benefit, as well as the alleged individuality of the brand.Ralph Lauren's product has distinct benefits and one products is well distinguished from another products.The Ralph Lauren selling prepositions were unique as compared to its competitors this results to a uniqueness of the brand that s well perceived.
Point of Parity are , "not automatically exceptional to the brand but might in fact be joint with other brands"( Keller,2008).There exist two types of Point of Paritythat are categorical and competitive.The group point of parity are crucial attributes of the brand, nevertheless they can't be sufficient.For the brand to be successful , point of parity has to be there so that the client is satisfied with the service or products provided.Keller (2008) points out that competitive point of parity are," the associations designed to negate competitor's points of difference".Keller(2008) states that, " if a brand can break even , in the areas where its competitors are trying to find an advantage and can achieve advantages in some other areas, the brand should be strong and perhaps unbeatable and has a competitive position" Rauph Lauren has a major number of customers who believe that the brand is good. At this juncture Ralph Lauren concentrates on achieving the point of parity more than the point of difference.When Ralph Lauren brand decided to extend their market by producing women wear and children's clothes customers believed that their brand will be better since they have been previously produced high quality products. When Ralph Laurens decided to extend its market, customers believed that the Ralph Laurens will deliver the brand's promise.
Recommendations
           Today's advancement in technology is changing rapidly in the market and the environment and this brings dynamism within the markets.With evolution that is constant in the products government rules regulatory frameworks and the change in customer preferences and taste all has to put in to consideration while introducing anything important in the company and for the company to come up with new branding strategies and advertising communications programs that can look ahead into the days to come so as to sustain customer –based brand equity (CBBE).In addition to Dennis & Lea (1995) says that "a company is supposed to come with a brand management program that puts in to consideration future preferences of it's customers." All this requires this company to be extending its new ideas and creating new brands. The method the company needs to strengthen brand equity is to develop programs that fully express knowledge of the brand which should be consistent and hence will not conflict customers taste and preferences. The company should run branding programs that are up to date. This should be done in a creative way not running a monotonous campaign.Managers of the company they should put more effort on focusing association, perception , and beliefs of their customers.The features of the company's planned market perceptions impacts in some way the decision-making actions that may effect them.It is no top-secret that the organization applies some form of the regulator on the brand insights through numerous ways for example promotion, distribution and pricing. The managerial should understand the brand knowledge and belief of a specific market segment. New strategies of advertising should be adopted like online is an adverts that that would come in such instances. The company should avoid poor execution of strategies. The management is supposed to have the information on customer based equity. The company's management is supposed to provide a constant protection of company's brand and distancing them from various extension, this can be achieved by adopting horizontal extension (Dennis & Lea 1995)
Conclusion
          CBBE has a differential effect that brand Knowledge has on customer response in marketing a brand.Thus a brand takes a optimistic CBBE on condition and once consumers respond more completely to a convinced invention and it is consequently vitally for the organization of the firm to focus further on strategic plans and building their brand equity.
References
Armstrong, J. S. (2010). Persuasive advertising evidence-based principles. Basingstoke [u.a.: Palgrave Macmillan.
Bradburn, M. J., & Keller, A. A. (2011). The 2003 to 2008 U.S. West Coast bottom trawl surveys of groundfish resources off Washington, Oregon, and California: estimates of distribution, abundance, length, and age composition. Seattle, Wash.: U.S. Dept. of Commerce, National Oceanic and Atmospheric Administration, National Marine Fisheries Service, Northwest Fisheries Science Center.
Brown, D. (1996). Dennis. London: Burning Sounds.
Cheese Machines and Cellos: Technical Craftsmen and Craft Technicians. (2013). Califonia: palgrave macmillan.
Dennis. (2008). Baltimore: Johns Hopkins University Press.
Keller, G. (2008). Higher education and the new society. Baltimore: Johns Hopkins University Press.
Lock, D. (2004). Project management in construction. Aldershot: Gower.
Whisman, M. L., & Goetzinger, J. W. (1969). Storage stability of aviation turbine fuels: a radiotracer technique for estimating component contribution to thermally induced deposits. Washington, D.C.: U.S. Dept. of Interior, Bureau of Mines.
Young, H. E., & Young, H. E. (1948). Axillary gall of Queensland maple: Hendersonula agathi n. sp., the cause of leaf cast of Kauri Pine in Queensland. Rhizoctonia root rot of hoop pine. Brisbane: Division of Plant Industry.
Lock, D. (2004). Project management in construction. Aldershot: Gower.
Ochander, J. S,(2010).Brand Wheel,Presentation given to MBA class, Valparaiso University.
MOK, K.H. (1999),Education and market place in Hong Kong and Mainland China,Higher ducation , Vol. 37.
Keller, K.L. (1993). Conceptualizing, measuring and managing customer based brand equity, Journal of marketing, Vol.57.
Keller,K.L.(2008). Strategic Brand Management: Building, Measuring, and managing brand Equity, 3rd edition,Pearson Pearson Prentice Hall: Upper saddle River.
Jevons,C.(2006), Universities: a prime example of branding gone wrong, journal of product & management, vol.15.