A study of Influence in Online Shopping
Remember! This is just a sample.
You can get your custom paper by one of our expert writers.
Get custom essay
72 writers online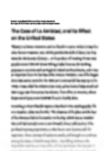 Research Question: How online shopping influence purchasers buying decision? Research Objective: To investigate how online shopping might influence purchasers' decision.
___________________________________________________________________________
Online shopping is the procedure of purchasing products and services from vendors over the Internet. In view of the fact of the emergence of the World Wide Web, merchants have wanted to market their products to potential purchasers who occupy their time on online. Purchasers are able to visit website stores from the amenity of their residences as well as shop as they take a seat in front of their electronics via online. Purchasers are able to purchase a massive assortment of products from online stores, plus just about anything are able to be purchased from companies that provide their products or services online. Clothing, reading materials, hardware, household appliances, toys, software, and health insurance are just a number of the thousands of products or services purchasers are able to purchase from an online store.
Individuals are getting more contented upon the concept of online shopping. This may perhaps be endorsed to a variety of factors, for example, hectic modern lives, longer working hours, ability to look through products from the amenity of one's home, as well as a wide range of alternatives are available.(Quinn,2013) Adding on, online review influences purchaser's buying decision. From the reviews, purchasers are educated with the quality of the product, the rate of shipping, the efficiency of refundable or exchangeable term, the past customer's review, the variety of options, the incoming of new product and last but not least, which most people are facing, the special size matter.
According to the recent survey carried out by Dimensional Research, an overpowering 90% of respondents stated that buying decisions are influenced by positive online reviews. Despite the fact that, 86 % said negative online reviews influenced buying decisions. (Gesenhues, 2013). "Customers are firmly in the driving seat in today's rapidly changing retail landscape; with more choice and information at their fingertips than ever before. As retailers, we have to change with them and ensure we're offering a more personalized, inspirational shopping experience which fits in with their busy lifestyles", Laura Wade-Gery, the Executive Director E-Commerce Multi-channel of Marks & Spencer quoted.
Furthermore, according to the researcher of marketingcharts.com in the year of 2013, one of the strongest influences that determine the purchasers' buying decision are deals and discounts. According to the researcher of RetailMeNot.com, a survey carried out by Ipsos, 56% of US respondents stated that promotions on the products they are purchasing influences their judgements or decisions, meanwhile 51% takes in reviews , ratings or opinions of customers who have bought the same product as an influence on their purchase into account. Respondents were asked their preferences to shop online rather than shopping in store for the identical product, 47% of US respondents stated that they prefer to be able to weigh against costs at different retailers effortlessly, and an equivalent percentage stated that it is because they are able access stores that are far from them.
However, 16% stated that it is because they find online shopping a rather pleasurable process and experience. "It's now very clear: consumers prefer to shop through bits and bytes, with the majority of shopping behaviours and expectations shaped by online sources. To shift shoppers into buyers, retailers need to merge online and physical services to meet the demands of today's digital shoppers", Dick Cantwell, the Vice President and Global Lead, Retail of Cisco Internet Business Solutions Group quoted.
Purchaser personalities that are important in understanding why purchasers online shopping consist of demographic aspects and characteristics. Four related demographic aspects which are age, sex, income and education have a moderating result on the affiliation among the three essential determinants "usages", "convenience", and "pleasurable" and purchasers' approach towards online shopping. The influence of age is obvious throughout the detail that compared to elder purchasers, younger adults are more fascinated in using latest technologies, to know new products, explore for product details, and judge and weigh up alternatives.
While a large number of purchasers that shops online, the study on what makes purchasers to shop online has naturally been patchy. The review explains that the approach towards online shopping and purpose to shop online are not only influenced by ease of use, usefulness, and enjoyment, as well as by aspects like purchasers' personality, situational aspects, product quality, online shopping experiences, promotions, and online reviews.
Bibliography
"Eight Out of 10 Consumers Shop Through Bits and Bytes, According to Cisco Study." Network. (2013): n. page. Web. 27 Jan. 2014. .
Gesenhues, Amy. "Survey: 90% Of Customers Say Buying Decisions Are Influenced By Online Reviews."Marketing Land. (2013): n. page. Web. 27 Jan. 2014. .
"HOW SOCIAL MEDIA INFLUENCES PURCHASE DECISION WHEN BUYING ONLINE."Sovedo. (2013): n. page. Web. 27 Jan. 2014. .
Jusoh, Zuroni Md, and Hai Ling Goh. "FACTORS INFLUENCING CONSUMERS' ATTITUDE TOWARDS E-COMMERCE PURCHASES THROUGH ONLINE SHOPPING."International Journal of Humanities and Social Science. Vol. 2 No. 4. (2012): n. page. Web. 27 Jan. 2014. .
Katawetawaraks, Chayapa, and Lu Wang Cheng. "Online Shopper Behavior: Influences of Online Shopping Decision." Asian Journal of Business Research. Volume 1.Number 2 (2011): n. page. Web. 27 Jan. 2014. .
KIM, JONGEUN. "UNDERSTANDING CONSUMERS' ONLINE SHOPPING AND PURCHASING BEHAVIORS." (1996): n. page. Web. 27 Jan. 2014. .
Ruyter, Ko de, and Ton˜ita Perea y Monsuwe´, Benedict G.C Dellaert. "What drives consumers to shop online?." International Journal of Service Industry Management. Vol. 15 No. 1. (2004): pp. 102-121. Web. 27 Jan. 2014. .
"Top Influence on Online Purchase Decisions? Deals and Discounts." Marketing Charts. (2013): n. page. Web. 27 Jan. 2014. .
Quinn, K.J. "Consumer research: How social media influences purchasing decisions." Floor Covering News. Volume 27/Number 7. (2013): n. page. Print. .
Veronika, Svatošová. "Motivation of Online Buyer
Behavior." Journal of Competitiveness. Vol. 5.Issue 3 (2013): pp. 14 – 30. Web. 27 Jan. 2014. .