Importance of selected accounting and related courses as preparation for a management accounting career
Published:
25 December 2015
Remember! This is just a sample.
You can get your custom paper by one of our expert writers.
Get custom essay
82 writers online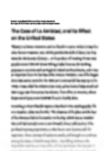 The heart of the global economy is undergoing a tremendous growth, which has created favorable conditions for professional development accounting career paths.. The present job market is faced with competition and education in a given career choice broadens opportunities. There are numerous types of jobs for individuals to pursuit in the field of accounting with specific requirements for career ranks and particular career clusters. Previously, educators and parents have played a significant role in assisting students choose career paths perceived to be related to economic development and overall economic-driving career path. Career clusters demand similar fundamental education and training, skills and knowledge, and career pathways. Also, accounting career, just like other fields offers the professionals the opportunity to rise along the career ladder from entry level to senior most level.Accounting is the study of the procedure used by a business to track expenses, income, assets, and liabilities over time and at the same time adhering to reporting standards. Accounting career deals with the reporting, recording, and analysis of the financial transactions of a business. While many people think that accounting is a complex career, it is not much about subtracting and adding of numbers, yet about comprehending what those numbers mean and demonstrating the ability to apply and communicate the numbers in an approach that benefits of a business organization. Essentially, accounting revolves around the preparation and analysis of financial statements, which significantly evaluates the success or failures of the company. Accountants act as middle-men between the decision-makers and business activities. As such, they record data from transactions and translate it into a meaning and useful information useful to the management, stockholder, customers, employees, government agencies and creditors.
Accounting Career Cluster
          Accounting clusters in accounting involve providing analysis and interpretation of financial records in order to prepare financial documents for regulatory authorities. The job clusters in accounting include tax advisor, auditor, budget analyst, accountant, and actuary. Clusters in accounting encompass career pathways that record, classify, analyze, summarize, and communicate a business' financial information for management decision-making.
Public Accountants
         Individuals in public accounting are employed by public accounting firms. They offer a range of accounting activities from financial analysis, statement preparation, private businesses, public firms, non-profit entities and government agencies. Most public accountants are certified public accountants. The most common requirement is a CPA certification, yet there are some other accountings certificates as well, including certified fraud examiner, certified management accountant, and enrolled agents for those specializing in tax. The entry level of a public accountant is a bachelor degree in accounting or finance and proficiency in Microsoft Office applications. A mid-level public accountant must have a CPA certification an advanced degree like an MBA with a focus in accounting or MAcc is useful (Birrer, 2009). Senior level public accountant requires all the mid-level entry requirements with an MBA, or a MAcc is recommended.
Financial Accountant
          These are accounting individuals that prepares the financial statements based on the general ledgers besides participating in significant financial decisions involving M & A, long-term and financial projections. Financial accountants, Birrer (2009) explains, are concerned with how the performance of a company is represented by outside party, loss and cash flow to managers and shareholders. Professionals in financial accounting career path follow the Generally Accepted Accounting Principles set by Financial Accounting Standards Board (Birrer, 2009). The requirements of an entry level a Bachelor of Arts, Bachelor of Science or Bachelor of business administration. Furthermore, knowledge of bookkeeping, accounting software, accounts payable and receivable. A CPA certification is mandatory for any accountant working for a public company registered with Securities and Exchange Commission. The senior level, however, requires a bachelor in accounting degree or finance or a graduate degree in finance such as MBA. Career paths for financial accountants include staff accountant, bookkeeping, accountant, financial accountant, financial controller, and chief financial officer at a senior level.
Management Accountants
           These are individuals employed by public or private companies to support their goals by performing tasks such as budgeting, asset management, cost management, and performance evaluation. Management accountants develop their career to become budget analysts that are responsible for developing and managing financial plans of an organization. There is also a cost accountant profession that works with consulting, corporations or accounting firms in retail and manufacturing sectors. Management accountants, another career path, involve participation in decisions about capital budgeting, business analysis, and shaping business strategy within a company. Management accountants require a bachelor's degree in accounting or finance and strong technology skills, particularly, in Microsoft Excel (Ankers, 2007).
Career LadderPublic Accountant
           According to Institute for Career Research, (2006) reports that the entry level of a public accountant is defined by the types of roles, requirements and job description of pubic accounts. An entry level is a staff accountant, tax personal, or a junior auditor at an accountant firm. Rising through the ranks, the middle level of a public accountant is a senior associate/accountant or tax or a manager for the audit in an accounting firm. The highest accounting rank of a public accountant career path is a senior partner/partner or director of a firm also, a certified public accountant in private practice and a corporate accounting executive or a CFO in a private company. In the senior level, executive accounting oversees audits; tax, drives strategy and business developed and manage client relationships. CPA in private practice, however, works with clients on tax issues, audits or budget analysis. Finally, a CFO conducts senior level management accountant responsibilities.
Financial Accountant
            The entry level of a financial accountant is a bookkeeper, accountant or a staff accountant for individuals with bachelor's degree in arts, science or BA. Along the ranks, there is a financial accountant, senior financial analyst and a senior accountant for individuals with all entry level requirements. Besides, strong communications and analytical skills are necessary. The professionals must also demonstrate knowledge of financial regulation. The top most financial accountant career paths include financial director, chief financial officer and a financial controller. These positions require all mid-level entry requirements alongside excellent managerial and interpersonal skills, high standards of accuracy and integrity and a bachelor degree in accounting or finance with MBA desirable (Institute for Career Research, 2006).Management accountants' entry level becomes staff accountants, junior internal auditor, cost accountant, and a tax accountant. Along the ranks, the professionals become accounting managers, senior internal auditor, and a senior accountant. Moreover, the senior-most level is a controller, CFO, director of finance or accounting. While the entry level requires a bachelors' degree, along the ranks, a senior most position in management accountants requires solid management skills, track record of leadership and excellence in the field and knowledge of the organization and accounting principles of United States.
Conclusion
           Discussing career clusters and ladder is such an interesting assignment to establish a solid career path. Accounting professionals are tasked with responsibilities in various career paths and different job ladders. In overall, the accounting field requires professionals to achieve a bachelors' degree in accounting or finance alongside special skill and knowledge such as communication, computer software, accuracy, integrity, management skills and overall accounting principles.
References
Ankers, R. G. (2007). Opportunities in an accounting career. New York: Educational Books Division of Universal Pub and Distributing Corp.
Birrer, G. E. (2009). Importance of selected accounting and related courses as preparation for a management accounting career. Ann Arbor, Mich: University Microfilms
Institute for Career Research. (2006). Career as a certified public accountant: CPA : crunching the numbers and advising businesses and individuals on how to manage their financial affairs. Chicago: Institute for Career Research.