Advantages and disadvantages of technology
Remember! This is just a sample.
You can get your custom paper by one of our expert writers.
Get custom essay
100 writers online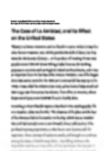 Throughout history, technological innovations have helped humankind improve their standards of living, beginning with the simple invention of bone tools of prehistoric times, continuing on to and beyond modern air conditioners, automobiles, and super computers. Nowadays, when the rapidness of development and research is so remarkable, it is easy to think about the advantages of modern technology. Technology has come a long way from floppy disk, to CDs, and now saving information on flash drives and clouds. Although very helpful technology has its advantages and, disadvantages for certain people jobs that are at risk.
Technology today has made life better in modern society so much that people rely on it more than humans at times. Modern technology helps simplify life in so many ways such as communication like video chatting which is much more convenient. Another way technology helps people is in business, it helps boost efficiency and productivity in work area. Businesses have integrated modern technology in their production line, most of the hard work has become so simple and fast its results are better than of humans. This world goes through allot of changes as time goes on because of improvements this world is becoming more efficient and productive. Technology even helps save money in the long run with fuel, communication, and electricity. Technology helps make life for humans so much easier one example is through email. A quick email can be done and sent out within minutes rather than writing a letter and waiting days for a response. Opportunities that technology offers and accomplishes can not only save time but again save money in the long run. Electronics are expensive but worth it when it comes to making life more convenient. Another advantage for these gadgets the mistakes that humans make can be reduced with the use of technology like automated bill pay.
There are lots of more details on this topic in our traditional section but here it is important to remember that it is important for society to work towards creating a future in which everyone can live a more optimal life.