AIRASIA
Remember! This is just a sample.
You can get your custom paper by one of our expert writers.
Get custom essay
86 writers online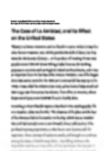 INTRODUCTION
This report is about new management accounting techniques that AirAsia can apply in their organisation to enable them to sustain its competitive advantage as Asia's leading low cost carrier (LCC). In this report, it's also stated types of new management accounting technique and the important of these techniques. Besides, this report also explain in detailed about airasia balanced scorecard for example, the definition, person that responsible in introduce this techniques and how this technique can be apply in the organisation and help the organisation to improve their service. There is also a brief description of the background of the AirAsia to explain the main activities carried out by this company. The competitive environment analysis for AirAsia Berhad is thoroughly scrutinised to examine the driving determinants that attributed to the organisation's competitive advantage in the industry. Further analysis using the Ansoff Matrix, lends evidence to the successful growth of the organization. The study concludes by adopting the balance scorecard framework to evaluate the organization from four pertinent perspectives of an organization which includes financial performance, customer knowledge, internal business process and learning and growth.
LITERATURE REVIEW
Worldwide competitive pressures, deregulation, growth in the service industry and advances in information and manufacturing have changed the nature of our economy and caused many manufacturing and service industries to dramatically change the way in which they operates. These changes, in turn have prompted the development of innovative and new management accounting techniques practices. New management techniques consist of Target Costing, Benchmarking, Activity Based Costing (ABC), Strategic Management Accounting, Strategic Management Costing, Benchmarking and others. For example, ABC system have been developed and implemented in many organizations. Balanced scorecard is also one of the new management accounting technique. Balanced scorecard is a strategic planning and management system that is used extensively in business and industry, government, and non profit organizations worldwide to align business activities to the vision and strategy of the organization, improve internal and external communications, and monitor organization performance against strategic goals (https://balancedscorecard.org/Resources/Aboutthe BalancedScorecard/tabid/55/Default.aspx). According to Investopedia, balanced scorecard is a performance metric used in strategic management to identify and improve various internal functions and their resulting external outcomes. The balanced scorecard attempts to measure and provide feedback to organizations in order to assist in implementing strategies and objectives.
Based on Wikipedia, balanced scorecard (BSC) is a strategy performance management tool, a semi-standard structured report, supported by design methods and automation tools that can be used by managers to keep track of the execution of activities by the staff within their control and to monitor the consequences arising from these actions. Balanced scorecard was introduced by Drs. Robert Kaplan (Harvard Business School) and David Norton to provide a clear prescription as to what companies should measure to 'balance' the financial perspective. It is a management system that is not only a measurement system but enables organizations to clarify their vision and strategy and translate them into action. Balanced scorecard provides feedback on both the internal business processes and external outcomes in order to continuously improve strategic performance and results. When fully deployed, the balanced scorecard is a strategic planning changed from an academic exercise into the nerve center of the company (https://balancedscorecard. org/Resources/AbouttheBalancedScorecard/tabid/55/Default.aspx). In balanced scorecard, its focus on the organization view from four perspective which are customer, financial, internal business process and also learning and growth perspective.
Balanced scorecard is important because it is absolutely vital to the success of any businesses and as a tool for improving the performance of a whole organization, a large department or a small team and also measure and improve performance of the company in an integrated way. By applying this technique, it can increase creativity and unexpected ideas, measure performance at all level of an organization, provide management with a comprehensive picture of business operation, transform strategy into action and desire behaviours, reduce the vast amount of information the company IT system process into essentials and also provide strategic feedback and learning. According to Bain, about 57% of global companies were working with the balanced scorecard technique in 2004.
COMPANY BACKGROUND
In the Association of Southeast Asian Nations (ASEAN) region, AirAsia Berhad (AirAsia) is a leading of Low-Cost Carrier (LCC). The main focus of AirAsia Group are to providing high frequency services on short-haul, international routes and also point to point domestic. The Group agreed to assume the debts of the company when it acquired the loss making from its Malaysian owner DRB-HICOM Berhad for a token of RM1 (USD0.25 cents). In December 2001, AirAsia was resurrected, re-branded and re-launched as a low-cost carrier following the acquisition of the Company by Tune Air Sdn. Bhd. With the drive and determination by Dato' Sri Dr Tony Fernandes and with the support of his partners, the AirAsia Group (including its Thailand, Philippines, Japan and Indonesian affiliates) operates a fleet of 132 aircraft and flies to more than 78 destinations from hubs in Malaysia, Thailand, Indonesia, Philippines, Japan, India and in the upcoming future, Vietnam. In its short history, AirAsia has ferried more than 90 million guests and operates more than 3,500 flights a week.
AirAsia's popularity among the masses has propelled because of it underserved market segment. With over 160 routes covering Malaysia, Indonesia, Japan, Philippines and Thailand and with domestic and international routes, primarily from Kuala Lumpur, to Australia, Brunei, Cambodia, Myanmar, Nepal, Taiwan, Vietnam, Singapore, People's Republic of China, India, Laos, Maldives, South Korea and Sri Lanka, AirAsia as a largest low cost carrier proud to be a truly ASEAN carrier which linking communities, cultures and cities across this diverse region by enabling affordable and convenient travel, stimulating regional and local economies and realising the ASEAN dream of integration. It's suitable with their slogan "Now Everyone Can Fly". Dato' Sri Tony Fernandes as the Company and Group CEO have won numerous local, regional and international awards (including the CBE Award by Queen Elizabeth II). Due to its culture of innovation and its dedication to exemplary service in the aviation industry, Dato' Sri Tony Fernandes also have earned plaudits from varied organisations globally.
Recently, in March 2013, Tan Sri Tony won Corporate Governance Asia's 'Best CEO for Malaysia' award for the third time in a row-presented at the 3rd Asian Excellence Recognition Awards 2013 ceremony held in Hong Kong. AirAsia was also organizing and participating in events and promotions with celebrities to enhance the brand image and further refine branding strategy to enhance current customer base into new markets. We can see their participating in ASEAN Basketball League, AirAsia Philippine Patriots (Basketball) and Team AirAsia-Sepang International Circuit-Ajo (Moto 3). AirAsia has received numerous awards and accolades from different categories of. For example, in Capital Market category, AirAsia has been awarded with Aircraft Debt Deal of the Year for Asia for ECA backed financing with BNP Paribas (2010), Aircraft Debt Deal of the Year Asia for ECA backed financing with Barclays Capital (2009), Best Islamic Loan Deal The Asset (2009),
The Most Outstanding Islamic Financial Product KLIFF Islamic Finance (2009), Top 10 Deals in Asia Islamic Finance Asia (2008) Aircraft Leasing Deal of the Year – Asia Jane's Transport Finance (2008) Cross Border Deal of the Year Islamic Finance News (2008) Ijarah Deal of the Year Islamic Finance News (2008) Groundbreakers – Top 10 Deal in Asia Islamic Finance News (2008) Most Innovative Deal of the Year Air Finance Journal (2008) Triple A Regional Award for Best Airline IPO The Asset magazine (2004) and Best IPO of the Year The Edge Singapore (2004). In Corporate Governance category, awarded that AirAsia receive are Best Managed Company in Malaysia (Medium Cap) Asiamoney (2011), Best CEO for IR (Mid Cap) Tan Sri Dr. Tony Fernandes, Malaysia Investor Relations Awards (2011), Best IR Professional (Mid Cap) Benyamin Ismail, Malaysia Investor Relations Awards (2011), Best IR Website (Mid Cap) Malaysia Investor Relations Awards (2011), Asia's Best CEO (Investor Relations) Tan Sri Dr. Tony Fernandes, Asian Excellence 2011 Corporate Governance Asia Recognition Awards, Best Investor Relations (Company) Asian Excellence 2011 Corporate Governance Asia Recognition Awards, Best Investor Relations Professional Benyamin Ismail, Asian Excellence 2011 Corporate Governance Asia Recognition Awards, Corporate Category The Rotary Club of Kuala Lumpur West Titiwangsa Utara Subang Jaya and Asia's Best Emerging Companies with regards to Corporate Governance The Asset magazine (2007).
For Branding & Marketing category, they achieve Gold in the Transportation, Travel and Tourism category Putra Brand Awards (2011), The People's Choice, Asia's Best Employer Brand 2nd Asia's Best Employer Brand Awards (2011), Best Marketing Campaign Budgie World Low-Cost Airlines Asia Pacific (2010), Gold for Transportation, Travel and Tourism Putra Brand Awards (2010), Excellence in Branding & Marketing and Entrepreneur Excellence CMO Asia Awards (2010), Brand of the Year Media's Agency of the Year (AOY) Awards (2009), Brand of the Year Media Magazine (2009), Asia's Top 100 Brands Media Magazine (2006) and Malaysian Superbrands Superbrands International (2003). In Innovation, Communications & they has been awarded as a Customer Lover Web In Travel (WIT) WITovation Awards (2011), Social Media Experience Eptica Customer Service Innovation Award (2011), Global ICT in the Private Sector category World Information Technology and Service Alliance (WITSA) (2010), Private Sector Excellence World Information Technology and Services Alliance (WITSA) (2010), Best Use of Digital Search Gold Malaysian Media Awards (2010), PIKOM ICT Organisation Excellence PIKOM ICT (2008), CIO Top 100 Honorees Excellence in Strategic IT Deployment (2003) and Most Popular Website for Online Shopping ACNielsen Consult (2003).
In Cargo category, AirAsia win the Fastest Growing Foreign Airline for Cargo Guangzhou Baiyun International Airport (2011), World's Best Customer Care Air Cargo Week (2011), Asia's Best Low-Cost Cargo Carrier Aviation Awards Asia (2011) and Air Cargo Industry Newcomer of the Year ACW World Air Cargo Awards (2010) while for Human Capital category, AirAsia is the Most Popular Graduate Employer Finalist Malaysia's 100 Leading Graduate Employers 2011, Leisure, Travel & Hospitality and Airline Human Capital Development Strategy Frost & Sullivan (2007). Lastly, for Leadership category, AirAsia is receive award for Commander of the Order of the British Empire Tan Sri Dr. Tony Fernandes by Her Majesty Queen Elizabeth II, Visionary CEO of the Year Tan Sri Dr. Tony Fernandes, Global Leadership Awards (2011), Top 100 Most Influential People for Japan Tan Sri Dr. Tony Fernandes, Nikkei Business Magazine (2011), Travel Business Leaders Tan Sri Dr. Tony Fernandes, Asia Travel Leaders Summit Gala (2011), The 10 Most Creative People on Twitter Tan Sri Dr. Tony Fernandes, FastCompany.com (2011), Entrepreneur of the Year in 'Emerging' Category Conor Mc Carthy, The Ernst & Young Entrepreneur of the Year (2011), 3rd World Chinese Economic Forum Lifetime Achievement Tan Sri Dr. Tony Fernandes, Asian Strategy & Leadership Institute in Recognition of Leadership in Air Travel, Masterclass Global CEO of the Year Malaysia Business Leadership Award (MBLA) (2010), Nikkei Asia Prize Nikkei Inc (2010), Officer of the Legion d' Honneur Government of France (2010), Honorary Doctorate of Business Innovation Universiti Teknologi Malaysia (2010), SME Overseas Platinum Award SMI Association of Malaysia (2010), Forbes Asia's Businessman of the Year Forbes Asia (2010), Laureate Award in the Commercial Air Transport category Aviation Week (2009), TTG Travel Personality of the Year TTG Travel (2009), Excellence in Leadership for Exemplary Leadership Skills Frost & Sullivan (2009), CAPA Legend and CAPA's Aviation Hall of Fame Centre of Asia Pacific Aviation (2009), Rising Leaders – The Next 10 Years Singapore Institute of International Affairs (SIA) in collaboration with AXN Asia (2008), Malaysian Global Brand Icon of the Year Global Brand Forum (2008), Tourism Personality of the Year Libur Travel Magazine (2008), Board of Directors of Malaysia Tourism Promotion Board Tourism Malaysia (2008), Brand Laureate Brand Personality Asia Pacific Asia Pacific Brand Foundation (2007), Minister's Special Recognition Sabah Tourism Awards (2007), Master Entrepreneur Ernst & Young Entrepreneur of the Year Malaysia (2006), Asia Pacific Aviation Executive of the Year Centre of Asia Pacific Aviation (2005), CAPA Asia Pacific Aviation Executive of the Year Centre of Asia Pacific Aviation (2004), 25 Stars of Asia Honorees listing Business Week (2004) and CEO of the Year Business Times and American Express (2003).
ANALYSIS
Competitive Strategy (The Free Press, 1985) is a conceptual Porter generic strategies, which relate to cost leadership, differentiation and focus that represents an alternative strategic position in the industry. In addition, strategic competition can be considered as the process of perceiving new positions or draw new customers into the market (Porter, 2008). Primary focus in Air Asia strategy is to serve the market in Asia LCC backward. LCC business model offers short-haul, low-cost, point-to-point service between midsize cities and secondary airports in major cities in the ASEAN region. In the cost leadership strategy, AirAsia has tried their best in reducing the costs associated with the business as it is their main goal in the aviation industry. AirAsia is an airline which operates the single-class service. It does not offer free in-flight meals, entertainment and airport lounges like the other airlines. This is one of the factors that enable AirAsia to impose a lower cost to the passenger. AirAsia is an innovative company for providing services outside the counter where customers can make reservations through the internet and make a payment using a credit or debit card with a specific charge.
Service without a ticket is one of the alternatives implemented by AirAsia to reduce the cost of issuing tickets. AirAsia streamline the administrative functions by hiring employees who are able to perform a variety of roles and so far the number of workers in AirAsia is 5644 staff. In addition, the airline is working towards a single aircraft fleet, thus reducing duplicate manpower requirements drastically and stock maintenance parts. Strategies used since the first day of operation of the promotional fare at the rate of RM 0.99, has allowed AirAsia to dominate the market and there is intense competition for the existing carrier Malaysian Airline System (MAS). To maintain a low cost carrier and withstand the effects of the global financial crisis, AirAsia has implemented a strategy of differentiation by extending the range of services and products offered through ancillary income. By promotion it has raised customer awareness of the existence of AirAsia and it has been receiving regular coverage from regional media due to its success in implementing low-cost model. To optimize their revenue, AirAsia's used revenue management system towards their sale of passenger seats.
Setting price for seats are monitored based on the flight dates and forecast demand with actual demand. Ancillary income for AirAsia consist of in-flight meals, check in baggage, counter check-in, Pick-a-Seat, Hot Seat selection, Fly-Thru, Red Carpet and various merchandise (on-board as well as in our online Megastore), cargo service is proving to be a real 'star', winning numerous regional awards for efficiency, network growth, development strategy, operational performance, customer service and product innovation. In 2012, revenue from ancillary income for AirAsia is 16% from its total revenue. The main goal is the implementation of ancillary income is to offset rising fuel prices. However, this is not just a side business growing but has become an important source of income for the AirAsia Group. With the ancillary income, it allows AirAsia to improve cost and operational efficiencies and maintain its vaunted position as the world's lowest cost carrier in the world.
Essentially, their ancillary sources of income are derived from non-essential services, the add-ons that make flying with AirAsia that much more enjoyable, convenient and memorable. Ancillary allows guests, for example, to savour Pak Nasser's nasi lemak, which has gained almost legendary status as well as to breeze through connecting flights without the need to re-check in with Fly-Thru, choose seats in advance (via Pick-A-Seat) and get the Red Carpet treatment, complete with priority check-in, boarding, use of a Premium lounge and fast-lane service into the plane. That guests appreciate these services can be seen in the way they've grown. Since its introduction in Kuala Lumpur in March 2012, AirAsia Red Carpet has been extended to Kuching, Kota Kinabalu, Penang, Johor Bahru, Singapore, Bali and Jakarta. The service seems particularly popular among business travellers and big families for whom hassle-free travel is a huge bonus (Annual Report, 2012).
AirAsia believes that the ability to generate publicity and the marketing and public relations activities have succeeded in creating a high level of brand awareness in the ASEAN region and new markets. This strategy includes developing Air Asia as a low cost airline that provides high quality services and the company's efforts in organizing and participating in events and promotions with celebrities to enhance the brand image and further refine branding strategy to enhance current customer base into new markets. For example, AirAsia ASEAN flavour is further enriched via the various regional sporting teams and events that their endorse, which include the ASEAN Basketball League, AirAsia Philippine Patriots (Basketball) and Team AirAsia-Sepang International Circuit-Ajo (Moto 3). They do not just provide sponsorships for teams and events but also help to nurture future Asean champions in motorsports and, more recently, badminton, via the AirAsia Caterham Driver Development Programme and the AirAsia Badminton academy. Although there are many new LCCs have emerged since the inception of AirAsia, at the financial year of 2006, but AirAsia was the only LCC in Asia that was making profits for 5 years consecutively and obtained the lowest cost on all measures compared to other global LCCs.
With experience and expertise in the aviation industry in Malaysia, AirAsia has been expanding its business into several countries namely Thailand, Indonesia, Japan, Philippines and other country as management believes that the business model that has proven to work in Malaysia can be made in other countries region and will offer strategic market position for AirAsia outside Asia. To maintain a competitive advantage among its rivals, AirAsia has first-mover advantage allows the Group to gain a foothold in neighbouring countries such as Thailand, Indonesia, Japan, Philippines and other country. While this has inspired many other budget airlines to expand in the region, the Asian strategic cost structure and growth of the Asian market would allow AirAsia to maintain a strategic position. AirAsia's corporate slogan "Now Everyone Can Fly" restricted to providing affordable air travel to all people, especially to first-time flyers and cost conscious leisure and business travellers who may have been using alternative methods of transportation.
The airline believes that this market segment has a specific history and underserved The Group has boosted low cost travel in this market segment. AirAsia focus strategy is highly dependent on behind the growth of the LCC market in Asia between 2001 until 2006 and was built around serving underserved markets in the ASEAN region.
To connect to wide range of routes, the combination of short haul and long haul networks feeds each other with passengers using the Kuala Lumpur hub. In 2009, AirAsia X (the sister airline of AirAsia focusing on the low cost, long haul model) achieved its first year of profitability. The combined short-haul and long-haul networks feeds each other with passengers using the Kuala Lumpur hub to connect to a wide range of routes. Presently, AirAsia has been able to dominate the short-haul network within the ASEAN region. However, with the underserved potential customer base from AirAsia X, the Group has created a major competitive advantage over other low-cost carriers within the region that are limited by only having short-haul services. Despite facing challenging obstacles, AirAsia has prosperous with the deeply ​​value that are held and the ability to achieve tangible results. By using the Ansoff matrix, it is shown that the different strategic options exercised in companies operating in various industries and markets (Pearce & Robinson, 2009).
In determining appropriate strategic options for the company, business environment and competitive activities play an important role in determining the most appropriate strategic option for companies because it will impact the firm's strategic options selected. As Peter Drucker said, "When you see a successful business, someone once mad a courageous decision." When a company penetrates a market with its existing product range and strategic capabilities and obtains increased market share, then the market penetration occur. AirAsia is one of the companies that have low market share, but succeeded at attacking MAS's market share in the domestic airline industry. This strategy begins with the existing customers of the organisation and is used by companies to increase sales without drifting the original product market strategy (Ansoff, 1989). AirAsia managed to penetrate the aviation industry to get customers from competitors, improve product quality and service levels, attracting non-users of products or convincing current clients to use more of their products through the promotion of RM0.99 and get great media coverage because of the success of the fairy.
This strategy is important for AirAsia as to retain existing customers is cheaper than attracting new customers and engage in relationship marketing activities is important for maintaining customer lifetime value is high (Pearce & Robinson, 2009). Product development strategies implemented when organizations produce products or services that are modified or new to existing markets (Johnson, Scholes & Whittington, 2008). However, organizations need to be wary of a new strategic capability such as mastering new technologies and project management (delay aircraft orders) before using this strategy. AirAsia main objective is to maximize revenue. AirAsia feel income from the passenger seat is not enough to sustain and grow the business. With spirit and its innovative thinking, new revenue streams through a variety of products and ancillary services rendered. With this strategy, AirAsia can handle competitive entry, maintain the company's reputation as an innovator of products, new technologies, and to protect the overall market (David, 2009).
The market development strategy involves offering existing products to new segments, new users and new geographies (Johnson, Scholes & Whittington, 2008). By strictly adhering to a proven business model, AirAsia maintained profitability in its Malaysian operations, despite limited operations and financial resources. AirAsia used its expertise and experience in Malaysia to expand into Thailand, Philippines, Japan Indonesia, and other countries.
This further entails exploration of new segments of a market, new users for the company's products and services, or new geographical areas in order to entice new customers (Pearce & Robinson, 2009). AirAsia's related diversification strategy was mainly in the form of backward, forward, and horizontal integration. The airline's backward integration strategy was executed as the company extended its operations towards its growth of its ancillary products and services. Diversification strategy is distinct as an organization essentially moves out of its current products and markets into new areas. AirAsia is expanding on its freight services on its scheduled flights, which includes, cargo, courier and mail services.
The execution of the horizontal integration strategy enables AirAsia to venture into businesses that are related to its existing operations and optimize its revenue streams (David, 2009). Although the diversification strategy involves venturing into unknown territories and parameters for an organization, the risks of diversification can be minimised by moving into related markets (Ansoff, 1989) as executed by AirAsia. By identifying suitable local partners and forming joint ventures within the region, AirAsia was able to share its investment risk with its chosen partner, leverage on the combined resources and know-how of its partner and fulfilled the respective governmental conditions to expand the growth of its airlines (Johnson, Scholes & Whittington, 2008). However, on identifying and managing relationship with future partners AirAsia needs to be mindful, as it could lead to a loss of competitive advantage through imitation and it could limit its ability to integrate and coordinate activities across national boundaries.
Recommendations
The balanced scorecard is a set of measures that are directly linked to the company's strategy. Developed by Robert S. Kaplan and David P. Norton, it directs a company to link its own long-term strategy with tangible goals and actions. The scorecard allows managers to evaluate the company from four perspectives: financial performance, customer knowledge, internal business processes and learning and growth. An organisation's strategy highlights the development process for creating value for its shareholders, customers and citizens. With the implementation of Kaplan and Norton's Balance Scorecard, I would be measuring a few critical parameters for AirAsia that would represent its strategy for long-term value creation. The targets and initiatives highlighted in the respective perspectives should be implemented at least in the next three years to maintain its current status as the leading low cost carrier in the region and globally. Financial Perspective
In order to ensure long-term shareholder value is achieved, AirAsia should reduce cash expenses, eliminate defects, improve yields, manage capacity from existing assets and make incremental investments to eliminate bottlenecks. The purpose is to improve cost structure and increase asset utilisation. The performance can be measures by the plane lease cost. Besides, it's also need to find the new sources of revenue streams (new products, market and partners) and also improve profitability of existing customers. By implement this initiatives, its can expand revenue opportunities and enhance customer value.
Customer Perspective
AirAsia should identify the targeted customer segments in which the business unit operates and measure its performance. For examples, AirAsia can implement Customer Relationship Management (CRM) system, provide sustainable promotions to attract new customers and enhance the branding image of AirAsia by leveraging on regional media and foreign partnership. So, it can attract and retain more customers. It can be measured based on the number of new customers. AirAsia also can implement the customer loyalty program and quality management and also monitor the changes in customer trends to increase the ancillary income. Performance are measured based on lowest prices and flight are on time.
Internal Perspective
The internal perspective examines the methods of executing the relevant strategies for the organisation. The internal process accomplishes two vital components of an organisations strategy which includes delivering the value proposition for its customers and improving processes and reducing costs to enhance the productivity of the organisation (Kaplan and Norton, 2004). So, in this perspective, the initiatives that can use by AirAsia are optimize the cycle time, achieve human resources and financial process excellence, maintain a reliable IT infrastructure, and develop innovative marketing communication program. It can be apply in day to day process by which companies produce their existing products and services and deliver them to customers. Performances are measure based to on ground time and on time departure. In order to expands and deepens relationship with targeted customers, AirAsia can provide rapid responses to dissatisfied customers and ensure the operations are handled effectively, build strategic employee competencies, develop effective decision support system and develop effective customer relationship management.
This initiative is effective if the complaints and grievances by the customer reduce. AirAsia can penetrate new markets and customer segment by developing new products. Initiative that can be taken by AirAsia are drive organisational performance, propose and deliver transformational applications, develop financial information for improved decision making and develop marketing business intelligence. The initiative is successful if there is growth in ancillary products and services. To help organisations continually earn the right to operate in the respective countries, AirAsia can ensure compliance with regulatory requirements, accelerate new product development ideas and implement good environmental policies. The success of this initiative is measure when AirAsia ensure the safety of all aircrafts is maintained and carbon emission is reduced.
Learning and Growth Perspective
This perspective reflects the company's ability to maintain a competitive advantage, namely, human capital, information capital and organization capital. Moreover, this perspective emphasizes that people who have a good system resource development, organizational systems and information system established a solid foundation for improving the organization's performance. To support human capital strategy, the availability of skills, talents and know how is required. AirAsia need to develop strategic and functional finance, marketing, human resources and information technology competencies and ground crew training. Besides, to execute organisation capital strategy, the ability of the organisation to mobilise and sustain the process of change is required. AirAsia can continue to promote the customer focused culture and foster creative thinking and innovative. It can be measure by using the percentage of ground crew stockholders. To support information capital strategy, the availability of information systems, networks and infrastructure is required. AirAsia can implement the initiatives such as expend capabilities with technology, crew scheduling system rollout, use technology to improve financial information delivery, and enhance IT tools for marketing and IT functions. The performance is measure based on the availability of information system.
CONCLUSION
As a conclusion, there are many new management techniques that can be use by AirAsia but the best technique that can be implementing by AirAsia is balanced scorecard technique. In this technique, it's covering all the level of the organization. Start from customer, financial, internal or shareholder until learning and growth perspective. To ensure AirAsia remains as a low-cost airlines in ASEAN, improvement needs to be done. AirAsia need to plan a good strategy and initiatives to make sure their revenue and number of passenger are increasing in the future. AirAsia can try their best to improve cost structure and increase asset utilisation. It's also can expand their revenue opportunities and enhance the customer value. In the other hand, AirAsia also can attract and retain more customers, and give satisfaction to customers about their services.
AirAsia also can develop a new products, process and services to ensure that they can offer the low cost in airline industry. They also can apply regulatory and social process in order to help organisations earn the right to operate in the respective countries continually. Customer management process can help AirAsia expands their relationship with targeted customers while operation management process can help company produce their existing products and services and deliver to customer. Human capitals are referring to the requirement of the availability of skills, talents and know how to support strategy while organisation capital is about the ability of the organization to mobilise and sustain the process of change to execute the strategy. Information capital is important as a tool to improve financial delivery.
REFERENCES