Air Pollution Short Essay
Published:
26 February 2016
Remember! This is just a sample.
You can get your custom paper by one of our expert writers.
Get custom essay
103 writers online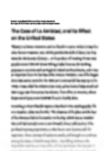 There are several disadvantages of living in urban areas The first drawback is the high cost of living. Urban citizens have to spend a lot of their income paying their bills of electricity, water and other basic services. Secondly is traffic congestion which is a serious problem. During rush hour, vehicles get stuck in a traffic jam, this makes most road users feel uncomfortable and time-consuming. The latter point is air pollution actually the addition of any harmful substances to the atmosphere. The more vehicles move in the road, the more air pollution These substances include various gases and tiny particles that may be harmful to human health and the environment. The greenhouse effect keeps a portion of the heat received from the sun which leave the atmosphere and go back into space. If you are at ground level, the ultraviolet rays from the sun become a very powerful pollutant, in other words it makes damage not only to humans but also plants and animals are affected, too. Increases in air pollution have been linked to breakdowns in lung function and increases in heart attacks.
The most vulnerable people that are harmed are people with asthma and other lung or heart disease because their problems will increase faster than other kind of problem.What is Air Pollution? Air pollution is actually the addition of any harmful substances to the atmosphere, which causes the damaging of the environment, human health and the quality of life. With the development in industry, came along the increase in air pollution, which occurs inside homes, schools, offices even in the countryside. Consequently there has been an increase in the death rates resulting from various diseases caused by air pollution varying from breathing problem to lung cancer. Air pollution does not only affect people but it also damages the whole ecological system in which plants and animals are harmed as well. Air pollution has reached such a critical stage where it affects the earth's atmosphere as it lets in more harmful radiation from the sun. Consequently, our polluted atmosphere is becoming a better insulator, thus, preventing heat from escaping back into space. That is why there is a global rise in temperature which scientists refer to as " global warming". As a result of this rise in temperature the world food supply and sea level will be affected, also there is the probability of increase in the tropical disease. Sources of Air Pollution I_ Human sources: If we try to investigate the major sour