Alcohol Consumption Should Be Banned
Remember! This is just a sample.
You can get your custom paper by one of our expert writers.
Get custom essay
97 writers online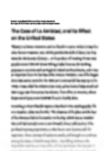 A dizzying array of research suggests alcohol can have both good and bad effects, but making sense of such studies all comes down to preaching about the evil effects of alcohol and the substantial impact on our health. Alcohol is more than just an ordinary beverage. Alcohol's consequences weigh more than any of its positives. This debate points out few of the reasons as to why alcohol should be banned. Firstly, alcohol should be illegal because it is just as dangerous as any other drug. Alcoholism follows a characteristic course with known physical, psychological, and social symptoms. Once addicted, the alcoholic continues to consume alcohol despite the destructive consequences. Alcohol has a long-term effect on both the body and the mind that will ultimately force the person into a state of self-denial which will render him or her practically useless and almost without dignity. Secondly, there are a number of problems associated with drinking alcohol, such as brain damage, problems with walking, hazy vision, and slurred speech. The use of alcohol also affects the brain; the impairments will be realized after the first and/or the continued consumption of it but the symptoms disappear once the drinking stops (Stand ridge, 2004).
Some of the common disorders that have been associated with alcohol in relation to brain injury include the risk of being permanently impaired. Excessive alcohol consumption can also lead to destruction of brain cells and thus, results in a complete degradation. It has also been established that high doses of alcohol can cause the loss of sensation and being unable to achieve orgasm, which ends up causing impotence. It also interferes with the functioning of the immune system, making the body unable to combat infectious diseases due to its long-term effect impeding the use of the immune cells. Alcohol also limits the absorption of nutrients and contributes to suffering from malnutrition in those who drink heavily. In the long run, it causes stomach ulcers and may greatly affect the liver, bringing on hepatitis, cirrhosis, or pancreatitis (NIAA, 2002).
for more details contact me on +27 83 730 5338