Alignment of HRM
Published:
28 February 2016
Remember! This is just a sample.
You can get your custom paper by one of our expert writers.
Get custom essay
99 writers online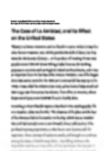 Introduction
Marriott International, Inc. is an American diversified global hospitality company. It was founded in Washington, D.C., U.S. in the year 1927 by J. Willard Marriott with his wife Alice S. Marriott. It facilitates hotels and related lodging facilities. This public company has more than 3800 properties in more than 78 countries in the world. They have many full-service lodging, select-service lodging, Great America Parks and extended-stay lodging. They have always worked and got strength from their core values. Their core values are putting people first, pursuing excellence, embracing the change, acting with integrity and serving our world. They have always worked on the base of founding principles and their heritage. Ensuring the HR strategy is in alignment with the business strategy Marriott International Inc. has become increasingly strategic in HR (Halzack, 2013). They are using various innovative practices. This has made them one of the best places to work in hospitality industry. The success of Marriott International can be ensured if stick to their core values and gain strength from their founding principles. They should successfully integrate HR strategy and business strategy to accomplish goals of the company. There should be no compromise in customer services. Marriott's culture and heritage has always influenced and motivated their business. They should aim at employing talented employees who can recognize the value of guest and serve them to make more loyal customers.
HR job positions and responsibilities
Human Resources Coordinator: They are responsible for supporting the timely recruitment, administration, training and care of all associates The Human Resources Coordinator is expected to provide assistance to the Human Resources Management in coordinating and implementing the Human Resources programs and initiatives. Human Resources Manager: They direct and work with Human resource associates to carry out the daily activities. Assistant Training Manager (Casino): The Assistant Training Manager (Casino) helps drive Marriott values and philosophy and ensures all casino-related training and development activities are strategically linked to the organization's mission and vision. The position assists ensuring effective training is in place to enable the achievement of desired business results. The Assistant Training Manager supervises the needs assessments. It designs and develops training programs and also provides the delivery of both custom and corporate training programs. Director, Personnel Services: They are responsible for assisting the Director of Human Resources for carrying out different strategies which provides attraction, retention, and development of various talent.
Preferable job position
Human Resources coordinator and Human Resource manager would be more preferable job positions for me because both concentrates on managing administration, recruitment and training needs of the company which interests me. I would like to deliver HR services efficiently and effectively to enable business success. It requires helping management innovatively implementing HR programs and initiatives which interests me.
Establishing HRM strategies to improve competitive advantages Marriott International has been using strategic HR practices to gain competitive advantages. They should try to eliminate the barriers to competitive response. They should focus on needs matching so that they could place right person at right place. They should improve their staffing and compensation HRM practices as they are the ones which help in creating competitive advantage for the company (Schuler and MacMillan, 2005). They should concentrate on training and development of employees and introduce more innovative HR policies and programs.
Ways to increase company diversity
Company has always been focused on increasing their diversity. These ways can be helpful to increase company diversity- Different ad campaigns for different diversities.
Organizing summits for different demographics.
Increasing their reach through attracting offers.
References
Bulla, D N and Scott, P M (1994) Manpower requirements forecasting: a case example, in Human Resource Forecasting and Modelling, ed D Ward, T P Bechet and R
Tripp, Human Resource Planning Society, New York
Randall S. Schuler and Ian C. MacMillan, Gaining Competitive Advantage through Human Resource Management Practices Reilly, P., (2003). Guide to Workforce Planning in Local Authorities, Employers Organization for Local Government, London.
Wright, Patrick. "The 2011 CHRO Challenge: Building Organizational, Functional, and Personal Talent". Cornell Center for Advanced Human Resource Studies (CAHRS). Retrieved 3 September 2011.
Halzack , Sarah , At Marriott and other firms, HR becomes increasingly strategic: Published: August 26, 2013 Thewashingtonpost Retrieved from: http://www.washingtonpost.com/business/capitalbusiness/at-marriott-and-other-firms-hr-becomes-increasingly-strategic/2013/08/23/63f0856c-05c0-11e3-9259-e2aafe5a5f84_story.html