Amazon Business Practices
Remember! This is just a sample.
You can get your custom paper by one of our expert writers.
Get custom essay
93 writers online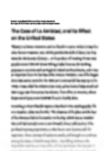 Abstract
This paper provides strategic research for Amazon.com, starting with the vision and mission statements and an external assessment of the competitive forces using the Porter Five Forces model. Also included in this research is an evaluation of the intensive strategies used by Amazon in the areas of market penetration, market and product development. Additionally, a SWOT Analysis is provided with the recommended five-year corporate strategy.
Strategic Research Project for Amazon.com
Amazon. com, an internet merchandise selling giant founded by Jeff Bezos, opened its virtual doors to its online store in July 1995. The company was incorporated in 1994 in the state of Washington and reincorporated in 1996 in Delaware. The Company's principal corporate offices are located in Seattle, Washington. Amazon.com completed its initial public offering in May 1997, and its common stock is listed on the Nasdaq Global Select Market under the symbol AMZN. (Amazon.comFAQ) Mission and Vision Statement
The mission/vision statement of the company is very simple and direct "Our vision is to be earth's most customer centric company; to build a place where people can come to find and discover anything they might want to buy online." However it still manages to meet many of the characteristics of an effective mission/vision statement; (1)Customers, it intends to the most customer centric company on earth. (2)Product or services; It is broad and no specific about any particular service or product. (3)Markets; Amazon intends to build a place where people can find anything they want to buy online. (4)It is very brief.
The entire statement and vision is summed up in 2 sentences. Overall the company is accomplishing their mission and realizing their vision. Amazon is a global company and their name has become associated with online buying. "Amazon.com, Inc. (Amazon.com) serves consumers through its retail Websites and focuses on selection, price, and convenience. The Company's four customer sets include consumers, sellers, enterprises and content creators. It also manufactures and sells Kindle devices. It offers programs, which enable sellers to sell their products on its Websites and their own branded Websites and to fulfill orders through it." (Amazon.comINC, 2012) Competitive Analysis
The industry that Amazon competes in is very competitive and changes quickly. An external assessment of the competitive forces using the Porter Five Forces model looks at; rivalry among the competitors, potential new competitors, potential substitute products and bargaining power for suppliers and consumers. (David, 2009).
1.Competitors; Amazon has branched in the world of tablets and is competing with Apple and Google, "the Kindle" is a direct competitor to Ipad. In the publishing and book world only Barnes and Noble is even comparable and Amazon is far more successful. In other areas Amazon is out performing its competitors like Walmart, Netflix also. (Amazon.comINC,2012)(Amazon's Competitive Advantage, Growth Opportunities Make It A Buy, 2012)
2.New competitors; there are always new companies emerging in the internet retail business however Amazon has remained a giant and very profitable. (Amazon's Competitive Advantage, Growth Opportunities Make It A Buy, 2012)
3.Potential Substitute products; innovation is the name of the game in the internet so Amazon always has the threat of "the next best thing" but they continue to be innovative as with their entry into the tablet world.
4.Bargaining power with Suppliers and consumers; Amazon is a relatively inexpensive way for suppliers to offer their product as well as a convenient one stop shop for consumers. Intensive Strategies
Market penetration, market and product development are commonly referred to as intensive strategies. They require intense efforts if a firm intends to improve its competitive edge with its products. (David, 2009). A market penetration strategy attempts to increase the market share of current products. Amazon has a healthy balance sheet and is positioned to benefit from the continued shift in commerce from offline to online. Retail bankruptcies could continue to shift sales online. (Forbes.com 2012) A market development strategy involves introducing current products into new geographic areas. Amazon is experiencing growth in its international sales and is leveraged to two of the fastest growing platforms on the Internet, online search, and the Chinese e-Commerce market.
A product development strategy seeks to increase sales by improving or changing present products. Amazon introduces Amazon Prime, a membership site for loyal customers that offers faster shipping of products and through a deal with Marshall Cavendish, one of the world's leading book publishers and classroom digital solutions providers, Amazon has acquired over 450 titles of its US Children's trade books business, a move that will allow expansion into picture books, chapter books and Young Adult novels.
SWOT Analysis
Strengths, Weaknesses, Opportunities and Threats (SWOT) analysis, which provides information to analyze and evaluate the organizations strengths and weaknesses, is presented for Amazon.com. This is widely used as a strategy formulation technique and to help in identifying the most beneficial targets and strategies to pursue. Strengths: Brand recognition, an industry leader in online sales. Customers' satisfaction, very loyal; Diversified, large variety of products, profitable business model, offered in different geographical markets. Weaknesses: Free shipping and all delivery is outsourced.
Multiple competitors, Consumer demand can trigger losses in revenue. International markets and currency, time to deliver versus a local bookstore Opportunities: Expanding geographical markets, advances in technology, new products ("the kindle"), increased suppliers. Threats: Competitors, the e-commerce field evolves rapidly and is highly competitive, companies such as EBay, Wal-Mart, Google and Yahoo. Lack of inventory to meet demand, no control over suppliers and delivery services, weakened economies foreign and domestic. Conclusion
Despite all of the constant competitors that Amazon faces for its current and future market share it continues to make a profit. With of constant evolution current business practices and continued innovation of new ones, Amazon should maintain its lead on its nearest competitors. I believe further expansion into international markets as well as more collaboration with other firms such as Microsoft to insure that its new innovations and products are main-stream, will continue to be profitable.
References
Amazon's Competitive Advantage, Growth Opportunities Make It A Buy, (2012, 20 Jul) Seeking Alpha.com Retrieved from: http://seekingalpha.com/article/735201-amazon-s-competitive-advantage-growth-opportunities-make-it-a-buy Amazon FAQs, Amazon.com
Retrieved from: http://phx.corporate-ir.net/phoenix.zhtml?c=97664&p=irol-faq#14296 Amazon.com INC, (2012, 04 Dec) New York Times Online
Retrieved from: http://topics.nytimes.com/top/news/business/companies/amazon_inc/index.html AMAZON.COM INC (NASDAQ: AMZN) Buy/Hold/Sell Analysis, Forbes.com Retrieved from: http://finapps.forbes.com/finapps/BuyHoldSellAnalysis.do?tkr=AMZN David, F. R. Strategic management concepts (12th ed.), 2009 Upper Saddle River, NJ: Prentice Hall Johnson, Mark W (2010, 12 April) Amazon's Smart Innovation Strategy, Bloomberg Businessweek Retrieved from: http://www.businessweek.com/innovate/content/apr2010/id20100412_520351.htm Order It Online, And… Voilà, (2012, 3 December) Wall Street Journal Online Retrieved from: http://online.wsj.com/article/SB10001424127887324712504578133602774225678.html?KEYWORDS=amazoncom#articleTabs%3Dvideo
SWOT Analysis of Amazon, (2010, 9 September) MBA Lectures
Retrieved from: http://mba-lectures.com/marketing/swot-analysis-marketing/1157/swot-analysis-of-amazon-com.html