American Cancer Society
Remember! This is just a sample.
You can get your custom paper by one of our expert writers.
Get custom essay
86 writers online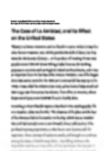 Am I a patient, no. Am I a survivor, no. I am someone who has seen cancer through the eyes of others. An uncontrolled division of abnormal cells creates the cancer within the body ("What is Cancer"). More than 1 million people in the United States are diagnosed with cancer each year ("Learn about Cancer"). An estimated 10,450 new cases and 1,350 cancer deaths are expected to occur among children in 2014 ("What are the key statistics").
The American Cancer Society is one of the greatest resources to turn to when cancer strikes. The American Cancer Society was founded in 1913 to raise the public's awareness about cancer ("The Early Years"). With millions of supporters, the American Cancer Society saves lives and works to create a world with less cancer and more birthdays. They do this by helping people stay well, get well, by helping support the findings of cures, and fighting back against the disease ("Who We Are"). It is imperative to fund basic research with the American Cancer Society because it saves lives.
The American Cancer Society strives to help our society stay healthy by helping people take the necessary steps to prevent cancer or detect it early. Through the American Cancer Society Clinical Trials Matching Service, patients are connected with more than 64,000 different treatment options. Also provided is an online support community for cancer survivors and caregivers that have brought together more than 93,000 people since 2000 ("Online Communities and Support"). The American Cancer Society acquires results by investing in research that helps to understand cancer causes, determine how to prevent it, and discover new ways to cure it ("Explore Research").
The American Cancer Society has several fundraising methods. The main fundraiser The American Cancer Society holds is a walk called the Relay for Life. This event takes place across the globe in different communities to honor cancer survivors, remember loved ones, and fight back against this detrimental disease. The Relay for Life has varying meaning to different people, but we all want the same result, a cure for cancer. We walk, we talk, we cry, we laugh, we learn, we love, and we hope. Today there are nearly 14 million cancer survivors, and with the money raised, the number of
survivors will continue to rise ("What is Relay For Life").
Personally, my family has been involved in American Cancer Society fundraisers for the past several years. Not only has our family been able to raise money for the cancer society, but we have also entered races and walks for the cure. Cancer affects every individual and family in a different way physically and emotionally. Whether you are joining the fight to end cancer for a family member, or a friend everyone has personal reasons for taking action. What we all share is the belief that we can end this terrible disease if we work together. The donations, long-term involvement, and healthy choices of our society, have helped contribute to a 20% drop in death rates from cancer since the early 1990s (McDaniel np). The American Cancer Society is continually working hard to lower the death rate, and while the disease still claims 1,500 lives a day in the United States, change can be made by speaking out ("Cancer Facts and Figures 2013). Donating, signing up for a local fundraising event, helping fund the next research breakthrough, or spreading the word to friends and family are all ways society can join the fight against cancer. The American Cancer Society also helps families by helping them understand and cope with the fact that diseases such as cancer can occur at anytime, and in any age group. Cancer brings families together in though times, and the importance of life is soon realized. The American Cancer Society has helped save these lives and has brought families together and continues to do so today. Cancer does not define us but how we chose to cope with it does. Every one needs to involve as many people as we can to raise money for research and education. There is a passionate aggression in each of us as we are fighting to save more lives.
The American Cancer Society would not exist without fundraisers and donations. Advocates are imperative for the support and fundraising of the American Cancer Society. Without it, individuals around the world would continue to get cancer and not know what to do about it. Without the research and effort The American Cancer Society puts in patients would get no where, have a lack of education, not know what to do when they get it, and most importantly never have a cure to cancer. We need the American Cancer Society and they need our support. So let's finish the fight and donate today!
Works Cited
American Cancer Society. American Cancer Society Inc., 2014. Web. 12 Mar. 2014. . Cancer Action Network. American Cancer Society Cancer Action Network Inc., 2014. Web. 12 Mar. 2014. . McDaniel, Justine. "Cancer Society, Researchers Look Back on Decades' Worth of Progress…" McClatchy Washington DC News Bureau. 07 Oct. 2013: n.p. SIRS Issues Researcher. Web. 12 Mar. 2014. Relay for Life. American Cancer Society Inc., 2014. Web. 12 Mar. 2014. .