American Diabetes Research Paper
Remember! This is just a sample.
You can get your custom paper by one of our expert writers.
Get custom essay
80 writers online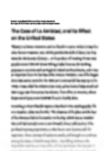 For this research paper, I chose the American Diabetes Association. There are three types of diabetes. Two of them are major. Type one is known as Juvenile Diabetes. It is where your pancreas is unable to produce insulin for your body. Juvenile Diabetes affects mainly young people such as children and young adults. People with type one must take insulin daily. (Type 1)The second type is known as Diabetes Mellitus.
Diabetes mellitus is a metabolic disorder ensuing from the body's failure to produce or appropriately use insulin. It affects mostly adults. People may get Diabetes Mellitus by heredity or lifestyle choices. (Type 2) Gestational is the third type. Women who are pregnant tend to sometimes have this because when women are pregnant, hormonal changes cause your cells to be less responsive to insulin. It is also taken as a sign for women they may have Diabetes Mellitus later on. (Gestational Diabetes)
People were first diagnosed with diabetes in the late fifteenth century B.C. in Egypt. The first symptoms were found in 1552 B.C. Many thought diabetes was mostly a urination issue. It wasn't until 1959, when the two major types were distinguished. (How Long Has Diabetes Been Around???) The association itself was formed on August 28, 1940 by twenty six physicians. You can find many programs in all fifty states including the District of Columbia. (Nyondo)
I chose to research this association for a few reasons. Diabetes is a huge epidemic that is affecting almost everyone in the world. Everyone I know either knows someone who has it, someone live with it, or they themselves have it. My father and grandmother both have type two. Seeing how it is affecting their lives, it also affects people they live with. It has shown me what diabetes can do to the way you live, eat and act and more. I am also aware of it because of them.
They both told me and my siblings to be careful with what we eat. I would like to learn more about this association because I want to learn how I can take part in helping my family and others with diabetes. I want to make a difference to them and everyone else fighting it.
The research foundation was established in 1994 to raise huge contributions to fund diabetes science. Their commitment is to raise funds to improve people's lives that have the disease. "100% of all research goes directly to support diabetes research."
(What The Research Foundation Does) There are three main programs to which you can donate. 1. Core Research Program- Investigator projects covering the full spectrum of subject matter in the field of diabetes. 2. Targeted- Donor-driven area of interest as deemed appropriate by the research. 3. General Research Program- Any areas of research currently approved by the association that have the greatest promise. (What The Research Foundation Does) They receive donations by holding up sales such as purchasing flowers for others, special dinners, Step Out, United Way, and direct mail.
The cost of diabetes in 2007 follows:
$174 billion in 2007
$116 billion- direct medical cost
$58 billion- indirect
$18 billion- undiagnosed
$25 billion- diagnosed
$623 million- gestational (Diabetes Statistics)
The demographics they serve are everyone in the United States of America. The demographics of people with diabetes are listed as of the 2007-2009 survey: 7.1%- non-Hispanic whites
8.4%- Asian Americans
12.6%- non-Hispanic blacks
11.8%- Hispanic
Among Hispanics:
7.6%- Cubans
13.3%- Mexican Americans
13.8%- Puerto Ricans.
The years of age:
215,000/2.5%- under twenty years
23.6 million/11.3%- twenty years and older
13. Million/11.8%- men
12.6 million/10.8%- women
The total prevalence of Diabetes in the United States:
25.8 million/8.3% – is of the population including children and adults. 18.8% million- diagnosed
7. Million- undiagnosed
79 million- prediabetes
1.9 million- new cases in people ages twenty and older in 2010. (Diabetes Statistics) You can contact the American Diabetes Association by emailing or calling them. By either one, you can request an information packet or have an interview. Their email address is [email protected], and their calling center is 1-800-DIABETES (1-800-342-2382). Their hours of operation are on Monday, Tuesday, Wednesday, at 8:30 a.m. till 6:30 p.m. EST. Thursday and Friday at 8:30 p.m. till 8:00 p.m. (Contact Us) Diabetes is a huge problem for people of all ages everywhere.
It has existed from early on and may soon affect everyone. I believe that more and more people are becoming diagnosed with Diabetes in America because of our nutrition and serving sizes. Americans today are indulging more in unhealthy food. With that, they rely on that food as everyday meals and soon, the serving sizes become greater in size. In addition, most Americans forget about the importance of physical activity. I believe that if more Americans are aware of Diabetes and what the effects are, they will begin to change their ways for the better.
The American Diabetes Association is a great foundation because all of the donations go towards the research to support Diabetes. I am glad that I did this association for all reasons. They tell you everything about the association and how they are handling things. This shows that they do care about what people want to know, and they are not afraid of what they do. From what I have learned, the American Diabetes Association is one of the greatest foundations existing today, and will be for more years to come.
BIBLIOGRAPHY
"Contact Us." diabetes.org. February 14, 2011. http://www.diabetes.org/help/contact-us.html "Diabetes Statistics."
diabetes.org. January 26, 2011. Web. February 10, 2011. http://www.diabetes.org/diabetes-basics/diabetes-statistics/?utm_source=WWW&utm_medium=DropDownDB&utm_content=Statistics&utm_campaign=CON "Gestational Diabetes." Diabetes.org. web. February 14, 2011. http://www.diabetes.org/diabetes-basics/gestational/ "How Long Has Diabetes Been Around???" diabetes.ygoy.com. January 11, 2010. Web. February 10, 2011. http://www.diabetes.ygoy.com/2010/11/how-long-has-diabetes-been-around/ Nyondo, Jane. Email. Email interview. February 23, 2011.
"Type 1." Diabetes.org. web. February 14, 2011. http://www.diabetes.org/diabetes-basics/type-1/ "Type 2" Diabetes. Org. web. February 14, 2011. http://www.diabetes.org/diabetes-basics/type-2/ "What The Research Foundation Does." Diabetes.org. February 14, 2011. http://www.diabetes.org/news-research/research/ada-research-foundation/what-the-research-foundation.html