Analysis: "How much Land does a Man need" by Leo Tolstoy
Remember! This is just a sample.
You can get your custom paper by one of our expert writers.
Get custom essay
80 writers online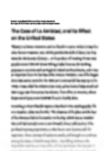 As Humans, we have desires that make us take possession on something more than what we have to benefit us. In this short story, Leo Tolstoy delivers the message that greed, in the end brings us nothing but death itself. This story tells us that even if we have enough that we can get by the odds of becoming wealthier is so seductive to us that we are ready to loose everything we love.
Tolstoy starts his story with two women and their argument in whose life is better. Is is a life with or without ownership? As they continue, the owner of the house, Pahom, joins and agrees that life without possessions is better hence the fact that they will have no temptations towards wealth and not fear the devil. In this story, devil is greed. But he, himself thinks about having land of his own so he wouldn't fear the devil. From the beginning, Pahom is a hardworking man, but he makes the mistake in thinking that more land would give him a better life. He says it himself: "If I had plenty of land, I shouldn't fear the devil himself!" When he gets the shot at buying his own land, he jumps into the chance with the mentally prepared mind that will be happy with more land. Even if he had a lot or fertile land to grow crops on and not pay fines for his animals, he was not satisfied. "Pahom was well-content and everything would have been right if the neighboring peasants would not have trespassed on his cornfields and meadows", so even if had more than enough land, he looked up fo more land. This reflects the characters greed. Pahom would be fine and happy with the extended land but the human instincts made him get greedier and greedier as time went by.
As the story progresses, Pahom's behavior reflects the message that greed has no line. As Pahom's land expanded, he got into many riots with his neighbors which led him to move to different and larger land. Whenever he got into riots like this with his new neighbors, he moves into new land to satisfy himself; reflecting the greed in him growing.
Once, a tradesman passing by told him about a lot of land sold for less money. "If I take it out there, I can get more than ten times as much for the money" so, he abandoned everything that he worked so hard on and left for inspection on that land. The land was obviously just the way the tradesman described. His greed just got out of control and it took over him. He was exhausted walking all day and he tried making it back to his meeting place before the day was over. But, due to his weak body, he was defeated, and made one last battle wondering, "there is plenty of land but, will God let me live on it". He had taken this journey too much and died in the process.
Throughout this story, Tolstoy was trying to tell us that human nature pushes us for more than what we need. Many of us think that having ownership makes us happy, in fact it does, but we need to understand that once the process starts, there is no end until the death. That was Tolstoy was reflecting, in the end all he needed was a piece of land.
12. "…no, you don't belong to any children. Your responsibility is to understand the moral condition of the town where you live. Here you are child-free to start your own. Your task is yours, so long as it does not affect what is owed by it to you. This is how moral thinking always does. Of course, there are things we do that cause our world to grow bigger than life, something that is going to get worse in the year 2100 when civilisation disappears."
In the first half of the 20th Century I saw theories out there that my ideas about how society should live was refuted and done away with by the scientifically proven scientific evidence. All this is just an initial reaction to "moral thought" once your ideas are proven wrong. But under the correct circumstances it happens. But this's not at all true. A human mind does not automatically invent everything in the world, it gives it one idea and creates a whole world with this. But if you have moral cognition, then you will be able to create or think about any ideas you feel should be okay or must be rejected by the world. So no moral mind can trust anyone. What's the point if you have a thought that can't be rejected and you don't believe it, then your ideas will get debunked and in your world will simply become unknown, invisible to you.
Also in real life, an American named Thomas Edison created a Ponzi scheme where he was given a piece of land off the coast of Florida by human beings who'd tried to crack down on them. Each owner could sell the land for money and it would be used to build a new computer. The property developer and the, presumably, community organizing committee that recommended that they sell that property went on to build the computers which worked so well that Edison started spreading his ideas among society. At the end of the 20th Century Edison also patented a valuable medical device called fulvic valve – but that didn't solve the original problem of telling when something must be sold off in order to obtain a piece of land. Now that Thomas Edison had invented the plumbing in America, many other people would be excited that it would be something to give their families.
You're not really supposed to open up your mind,