Ancient Views of the Concept of Marriage and the Family
Remember! This is just a sample.
You can get your custom paper by one of our expert writers.
Get custom essay
89 writers online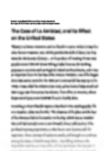 There are several aspects that constitute social life. These aspects include family, religion, leisure, sexuality, intellectual and creativity. The aforementioned aspects are evident in the ancient literature. However, both the Western and the Eastern had different views regarding these social aspects. The paper discusses Western and Eastern views of social life and responsibilities in ancient literature. To narrow down the research, marriage and the family were chosen. Both Western and the Eastern writers had different views regarding various issues surrounding marriage and the family.
Ancient literature dates back A.D 476, and it underwent a series of transformations until the 16th century. During ancient times, many, philosophers and writers used various forms of writing to pass their messages. These forms included poetry, narration and even writing on stones. The recorded ancient from Greek, Egypt, Persia, Europe and some parts of Asia shows significant similarities and differences. To understand the matter introduced, we can consider views from the Greece and Persia, and compare them with views from Asia and Egypt. In these countries, a lot was written regarding social life and responsibilities. We shall also consider several works by different authors to support the arguments presented.
Similarities
Both the Western and Eastern literature talked about marriage and the family and the roles of the parties involved. A good example is Homer's Novel, Iliad, which have several scenes of love and romance. One of its themes is military glory over family life. According to the novel, family is depicted as an important institution between two people. Homer constantly forces the characters in his writings to put the interests of their loved ones. From the novel, it is clear that a complete marriage can only be possible between a man and a woman. In addition, the novel suggests that women had a role to take care of their children while men went out for war. This was the case in Eastern parts of the world. Israel writers such as Jim West emphasized on the role of women in the family. He suggests that women were seen as custodians of their families. The two writings show similar characteristics regarding men's responsibilities. The Iliad by Homer suggests that men had a responsibility to protect their families from any form of attacks. A close examination of these ancient works portrays men as muscular persons who were supposed to protect the interests of the societies. Moreover, the ancient literatures by Euripides from Greece suggest that both man and a woman must complement one another. The same is shown by Emily Teeter, an Eastern ancient writer. In his novel, Ancient Egyptian and Family Life, Teeter points out that men and women are equal parties in the marriage. However, the novel suggests that ancient women from Egypt had a role to attend markets while men carried out hard jobs, which were suitable for the survival of the family (Minchin 22).
Both Western and Eastern ancient literature values ethics in family matters. The following are various examples in support of this claim. Western ancient writers such as Plato and Aristotle came up with several ethical frameworks which were supposed to guide the members of the family. Marriage and the family were highly valued by these two great writers. According to Plato's writings, family members were supposed to be guided by ethics of virtues. The writer came up with four virtues which are prudence, duty of care, love, justice and integrity. Moreover Eastern writers from Egypt and Israel valued ethics. A good example is The Pyramid Texts of Egypt, which talks about the journey of the soul to the eternity. The Pyramid is considered as literature because it has some moral lessons. They taught couples to practice ethics whenever they deal with each other. The literature suggests that a marriage is a journey that ought to have follow ethics (Pearson 234).
Differences
There are several differences between the Eastern and Western views of the marriage and the family as depicted in the ancient literature. The first one is the structure of the family. Eastern literature suggests that families in the East by 14th century were dominated by the husband. Women are depicted as subjects to men. According to a journal article, Ancient Israelite Marriage Customs by Jim West, men in ancient Israel were given more powers, which were dictated by the society. This is quite different Western view of the same issue. According to Homer's novel, The Oddesy, women in the Western world during the ancient times were almost equal to men. Homer uses a number of women to show their roles in the society. A good example is where he uses examples of Circe and Calypso who never entertained exploitation from their male counterparts. However, Homer presents a way in which women's status was lowered. In the novel, there are examples of women who only existed to satisfy men's sexual desires. According to this ancient work, this ruined the institution of marriage. From this we get a very crucial difference between the Western and Eastern view of the family. While Homer suggests that prostitution could happen freely in the Western world, this was highly discouraged in Eastern Literature. In fact, any woman who was found guilty of the offence was stoned to death. Most of the ancient Eastern writings make a lot of references to the Bible. A good example is presented in the journal article mentioned above. According to Eastern culture, it was wrong for a woman to make love with another man, apart from her husband. Surprisingly, men were allowed to do so. This shows that women presented in Eastern literature had little control of their life. Everything they did was already stipulated by the society (McDemont 67).
Another key difference in the two views is the attitudes towards abortion. This was a critical issue in marriage and the family. The Eastern view suggests that couples married to procreate and fill the earth. As already mentioned an above, this was another reference of the Holy Bible. Israelites were among the communities that valued life and children. Ancient Greeks and Romans accepted abortion. They were not much concerned to protect unborn children. Early philosophers argued that it took 40 -80 days for a fetus to be formed. According to Aristotle, an Ancient philosopher, couples could practice abortion before sense of life had begun. He however believed that female embryos developed slowly than male ones. With regards to the subject of abortion, things were stickier in Eastern parts. Eastern culture did not allow abortion to take course in the society. The Eastern view regarding abortion was that anyone who caused miscarriage, he or she had to pay a fine to the husband of the woman. The literature suggests that fetus was a property and it needed to be safeguarded by all means. This suggests that everyone in the Eastern society had a responsibility to support human life (Pepe 45).
From the above analysis, it can be noted that both the Eastern and Western views on family had similarities and differences. Ancient Eastern writers seem to have been influenced greatly by the Bible in their writing. On the other hand, Western writers were critical on a given subject matter, and they often differed in opinions.
References
McDermott, M. H. Novel and Romance: The Odyssey to Tom Jones. Diss. The New University of Ulster, 1975.
Minchin, Elizabeth. "Homer and the resources of memory: some applications of cognitive theory to the Iliad and the Odyssey." (2001).
Pepe, L. "Abortion in ancient Greece." XIX Symposion of Greek and Hellenistic Law. 2013.
Pearson, Lionel. Popular ethics in ancient Greece. Stanford University Press, 1962.