APA citation and zotero
Published:
5 December 2015
Remember! This is just a sample.
You can get your custom paper by one of our expert writers.
Get custom essay
103 writers online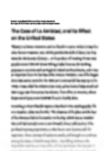 1. A general "res earch s hows" type of statement that is supported by at least three different sources (e.g., three research articles)
Zotero is an extension of Firefox web browser that enables users to save on books, article and other materials on which one is able to retrieve their citations (Morton, 2011; Vanhecke, 2008; Lewis, 2008)
         2. A paraphrased sentence citing a single source with three to six authors
Zotero retrieve and imports citation information from a number of sources such as newspaper, and commercial Web sites, and Web-based databases such as PubMed (Trinoskey, Brahmi, & Gall, 2009, p. 225).
          3. A subsequent sentence citing the same source as in Step 2 that correctly uses et al
Air pollution is low in developed countries comapared to industrialised countries where it is high as evidenced by particular locations in Canada (Hystad et al, 2011, p. 1128).
          4. A short quoted passage that is cited correctly. Make sure to include the page number and place the punctuation correctly
He argues that, "Zotero's note-taking feature is very practical. Users can enter small notes on a particular reference by simply typing in an input field. These notes are saved automatically and organized in conjunction with the citation information," (Vanhecke, 2008, p. 275).
           5. A second quoted passage that is 40 words long or longer, which is formatted correctly as a block quote and cited correctly with the page number and punctuation placed correctly
He explains how Zotero note taking works: Zotero's note-taking feature is very practical. Users can enter small notes on a particular reference by simply typing in an input field. In addition, Zotero is integrated with Microsoft Word and other word processors and works in all computers formats (PC, Mac, and Linux). Features such as formatted citation export make it very simple for users to create a list of references in the perfect format desired for a manuscript or other use. Users can create a reference list by dragging and dropping citations, (Vanhecke, 2008 p. 275)
References
Hystad, P., Setton, E., Cervantes, A., Poplawski, K., Deschenes, S., Brauer, M., & … Demers, P.
(2011). Creating National Air Pollution Models for Population Exposure Assessment in Canada. Environmental Health Perspectives, 119(8), 1128
Lewis, L. A. (2008). From the Front Lines: An Academic Librarian Reports on the Impact of
APA's New Electronic References Guidelines. Reference & User Services Quarterly, 48(2), 128-131.
Morton, A. (2011). Digital Tools: Zotero and Omeka. Journal Of American History, 98(3), 952
Trinoskey, J., Brahmi, F. A., & Gall, C. (2009). Zotero: A Product Review. Journal Of Electronic
Resources In Medical Libraries, 6(3), 225.
Vanhecke, T. E. (2008). Zotero. Journal Of The Medical Library Association, 96(3), 275