Applying Psychology to Homelessnes
Published:
1 September 2015
Remember! This is just a sample.
You can get your custom paper by one of our expert writers.
Get custom essay
91 writers online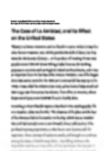 Housing is a basic human want and plays an important role in ensuring the well-being children and adults. Stable housing is a necessary need for positive child and youth development in society. Although proper housing is essential for human biological and social development, statistics have shown a rising cases of homeless families with children in recent years because of inadequate affordable houses (The United States Conference of Mayors, 2006).
Homelessness is a complicated socioeconomic issue with several economic and social factors underlying it. The socioeconomic factors include; poverty, inadequate affordable housing, some biological and mental ill health, community disintegration and family breakdown. These are the factors which in combinations, would contribute to the frequency, and type of homelessness (The United States Conference of Mayors, 2006).
Homeless means to live without proper shelter; many people experience partial homelessness by living in uncertain, temporary, and sub-standard shelters. Homelessness has become national disaster in some countries. Some of the biological causes of homelessness are mental ill health (The United States Conference of Mayors, 2006).
Due to the hard circumstances that befall homeless people throughout their lives, statistics have shown that there are higher rates of mental illness affecting this population. During the year 2008 survey conducted by the U.S Conferences of Mayors, showed mental illness the third largest cause of homelessness in the United States (The United States Conference of Mayors, 2006).
Mental illnesses can be biological and medical conditions which affect the normal activity of the human brain and mind. It often affects one's moods, emotions as well as the thought processes. The functionality of the mind is diminished hence reducing their ability of the affected individuals to take care of themselves or their living environment hence may not care even if they are living in the streets (Nielsen, 2011).
Mental illness also affects an individual's ability to make and maintain friendship and relationships and therefore, issues involving mental illness can push those closer to the affected individual away. In such case the people closer may remain homeless by keeping away or they may dispose the affected individual to be homeless in the streets (National Coalition for the Homeless, 2009).
The other biological factor leading to homelessness is depression. Depressive disorders have been proved to be the most common factor causing homelessness with nearly 25% of homeless individuals suffering from depression. It controls individual's outlook on life and their ability to judge circumstances. It results to low self-esteem, a loss of interest in actions that were once important as well as incapacitating effect on people's ability to relate to others (Nielsen, 2011).
Depression can be trigger homelessness because one feels isolated and lonely being homeless (Ravenhill, 2008). The feelings of isolation and loneliness have adverse effects on the relationship and could trigger rooflessness, for example, parental neglect (Ravenhill, 2008)
Identify and describe at least 2 social factors that may be related to becoming or being homeless. Talk about how these factors may play a role in homelessness and support your statements with research evidence, where necessary
Social factor that can cause homelessness is economic insecurity in a community or family. According to statistical findings, in the year 2005, almost 60% of individuals earning an income of less than 30% of the HUD were paying more than half of their salary on housing and accommodation, and almost the same percentage of people were also living in poor and inadequate housing (Ravenhill, 2008). Inadequate affordable housing for rental and the high economic recession have contributed to the increasing number of homeless adults and children. Economic recession have led to the high number of unemployed and has also increased laying off of employees hence people cannot afford decent housing due to lack of the rental allowance.
Violence at home is another social factor that has led to homelessness in the United States of America. Violence often predicts whether children and adults would experience homelessness or not. Research has shown that most homeless mothers with children have at one point in their families experienced domestic violence. Domestic violence may make somebody run away from home to safety and in the process the affected find themselves homeless in the streets. This social factor has mostly affected women and children. Women and children in homeless shelters and those affected by domestic violence shelters are affected by same experiences like exposure to traumatic lives. Intimate family violence often triggers housing instability and in the process, one partner may run away from home. The domestic violence can be brutal beating or sexual abuse to a partner or a child (Ravenhill, 2008).
In solving the problem of homelessness, the government should increase housing subsidies and provide permanent accommodation for those people living in domestic violence affected families, and unaccompanied youths. Research has shown that families who get housing subsidies are likely to have permanent housing stability than those who do not receive housing subsidy (National Coalition for the Homeless, 2008).
Reference
Nielsen, S. (2011). Psychiatric disorders and mortality among people in homeless shelters in Denmark: a nationwide register-based cohort study. The Lancet, 377, 2205-2214.
Ravenhill, M. (2008). The culture of homelessness. Abingdon, Oxon: Ashgate Publishing Group.
The United States Conference of Mayors. (2006). A status report on hunger and homelessness in America's cities. Retrieved April 27, 2014 from http://www.usmayors.org/publicationsNational Coalition for the Homeless. (2008). How many people experience homelessness? Retrieved April 27, 2014 from http://www.nationalhomeless.org/factsheets/families