Bancassurance Financial Project
Remember! This is just a sample.
You can get your custom paper by one of our expert writers.
Get custom essay
96 writers online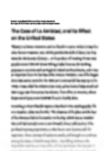 ABSTRACT
The business world and specifically financial industry has become challenging and of uncertain business environment in terms of new technology, political dynamics, government policies and advanced human resources. This therefore calls for dynamic leadership that needs to be creative and innovative in creating their competitive strategies. To mitigate these challenges, some firms' managements have designed management strategies to sustain growth, acquire new businesses or merely mitigate risk facing the business. This proposal considers strategic alliances in financial industry commonly referred to as bancassurance as a business strategy adopted by commercial banks, SACCOs and insurance companies as one of the pursuit of their diverse organizational objectives and challenges. The purpose of this research was to establish if financial organizations such as banks, SACCOs, and insurance companies can mitigate some of management problems such as high loan default leading to high credit risks, switching of customers due to dissatisfaction, declining profits, resistance to buy new insurance products hence minimum market growth among others.
To achieve the mentioned objectives, the study used structured questionnaires and personal interviews on a randomly sampled target of 48 participants from banks, SACCOs, and insurance staff within Nyeri County to investigate the effect of this strategy on performance in the current turbulent financial markets. The data was collected and analyzed using content analysis, descriptive measures and correlation analysis. The study found out that, Bancassurance model was a good source of revenues, customer acquisition, and retention and as one of the factors that investors consider before taking the risk of investing in commercial industry. The study also revealed that Bancassurance has very minimal influence on determining the success and speed of compensating business losses, death of insured applicants among others regardless of the existence of the strategic alliances. The study will be of significance to law makers, policy makers, business entrepreneurs, scholars among others.