Banyan Tree
Published:
19 February 2016
Remember! This is just a sample.
You can get your custom paper by one of our expert writers.
Get custom essay
99 writers online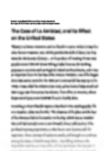 Minimal advertising, still high level of brand awareness through company's public relations and global marketing programs. Faced the challenge of translating and maintaining the success of a niche Asian hospitality brand into various market segments on a global scale 'Innovative niche product that could also bridge the price gap in this market' Building a resort comprising individual villas with locally inspired architectural design and positioned as a romantic and intimate escapade for guests; 'Sanctuary for the senses'. Banyan Tree Gallery: 'local culture and heritage and promoting cottage Crafts, retail outlet showcasing indigenous crafts, works closely with village cooperatives and not-for-profit craft marketing agents. Marketing: high-end travel magazines in key markets – public relations – global marketing programs (increase editorial coverage) – few key wholesalers in each targeted market – agents specializing in exlusive luxury holidays targeted at wealthy customers – membership in the Small Luxury Hotels and Leading Hotels of the World – GDS cose 'BY' (own global distribution system used by travel providers to process airline, hotel, car rental and other distribution partners around the world.
Actively caring for the natural and human environment, revitalizing local communities, worked actively to preserve, protect, and promote the natural and human environments in which BYT resorts where located. Minimizing the impact on the environment Green Communities = planted trees, engage local communities, associates, guests to share the causes of climate change and actions that can reduce our collected carbon footprint. Green Imperative Fund to further support community-based and environmental initiatives in the regions where it has a presence.
The company believed in building profitable resorts that would benefit the surrounding environment and contribute to local economies through the creation of employment and community development projects. Businesses with local farmers and traders by making it a point to purchase fresh produce from them.
Community Relations Department was set up to develop and manage community outreach programs. Seedling: BTHR's formalized program which aimed to help
young adults from local communities and motivate them and provide the means for completing their education to successfully enter the labor force as adults.
Future: openening city hotels and angsana hotels in Dubai and London (angsana brand in response to the demand for hotel operators in Asia that were keen to introduce spa services in their hotel, it is more contemporary and affordable brand.
Musem Shop by banyan tree: joint partnetship with Singapor's national heritage board to showcase Asi'a rich and diverse cultural heritage through unique museum-inspired merchandise.
Banyan Tree Holdings (Banyan Tree) is an investment holding company involved in managing and developing premium resorts, hotels and spas in the Asia Pacific. To date, the Banyan Tree Group manages and/or has ownership interests in close to 36 hotels and resorts, around 73 spas, 91 galleries and 3 golf courses in 28 countries The company operates in Asia, Mexico and Morocco, New Zealand, Africa, Dubai, and the UK.
Banyan Tree operates through three business segments: hotel investment, property sales, and fee-based. 1: The hotel investments segment relates to hotel and restaurant operations. 2: The property sales segment comprises hotel residences, Laguna property sales and development project/site sales. Hotel residences business relates to the sale of hotel villas or suites which are part of hotel operations, to investors under a compulsory leaseback scheme. Laguna property sales business relates to the development and sale of properties which are standalone vacation homes in Laguna Phuket. Development project/site sales relates to pure development land sales or development land sales which are fully or partially developed with infrastructure. 3: The fee-based segment comprises the management of hotels and resorts, the management of an asset-backed destination club, the management of private-equity funds, the management and operation of spas, the sales of merchandise, the provision of architectural and design services, the management and ownership of golf courses, and rental of retail outlets and offices. The company's subsidiaries (dochterbedrijf) include Banyan Tree Spa Bangkok, Banyan Tree Spa Bintan, Banyan Tree Spa Ringha, Banyan Tree Spa Phuket, Banyan Tree Sanya, and Banyan Tree Macau, among others. Banyan Tree Holdings (Banyan Tree) is engaged in the management and development of premium resorts, hotels and spas. The company's key services include the following. Hotel and restaurant operations Sale of hotel villas or suites – Development and sale of properties – Pure development land sales – Management of hotels and resorts – Management of an asset-backed destination club – Management of private-equity funds -Management and operation of spas – Architectural and design services – Management and ownership of golf courses – Rental of retail outlets and offices.
The following companies are the major competitors of Banyan Tree Holdings Limited: Central Plaza Hotel Public Company Limited – Four Seasons Hotels Inc – Associated International Hotels Ltd In the past few years, such events risks as the Tohoku earthquake and tsunami, bird flu, floods and riots in Thailand have been hard on our industry, causing tourism as a whole to dry up in their wake. By comparison, economic recessions are part and parcel of the business cycle, which we are able to take in our stride and counter with a variety of measures. During the year, the world remained mired in the European sovereign debt crisis and American economic weakness. Although these conditions affected our arrivals primarily from Europe, we were able to capitalise on the flourishing Chinese market. At our four resorts in the Maldives, for example, the number of Chinese guests surpassed those from Europe. In our continuing efforts to rebalance the Group's assets, we made the bargain purchase of Banyan Tree Seychelles which gave rise to a net gain. We also sold and leased back Angsana Velavaru in January 2013. The hybrid structure of this deal is a first for Banyan Tree, and we are pleased with how it allows us to rebalance our portfolio while still participating in the profits from the operations of Angsana Velavaru.
2012: with overall revenue growing 3% to S$338.4 million. Due to improved results from our hotel investments and fee-based businesses, as well as a higher contribution from completed sales of property units. Group EBITDA was S$74.5 million, up 51% on the back of higher revenue and a gain on the bargain purchase of Banyan Tree Seychelles. This in turn resulted in PATMI increasing by 856% (S$14.9 million), tempered by higher finance costs and income tax expenses.
HOTEL INVESTMENTS
Our hotel investments delivered a stronger performance in 2012, with Group-owned hotels posting total revenue of S$187.7 million, up 15% from the previous year. This was due to the higher contribution from our Thai properties and the consolidation of revenue from Banyan Tree Seychelles from 2Q12 onwards. These gains were partially offset by lower revenue from our Maldives properties as Banyan Tree Vabbinfaru and Angsana Ihuru were temporarily closed for refurbishment. As a result of the increase in revenue, EBITDA for this segment grew by a healthy 69% to S$36.6 million.
PROPERTY SALES
Revenue from property sales was S$42.7 million. The 36% decrease was due to the sale of development sites in Lijiang, Yangshuo and Huangshan to our China Fund in 2011. Excluding those transactions, revenue and EBITDA from property sales saw growth of 43% and 74% respectively, thanks to a higher contribution from completed sales of property units.
FEE-BASED
Total revenue from our fee-based businesses registered growth of 9% to reach S$108.0 million. This was attributable to an increase in fees from hotel management and architectural and interior design and other services. Accordingly, EBITDA for our fee-based businesses grew by 23%.
2013 appears to be another challenging year for the global economy. We anticipate continued weakness in our European target markets. In Asia, which has been the world's economic engine these past four years, growth is likely to moderate. Despite the cooling of China's economy, the tourism market both inbound and outbound is expected to continue to grow. The Chinese government is aggressively promoting domestic tourism as part of its strategy to increase domestic consumption, thereby cushioning the slowdown in export manufacturing. Banyan Tree's strong branding and rapidly expanding footprint in China will position us to take advantage of this trend. Our seven regional marketing offices in China will be invaluable in enabling us to tap the vast potential of this market and to enhance awareness of our hotels with key accounts in China. Our strategy going forward will include continuing with our asset rebalancing to unlock value and deploy capital to more promising markets. At the same time, we are exploring the possibility of extending the successful Fund model into other areas. In terms of growing particular segments, we will be focusing on increasing income from our fee-based and property sales businesses. We have built the fee-based segment to a point where it now has an impetus of its own. On the property sales front, we plan to move into selling more primary and serviced residences.
Primary residences under the Banyan Tree brand, "We will also be going forward with the establishment of a third brand of residences to be wholly sold and managed by us." Rather than compete with local property developers, we will leverage our branding and design skills to market to a niche audience in China. We will also be going forward with the establishment of a third brand of residences to be wholly sold and managed by us. Catering to an entirely new market of price-conscious buyers, these properties will be smaller in size yet deliver the quality and innovation that are hallmarks of Banyan Tree.
Strongly associated with our brand is the concept of a triple bottom line. In our pursuit of economic, social and environmental success, we made major investments in resource conservation, training and benchmarking, greening and community efforts in 2012. Under the EarthCheck system of sustainability certification, we also planted in six-year a total to over 220,000 trees.
Banyan Tree Hotels and Resorts offer an intimate retreat experience featuring its signature blend of romance, rejuvenation and exotic sensuality. Our philosophy is based on providing a place for rejuvenation of the body, mind and soul – a Sanctuary for the Senses. Placing special emphasis on providing guests with a sense of place, each Banyan Tree property is designed to fit into its natural surroundings, using indigenous materials as far as possible and reflecting the landscape and architecture of the destination. Pioneering the tropical garden spa concept with Asian health and beauty remedies passed down from generations, Banyan Tree Spa was created as the signature experience in all Banyan Tree resorts, to complement the "Sanctuary for the Senses" wellness concept. With the emphasis on high service standards and consistency, therapists are professionally trained at Banyan Tree Spa Academies in Phuket, Thailand, and Lijiang, China. The Banyan Tree Gallery supports local communities by exhibiting and retailing indigenous handicrafts, which are also found in the resorts. A quintessential highlight of the Banyan Tree experience, Banyan Tree Gallery aspires to recreate the unique Banyan Tree experience with its extensive selection of Asian-style furnishings, Banyan Tree Spa collection, eco-friendly products, indigenous village handicrafts, ethnic apparel and accessories, and objects d'art.
Banyan Tree Holdings Limited is a leading, international hospitality brand that manages and develops premium resorts, hotels and spas. Its innovative business model is based on seven business segments generating multiple income streams that is unique in itself within the hospitality industry. This formula of developing and managing complementary product offerings with in-house talent makes it difficult for competitors to duplicate with the same level of success. Banyan Tree's vertically integrated business model comprises: Hotel investment– Banyan Tree owns and manages luxury hotels under its brands, as well as hotels that are managed by other world-class operators. Hotel management– Banyan Tree additionally manages properties under the Banyan Tree and Angsana brands for other owners. Canopy Marketing Group Pte Ltd – A company wholly owned by Banyan Tree Services, Canopy Marketing Group Pte Ltd provides high-level strategic insights on various global niche markets to drive top line performance of our diverse range of lifestyle products including hotels, resorts, spas, gallery, destination club and residential ownership. It has a full-suite of marketing capabilities specializing in the branding, marketing and promotion. Spa operations– Banyan Tree Spa pioneered the tropical garden spa concept, and has since grown to over 60 outlets worldwide. Gallery operations– The retail arm is consolidated under Banyan Tree Gallery, which comprises five brand segments located in over 70 stores worldwide. Hotel residences – Hotel inventory are primarily sold under the brand name Banyan Tree Residences.
Property sales – Properties that are not part of hotel operations are sold by our subsidiary company, Laguna Resorts and Hotels, and its subsidiaries, in Laguna Phuket. Design and other services – Revenue from design services is earned by Architrave, Banyan Tree's in-house architectural arm. Other service fees include income from operating golf clubs. Real Estate Hospitality Funds – Banyan Tree Capital was set upto tap private equity and other sources of investments in order to provide a cost efficient structure to fund the Group's future developments. With about 8,000 associates of over 50 nationalities, the diversity of its workforce is a key feature of the Group and helps to inspire its international outlook. To address its talent development needs, Banyan Tree launched Banyan Tree Management Academy (BTMA) in 2008. This centralised training facility located in Phuket, Thailand will train future Banyan Tree leaders needed to sustain organisational effectiveness and to meet the demands of its rapid global growth. Part of Banyan Tree's vision has always been to grow into a global business, with a portfolio of properties strategically placed around the world. The Group's mission is inextricably intertwined with its commitment to corporate social responsibility and sustainable growth, as it continues to expand globally.
The launch of Banyan Tree Residences, which allows investors to buy their own signature villa, townhouse or apartment in Banyan Tree resorts. Banyan Tree Private Collection was launched to cater to the growing niche for destination club membership 2005: Marking the group's long awaited foray into China is Banyan Tree Ringha, in Yunnan. 2001: Banyan Tree established the Green Imperative Fund to formalise its corporate social responsibility efforts. The Banyan Tree Spa Academy was set up to provide training for new therapists as well as research new treatment recipes and techniques. Banyan Tree Capital is a real estate fund management company established by the Banyan Tree group, a renowned luxury hospitality company listed in Singapore, to focus on hospitality-based real estate investment. Banyan Tree Capital raises, develops and manages branded hospitality funds in key development markets of the Banyan Tree group. With a combination of fund management and asset development capabilities, Banyan Tree Capital leverages on the group's expertise in premium hospitality real estate development and management to generate attractive investment returns for its investors. Banyan Tree Capital is headquartered in Singapore with offices in China and Vietnam. We have successfully achieved higher room rates than the existing market in locations such as Lijiang, the Maldives and Seychelles. We have also found that our iconic brands also help raise the value of the surrounding land.
Our innovative city products combine all the iconic elements of our brand and differentiate developers within established, high cost city markets. We have the flexibility and capabilities to adapt our model to various locations so as to maximize returns for the developer.
As part of our strategy of enlarging our footprint in China, we will also be launching two more hotels in Shanghai and one in Tianjin, adding to our ever growing presence in various gateway cities. We are also employing our capabilities all across China, where large tracts of land are being developed into gated residences and luxury hotels offered to the Chinese elite.
One of Banyan Tree's prime concerns is its associates. We pride ourselves in providing high levels of service excellence and providing tailor made training and career development programmes for our employees. No stone is left unturned in regards to training and proper introduction before a Banyan Tree is put into operation. Trained to the basic standards of 5 star hotels. Employees were empowered to exercise creativity and sensitivity although the strict administrative rules of the management. Employees were taken to and from work in air-conditioned buses, access to various amenities (good-quality canteens, medical services, childcare facilities).
Banyan Tree is one of the world's biggest and well known spa operators. Our levels of quality and service are unparalleled and uncompromised. We are the only vertically integrated hospitality company with strong capabilities to tackle and anticipate the challenges of master planning and developing an integrated resort. We are able to take a property from inception to delivery with efficiencies that is entirely brand specific. Our in-house design team, Architrave, and project services team are extremely involved in all phases of the development – master planning, designing, developing and coordinating, to ensure developers a timely delivery of their asset.
Being experienced developers, we are able to ensure that efficiencies and economies of scale are maximized along with guest experiences. Bintan, the Maldives and Phuket where the Angsana resort is positioned next to a Banyan Tree resort with shared back of house facilities. This model has allowed us to lower costs without cannibalizing rates, thereby boosting returns for our developers.