Benefits and limitations of airport security scanners1
Published:
18 December 2015
Remember! This is just a sample.
You can get your custom paper by one of our expert writers.
Get custom essay
78 writers online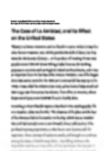 Benefits and limitations of airport security scanners
Introduction
            The security and welfare of people is very important in a society. In order to ensure that people are secure and safe, some measures may be employed although they may be controversial. The example of airport security scans represents such a circumstance. The full body scanners are used detect objects that are on the body of an individual for security reasons without requiring the individual to remove their clothes or have physical contact with the device. Statistics indicate that as of December 2013 an estimated 740 scanners (full body scanners) these devices were in use at more than 150 airports in the United States (TSA). They are effective in identifying suspicious objects that a person may be carrying. However, there are concerns whether use of the full body actual really is a necessary precaution or a practice that invades the privacy of travelers.
            The devices are effective in detecting suspicious objects that may be concealed including both metallic and non-metallic objects. As opposed to metal detectors which identify objects that are made of metallic materials, the scanners used in airports detect both metal and non-metallic objects. They uncover objects that a physical pat-down would reveal but fail to be identified by a metal detector such as chemical explosives and plastic explosives. The device therefore performs the function of both a metal detector and a physical pat-down in revealing various dangerous devices at airports. People who have sinister motives or who desire to break the law by moving illegal items through airports would therefore not be able to succeed in perpetuating their plans because of the presence of the scanners. The primary objective of the scanners is hence achieved and safety of passengers as well as national security is secured.
            The fact that it performs the duties of both a physical pat-down and a metal detector means that the device facilitates time saving and is cost effective (TSA). Regardless of the high costs incurred in purchasing and installing it, the device would replace two security guards responsible for physical pat-downs (one guard for each gender). The airport using the device would hence save on wages for two people and less time would be consumed compared to the time used during a physical pat-down.
            Physical pat-downs are considered by various people to be intrusive and full body scanners provide a better alternative that is not as intrusive as pat-downs and that is more thorough. However, since they still examine the body of an individual in-depth, they still make people to feel that their privacy has been invaded. In order to further protect the privacy of people undergoing such scans, screeners are located in a different room from the individual where they can view images without exposing the identity of the person undergoing the scan (Tessler). In addition, security officers entering the viewing room are not allowed to enter with mobile phones, cameras or any gadgets that can take images and store or transmit them (Tessler). Still, fears remain that such images may be stored and used in other platforms such as uploading them to the internet. Authorities provide counterarguments such as the assertion that functions that are responsible for storage or transmission are not active but rather that they are disabled prior to the installation of these devices in airports. This, though, does not overrule the possibility of technicians managing to enable such functions. Furthermore, it is not quite clear the reason behind inclusion of such functions in the device yet they get disabled prior to installation.
            The costly nature of full body scanners is a major limitation that raises the costs of startup for people wishing to enter the aviation industry. Much as they are costly, they fail to reveal objects that are hidden in body cavities and are not capable of revealing objects that are of low density. It is therefore apparent that full body scanner despite of the significant popularity they have gained in combating security threats and illegal practices are incapable of combating drug smuggling that is executed through concealment of drugs in body cavities (Tessler).
            Full body scanners create a potential for harassment or embarrassment of specific groups of people. The device can detect medical equipment that may be connected to body parts such as catheters and it may necessitate further examination to confirm the identity of the object detected (Gartner et al). This would embarrass the victim who would feel that they have been singled out because of their medical condition. Transgender people are also susceptible to such embarrassment as the scanners are capable of detecting prosthetics such as testicles and breasts and the need may arise to further examine individuals whose images indicate the presence of both breasts and testicles as one of the two body features may be an improvised tool to conceal weapons, drugs or other illegal objects or objects not allowed through airport security (Gartner et al).
Conclusion
            Full body scanners are recommended to improve airport security and only few loopholes are existent like the inability to detect objects in body cavities. Although much criticism has been directed at the devices, much of it is only based on assumptions and not factual information. On the contrary, the benefits of the device are validated by real life examples therefore full body scanners are largely beneficial.
References
Gartner M., Heyl M., Holstein A. and Thewalt A. What can the 'naked' scanner really see? Bild. 22 July 2010. Web. 8 April 2014
Tessler, Joelle. Airport full-body scanners have benefits, and limits. The Denver Post. 31 December 2009. Web. 8 April 2014
Transportation Security Administration, TSA. Advanced Imaging Technology (AIT). 12 February 2014. Web. 8 April 2014