Best Buy Case Study
Remember! This is just a sample.
You can get your custom paper by one of our expert writers.
Get custom essay
101 writers online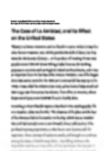 Best Buy is a multinational corporation with over 4,000 locations nationwide. Circuit City was Best Buy's only main competition for some years until it took over and ran Circuit City out of business. Best Buy's market share increased after that however, other large retailers as well as e-tailers entered into the market. Amazon, Target, Wal-Mart and Apple became Best Buy's new competition that caused a decrease in market sales in 2010. They all had the same thing in common after the Circuit City collapse and that was to increase electronics. They all had their own strategies to out-beat Best Buy. Although Best Buy acquired some more competition in a 2010 survey consumers still said Best Buy is the first to come to mind when they think about buying electronics. However, even though Best Buy is the first that comes to mind against the other competitors, depending on what the product is they will go to Amazon to buy it instead. Due to their strategy which focuses on three areas; customer-centricity, employment policies and exclusive branding, they are keeping up with the competition. Best Buy's strategies may help them a majority of the time but they could change their strategies just a little bit. They should try what Wal-Mart does and price match ads with other stores so that way they are still getting the profits and keeping customers. In my opinion, Best Buy could improve their strategy when it comes to prices because they are on the higher end of prices. As a consumer myself, I do look at Best Buy first for my electronics but I usually go somewhere else because the prices are usually cheaper. Other than their prices I actually think their strategies are working out good for them and it shows in their rankings amongst other competitors.
Consumer electronics is considered a mature industry because of the new trends. This industry hits record sales during the holiday seasons but still says rather well throughout the year as well. All companies associated with this industry try to keep up so they make their own products. However, due to manufactures cannibalizing their products their product life cycle has decreased. Manufactures started doing this to try to keep their consumers loyalty. When prices start to fall for technology products this opens a bigger demographic; however by time the prices fall for the products they have come up with better products. In order to recapture the growth of Best Buy they should try to fix the prices to fit a bigger demographic. I think if they at least try to work with the consumers with the prices they would gain more customers. The problem is the fact that consumers go elsewhere when they see the prices and do a price match. Amazon became popular with electronics because people found out that they could get electronics of all kinds online. Also Amazon has an advantage over Best Buy because with Amazon there is free shipping on products, well on most products. I think if Best Buy tried to adapt some of Amazon's strategy they can out beat them in the electronics department. If they could be like Amazon and have a limitless inventory online rather than just have their amount of availability on the showroom. If they did this I think they would see growth in their company. They pride their selves in having the most respected name brands in the consumer electronics industry so if they matched the prices with their pride in their brands I see a definite growth in their company. With Best Buy being a well-known company and is the first that comes to mind when talking about electronics, if they had a bigger choice when it came to the products than they might gain some more growth as well to go along with their already loyal customer base.
At Best Buy, they offer a selection of energy-efficient products. These products were designed to help their customers around the world save some more money by using less energy. I think with Best Buy becoming more sustainable they are more able to maintain the interest of the stakeholders. With these products the shareholders play a big role in influencing their overall sustainability strategy. The stakeholders help with modeling Best Buy's annual sustainability reports. So with them adding this strategy and allowing the stakeholders to get the chance to have a part in the strategy they are gaining their interest. Best Buy actually takes the recommendations from their stakeholders and they try to communicate with them in efforts to keep their interest in their decision to incorporate a sustainability strategy. I think this was a good move on their part because it states they were uncertain about Mr. Dunn's five year growth strategy. The stakeholders were worried about Best Buy's cash position and about if these strategies would work or not. Anytime when stakeholders have the opportunity to have a so in a company is a good thing.
In conclusion, I believe Best Buy is a great company but can become a better one if they were to do some modifications with their strategies. With the constantly changing economy they need to adapt their strategies to the changes. I'm not saying they would have to always change their strategies but I think they should always try their best to make their strategies fit the customers as well as help the success of the company. With that being said I believe they will receive even better results for the company as well as the consumers.