BIS220 Information Systems Proposal
Remember! This is just a sample.
You can get your custom paper by one of our expert writers.
Get custom essay
82 writers online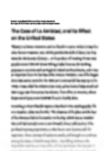 Dear collegue as we embark on this adventure of starting our own Records Company, there are some things that we need to become familiar with in order to be successful. We need to get acquainted and become knowleageable with some of the different Information Systems that will help our compny be a successful one. See below for some of the necessary systems that we will be needing.
 Integrating certain information systems within a business organization will not only prove for a faster more efficient workplace but will also improve the bottom line for company growth. Even though there are numerous information systems that can be implemented and utilized to improve the growth and expansion of the company, there are five information systems that the company should focus on utilizing: Office Automation System, Expert System, Management Information System, Electronic Commerce System, and Transaction Processing System. The recommended information systems listed in this proposal are simple to use and cost effective. Each information system needs to be evaluated based on their advantages and disadvantages, we will discuss them in detail.
Management Information System (MIS): This system is in charge of managing all organizational networks and ensuring all systems are running accordingly. The MIS would also include knowledge of all employee information as well as tracking customer sales and handling company budgets. Dealing with allocated budgets could pose an ethical issue depending on the manager in charge, which, if based on a clean background check and character, should not be an issue.
Office Automation System: This system will help the flow of employee productivity maintain a constant and progressive pattern. This system, or the OAS, will provide employees with the proper tools to create effective documents for everyday business related needs.
Transaction Processing Systems (TPS): This is needed in order to conduct daily operationsThe point of sale (POS) is one such system that can be designed make transactions efficient by collecting and storing sales transactions, generating purchase orders, and providing tracking numbers for individual sales. Data can transfer and used with accounting and inventory control software programs. These systems will follow the transaction from start point through the completed process and has the capability to capture records and data.
Electronic Commerce System: This system will enable you to conduct transactions with different organizations and between your business and your consumers.
Expert System: This system is the system that will approve credit cards. | The system crashing and causing us not to be able to take credit cards then
leaving us without the transaction causing us not to meet our goal.
Keep in mind that all of these sytems have their drawbacks and if they happen to failed they will cause a great deal of management pain withing your company. The hassles could be from time keeping with your employees to payroll problems withing the company
Respectfully request you consider my proposal as it clearly meets the criteria for establishing a long and prosperous operation for your company. Again, thank you for the opportunity to provide a proposal for your business. If you have any questions, I'd be happy to meet you and discuss this proposal.
Respectfully
Pedro O. Beltran
JOC Watch Officer/Intel Analyst
SOUTHCOM J33
References:
Reiner Jr, R. K., & Cegielski, C. G. (2011). Introduction to Information Systems (3rd ed.). Retrieved from The University of Phoenix eBook Collection database