Bob Marley
Remember! This is just a sample.
You can get your custom paper by one of our expert writers.
Get custom essay
86 writers online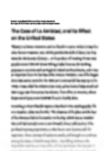 In a time of political, economic, and social unrest, a new way of protest was beginning to emerge from Jamaica in the form of reggae music. It was 1963 when a young man from Jamaica by the name of Robert Nesta Marley, better known as "Bob Marley", formed a band called The Wailers, who would undoubtedly become one of the only reggae bands to rise up from the oppression of the third world country. The country of Jamaica had just gained independence from the U.K. in 1962, but was anything but a free nation. Those in power chose to exploit the country's few main exports, primarily bauxite, a mineral used in the process of manufacturing aluminum. The first ten years of Jamaican independence saw considerable economic growth, but these gains were held back from the country's urban poor. From his book, Reggae, Rastafari, and the Rhetoric of Social Control, Stephen A. King writes, "After independence, the Jamaican Labor Party's "Five Year Plan" did not produce economic prosperity but, instead, even greater inequity of living conditions" (47). King quotes Adam Kuper, "As the Jamaican Labor Party encouraged foreign countries to invest in and expand Jamaica's manufacturing and bauxite industries, the traditional pursuits of agriculture, forestry, and fishing dropped to a low of 10 percent of Jamaica's gross domestic product in 1968 (47). Marley chose to join the Rastafarian movement, a religious program that was a prominent group in Jamaica. The Rastafarian faith helped to fuel Marley's purpose in music, which was to empower and inspire those who were being kept down by the nation's wealthier class. A small rural village called Nine Miles located in the parish of Sainte Ann is where Bob Marley was born. Marley lived with his grandparents in the community of Sainte Anne, people who followed traditions they had learned from their early African ancestors. These customs included storytelling which would be one of Marley's signature qualities during his songwriting career.
When Marley was a teenager, his mother decided to take him away from Sainte Anne, and moved him to Jamaica's capital Kingston in the vicinity of Trench Town. This would be where Marley would begin to embark on his musical journey. Like most urban Jamaican cities, Trench Town was poor and all of its inhabitants including the teenage Marley lived in poverty. During this time Marley learned how to defend himself against the rough town locals, and instead of following them Marley decided to pay closer attention to music. As one author writes, "Despite the poverty, despair and various unsavory activities that sustained some ghetto dwellers, Trench Town was also a culturally rich community where Bob Marley's abundant musical talents were nurtured. A lifelong source of inspiration, Bob immortalized Trench Town in his songs "No Woman No Cry" (1974), "Trench Town Rock" (1975) and "Trench Town", the latter released posthumously in 1983" (Ruff, "Bob's Early Life"). Marley's beginnings in the music industry were with a form of music known as ska. Ska came about in Jamaica during the late 1950's and early 60's. Ska was inspired by American R&B music that could be heard through U.S. radio airways on the transistor radio. Ska was a blending of America's R&B and Jamaica's island beat, a mixture of calypso and mento. Author Stephen A. King writes, "Perhaps ska can best be characterized as a product of creolization, borrowing heavily from black American music (jazz, gospel, and R&B), while also incorporating indigenous (mento) and African elements into its sound" (24). Many citizens of Jamaica could not afford radios to listen to music or keep up on any news reports coming from the island. So the Jamaican sound systems, mobile devices such as vans or musical equipment on wheels, would be used to host dances, and the deejays would also use their sound systems to inform his listeners on political happenings. King states that, "As one of the few affordable social activities for the poor, the sound system brought music to places where the voice of the poor could be heard without interference by local authorities" (16). Like most of the world during this time, the black population was not allowed any political power, and many began to seek ways to resist.
One of the methods used as a means to passively fight back against the imbalance was the Rastafarian religion. The Rastafarian religion was born early in the twentieth century, but its roots date back as far as the late 1800's when slaves felt compelled to revolt against the plantation owners on the belief that God was calling them to fight for freedom. In 1927, a man named Marcus Garvey brought forth to Jamaicans the basis of the Rastafarian religion, which was to look to Africa for the crowning of a king. This would be a sign for Jamaica that freedom is near. From Africana, the Encyclopedia of the African and the African-American Experience, author Roanne Edwards quotes Garvey: "Look to Africa for the crowning of a king to know that your redemption is nigh" (Edwards 1592). In 1930 Ras Tafari was crowned emperor of Ethiopia and baptized with the name Haile Selassie. From that moment on the Rastafarians of Jamaica would recognize the king of Ethiopia as the living messiah. The religion of Rastafarianism was meant to empower Jamaica's black population by reflecting heavily on African heritage and believed that the western society was today's kingdom of Babylon, a corrupt city that profited from the oppressed. Part of the Rastafarian faith was to grow dreadlocks, this would become one of Marley's signature features, but Marley was not following any trends, his purpose for wearing his hair in dreadlocks had deeper meaning than mere fashion. As quoted from Rolling Stone, "Until Babylon fell, according to one legend; the Rastas would not cut their hair. They grew it long in a fearsome appearance called dreadlocks" (Gilmore 5). Another element from the Rastafarian Movement was the use of marijuana to create a deeper connection with Selassie. Marley used marijuana as a creative outlet in songwriting and Marley, along with many Rasta musicians, followed the ritual of smoking marijuana or "ganja" for this spiritual experience.
Marley's songs came from a deep spiritual determination, to spread the message of the Rastafarian faith and to fight against those who sought to put down the poor and less fortunate of the world. According to author Rex Ruff, "Bob Marley reaffirms his adherence to Rastafari on "Forever Loving Jah" from "Uprising" the final album released during his lifetime. "Uprising" features the acoustic "Redemption Song" which implores the listener: "emancipate yourselves from mental slavery none but ourselves can free our mind", reiterating the self-empowering convictions that Rastafarian tenets have sought to establish" (Bob and Rastafarian Beliefs). The poor of Jamaica were subject to deprivation because of the decisions that were being made by the political parties put in place after Jamaica had become a free nation. On one hand, there was the Peoples National Party, led by Michael Manley, who fought for constitutional rights, and on the other hand, there was the Jamaican Labor Party, led by Edward Seaga, who desired to put Jamaica's capital interests abroad before the welfare of the nation. Both the People's National Party and the Jamaican Labor Party were primarily run by white members and Marley took neither side, but was said to have small favor towards Michael Manley's People's National Party. In 1976 the December elections were drawing near and violent protests were taking over the streets of Kingston. Marley had become such a prominent idol for Jamaican citizens and the People's National Party thought a concert performed by Marley would help calm the city during the election. Marley agreed to perform with his band The Wailers at the Smile Jamaica concert.
Although Marley had expressed political neutrality, some believed that Marley had favor for Michael Manley's side. During rehearsal, just two days before the concert, Marley and some members of his band were shot at. No one involved in the shooting were killed, but both Marley and his manager at the time suffered injuries. Marley went on to perform at the Smile Jamaica concert to keep the peace, but fled the country immediately after the show ended. After the Smile Jamaica concert Marley performed again at the One Love Peace concert where he persuaded Michael Manley and Edward Seaga up on the stage to shake hands. This concert symbolized Marley's true desire for peace and harmony between the political parties of Jamaica's new government. As Gilmore writes, "On April 22nd, at the One Love Peace Concert, Marley managed to coax both Michael Manley and Edward Saga onstage with him and held their hands together with his in a gesture of coexistence" (Gilmore 9). Marley died of cancer at the young age of 36, but his music is still alive and reaches hundreds of people every single day. One of the things that made Marley's music so effective was his ability to speak an intense message through a creative melody. From Rolling Stone, "He was a superb melody writer, and his songs' insinuating pop hooks pull the listener into the realities Marley was describing" (Gillmore 12). Although much of the Marley legacy lives on in America as a mere trend, one who chooses to look deeper into his message will feel the power Marley had intended through his poetry that was meant for an oppressed nation.