BP SWOT
Remember! This is just a sample.
You can get your custom paper by one of our expert writers.
Get custom essay
92 writers online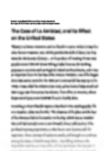 Strength
Strong improvement in safety
BP focuses on new research and product innovation, leading in new researcher and also improving in safety and procession in the work places. According to "Safer drilling" (n.d.), BP use Blowout preventer (BOP) technology to support safety in offshore rigs in Brazil. Using high technology likes digital radiography can evaluate and determine underground structure in the North Sea. BP also improves the new tools called Permasense corrosion probes to supervise wall's thickness in refining process ("Robust research", 2013). This equipment is an effective method to control and protect the probability in wall crake.
Weakness
Ecological impacts of oil spillage damage reputation
BP experienced a reputation risk in terms of both public reaction and biological response. About 5 million BP raw oil spilled in 2010, causing a disaster on ecosystem. Dragovic (2013) stated that oil spill would constraint species of wildlife because residues of harmful substances could not be cleanup completely. It also disrupts the chain of wildlife. BP was deluged with blame and disappointment from the pubic. It would take BP quite some time to rebuild its brand-image. (Walt, 2010)
Opportunity
Growing demand on renewable energy
The world has increasingly growing demand for renewable energy. The global renewable consumption will increase to 6.3% (2030) of energy demand from 1.8% (2010). BP is prepared to place emphasis on development of renewable energy (Morales, 2012). Consumers have a tendency to choose to use renewable energy. According to "consumer demand is growing" (2011), there are 48% of subjects who are willing to use renewable energy and 49% are prepared to pay additional cost for that.
Threat
Lack of oil and gas reservoirs
Oil and gas businesses are high competition because companies gain high benefits. From long period in operation, the crude oil and natural gas around the world is declining that mean the fossil fuel in the future will run out. According to "OPEC share of world crude oil reserves 2012" claim that now OPEC has only 1,200 billion barrels in reserves global fossil energy In 2010 individual and organization used approximately 87 million barrels per day. The biggest fuel consumer is Asia and Oceanic region. They used around 27 million barrels per day and gradually every year from 2006-2010. Recently, people utilize oil and gas rather than producing. ("International Energy Statistics, n.d.)
References
Consumer demand for renewable energy is growing. (n.d.). Retrieved from http://www.windmade.org/for-companies/global-wind-study/consumer-demand-for-renewable-energy-is-growing.aspx Dragovic, D. (2013, March 19). Environmental impact of the BP oil spill. Retrieved from http://livinggreenmag.com/2013/03/19/energy-ecology/environmental-impact-of-the-bp-oil-spill/ International Energy Statistics. (n.d.). Retrieved from http://www.eia.gov/cfapps/ipdbproject/iedindex3.cfm?tid=5&pid=54&aid=2 OPEC share of world crude oil reserves 2012. (n.d.). Retrieved from http://www.opec.org/opec_web/en/data_graphs/330.htm Marketline. (2013, August 23). Company profile: BP Plc. Retrieved from Business Source Complete database. Morales, A. (2012, January 18). Renewable-energy growth to outpace oil, gas through 2030, BP Says. Retrieved from http://www.bloomberg.com/news/2012-01-18/renewables-to-grow-more-than-8-a-year-through-2030-bp-says.html Safer drilling (n.d.). Retrieved from http://www.bp.com/en/global/corporate/sustainability/safety/preventing-and-responding-to-accidents-and-oil-spills/safer-drilling.html The Gulf of Mexico oil spill: consequences for the oil and gas industry. (2011, February 15). Retrieved from http://uk.practicallaw.com/3-504-7901?service=crossborder#a684683 Wearden, G. (2010, April 27). BP profits jump after oil price rise. Retrieved from http://www.theguardian.com/business/2010/apr/27/bp-profits-jump-oil-prices-ris Walt, V. (2010, July 19). Can BP ever rebuild its reputation? Retrieved