Bullying
Remember! This is just a sample.
You can get your custom paper by one of our expert writers.
Get custom essay
87 writers online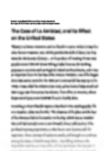 Bullying is the use of force, or threat, to abuse, intimidate, or aggressively impose domination over others. Justifications and rationalizations for such behavior sometimes include differences of class, race, religion, gender, sexuality, appearance, behavior, or ability. (Wiki2013) This abuse like many others may not be known to us personally, but that doesn't mean that we should ignore it. Sometimes given the fact that we are unaware of this abuse we don't know how serious of a problem it can be. According to the organization against bullying; in recent years, a series of bullying- related suicides in the US, and around the world have drawn attention to the connection between bullying and suicide.
Though many adults still see bullying as "just a part of being a kid"; it is a serious problem that leads to many negative effects for victims, including suicide. Bullying can be presented in different ways such as, physical bullying, emotional bullying, and even cyber bullying. Physical bullying involves hurting a person's body or possessions. Physical bullying includes hitting, pinching, spitting, pushing, pulling, tripping, slapping and taking or breaking someone's possessions. (Stop bullying.gov 2013) This physical aggression can occur almost anywhere; it can be at work, school, or even at home. For instance, children at school tend to hit their classmates when trying to get their attention. They normally don't even call the individual by their name; they just hit, slap, or even kick the person to get his or her attention. This behavior is normally repeated with the same person on different occasions. Also, another thing that people do is find the weakest and least amiable person in their school.
They gang up on him throw things at him, push him around and as though that wasn't enough, they push their victims head into the toilet in the rest room. In addition, people at work also exert physical bullying. At times, at work there is a certain person that is the target of unoccupied individuals that are just seeking to humiliate others. This is carried about by actions such as, pulling away their colleagues chair when they are about to sit down. This is repeatedly done to make a mockery of that person. Bullies that perform these actions may not think about the harm being done, but many times the victims have scars from the physical abuse. Furthermore, Emotional bullying is another way of abusing people. Emotional bullying is the use of offensive/ obscene language used by bullies to degrade and demean their victims. (bullying.org) Persons are sometimes targeted because of the way they dress, walk, and talk or even because of their race or religion. Rude remarks are made about these persons by their bullies so often, that the victims tend to have low self -esteem and can even be depressed. For instance, I once saw a young lady in junior college that was pestered because she dressed in long skirts and dresses; that didn't do any kind of drug and was always in mass. This person was mocked, insulted and called names because of her physical appearance and religious preference. In the same way persons who are homosexuals, are often made fun of. These persons are humiliated in every manner possible by bullies, also known in this case as homophobes. Furthermore, constantly spreading rumors about someone is also considered verbal abuse, because the victim is embarrassed by many persons over and over.
These persons that are constantly molested at times also have suicidal thoughts. Therefore, we should all think very well before we insult, or "innocently" label people with offensive nicknames. Likewise, cyber bullying is just as serious as emotional/ verbal, and physical bullying. According to the organization against bullying, Cyber bullying is when a child, teen, adult, etc, is harassed, humiliated, embarrassed, threatened, or tormented using digital technology. This type of bullying like others is done to publicly embarrass a person. For example, a teenager who took a naked picture of herself for her boyfriend; the picture ended up being uploaded to the internet by her partner. All those who got to see this photo instantly commented making rude remarks and observations about the young lady. Her picture was shared with many other persons just to keep making fun of her unintelligent choice. Moreover, Cyber bullying can also be made through cell phones, via text message, or a call. Some hackers also tend to bully naïve people. They send text messages telling people you have won a prize, and to redeem the prize you must follow a set of instructions. This is done repeatedly too many persons by the same bully. No prize is ever obtained and in some cases the victims, end up losing money. Hence, we should all be careful about what we post on line or what things are sent via text message, because bullies are just waiting for their next victim.
In conclusion, bullying is a form of aggressive behavior or threat towards another individual to intimidate, harm or cause discomfort; this is done repeatedly and intentionally. Bullying can be presented in different ways such as, physical bullying, emotional bullying, and even cyber bullying. As a matter of fact, the victims of this abuse normally don't do anything to cause being bullied. Not to mention, these individuals don't even defend themselves from their aggressor. With this in mind let's try to be more civil and conscious individuals so that some day we may live in peace and harmony.
References
Bullying and Suicide – Bullying Statistics retrieved from: www.bullyingstatistics.org/content/bullying-and-suicide.
Bullying retrieved from:
wikipedia.org/wiki/Bullying
Bullying Definition- StopBullying.gov retrieved from:
www.stopbullying.gov