Burger Machine SWOT Analysis
Remember! This is just a sample.
You can get your custom paper by one of our expert writers.
Get custom essay
91 writers online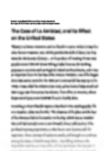 As said in the paragraph above, Burger Machine's brand name is its main "trump card" in the burger stall market nowadays. When Filipinos think of affordable burgers from burger stalls, they would most likely think of Burger Machine. This increases their chances for repeat and impulse buyers, which sets them apart from their competitors. Taste
Aside from the company's strong brand power, the unforgettable taste of its burgers should be considered as one of its strengths. The company prides itself in creating special sauces as well as having its own special coleslaw. This allows the company to separate itself from its competitors and also helps in attracting more customers in the process. Weaknesses:
Cleanliness:
A stall's cleanliness is one of the most important determining factors of a company's business. Stalls should always be kept as clean as possible and it seems that Burger Machine does not exactly adhere to this kind of thinking. Burger machine stalls are usually old and rusty, for the company has not yet changed the way their stalls have been presented and constructed all throughout these years. Location:
Location also plays a vital part of in the overall cleanliness of a stall. Burger Machine stalls are usually located in dark, filthy, and dirty streets. This adds up to the overall unsatisfactory cleanliness of the food stall. Management/ Service:
Lack of proper stall management should also be considered as one of the weaknesses that are present in the company. Usually, one employee would be given the task of managing a Burger Machine stall. With all the foot traffic that the company can attract in one day, the quality of service that the stall can provide to its customers usually takes a hit, due to the lack of personnel. Opportunities:
High Demand for Western food in the Philippines:
Filipinos nowadays have adapted a westernized kind of mentality when it comes to eating food. The rise of burgers and other western types of food in the Philippine market are now starting to translate in a higher demand for burgers in the country. Threats
Emergence of Jolly Jeep:
Jolly Jeeps are 'mobile' stalls that are seen mostly around call center agencies and other offices. They basically offer wide variants of food, from rice meals to finger foods. This poses a threat to the company because of the fact that it can serve as an alternative for people with low budgets, who like to have a wide selection of food to choose from. Wide Expansion of Minute Burger:
Minute Burger, one of Burger Machine's biggest competitors now operates in major cities and provinces in the country. Burger Machine prides itself in being the 4th overall in total number of stalls in the Philippine Market today. If competitors such as Minute Burger continue to expand to other regions in the Philippines, it can pose as a threat to Burger machine as well. Competition:
Minute Burger:
Minute Burger has been the Burger Machine's greatest rival ever since the 90's. The company operates in major cities and locations around the Philippines and basically follows the same business concept that Burger Machine has been using all of this time. As of March 2012, the company has more than 130 franchisees, which operates in more than 350 stores nationwide. Minute Burger, just like Burger Machine, sells its products through the use of 'mobile' cart. They also have a wide variant of burgers to offer to their market and also other food offerings here and there. Angel's Burger:
The emergence of Angel's Burger in the burger industry started in the late 2000's. The company is one of the pioneering brands in starting the "buy-one-take-one" burger trend, which has been booming as of late. With their prices positioned lower than brands such as Burger Machine, Angel's Burger focuses on providing its customers a quantity of burgers, instead of its actual quality. Although there is no immediate information, that is available to consumers about the exact number of stalls that the company has, one cannot deny that numerous stalls of this franchise can be seen all around the Metro Manila region and is continuing to expand to other areas in the Philippines. Market Needs:
Quick Food Service:
We are living in a fast-paced world and everybody seeks for a food source which can provide them with a quick, but substantial meal. Cheap Food Alternatives
Prices are going up each year; from gas prices to other necessities. People nowadays are thriftier when it comes to buying food. They often times have daily budgets, in order for them to go about their business without a fuss. Thus, it leads to the market to prefer food stalls, which are heavy in the stomach, but light in the pocket as well. Market Trends:
Buy-one-take-one:
Like it is said in the aforementioned part of this paper, people nowadays seek to find the most bang-for-the-buck food alternative, and promos just like buy-one-take-one have been a necessity, most especially for lower market segments.