Business Model and Strategic Plan
Remember! This is just a sample.
You can get your custom paper by one of our expert writers.
Get custom essay
74 writers online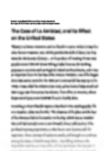 For more than four decades, the semiconductor industry has distinguished itself by the rapid pace of improvement in its products. Trends have resulted principally from the industry's ability to exponentially decrease the minimum feature sizes used to fabricate integrated circuits and other products. Of course, the most frequently cited trend is in integration level, which is usually expressed as Moore's Law (that is, the number of components per chip doubles roughly every 24 months). The most significant trend is the decreasing cost-per-function, which has led to significant improvements in economic productivity and overall quality of life through proliferation of computers, communication, and other industrial and consumer electronics. All of these improvement trends, sometimes called "scaling" trends, have been enabled by large R&D investments. In the last three decades, the growing size of the required investments has motivated industry collaboration and spawned many R&D partnerships, consortia, and other cooperative ventures. To help guide these R&D programs, the Semiconductor Industry Association (SIA) initiated The National Technology Roadmap for Semiconductors (NTRS), which had 1992, 1994, and 1997 editions.
In 1998, the SIA was joined by corresponding industry associations in Europe, Japan, Korea, and Taiwan to participate in a 1998 update of the Roadmap and to begin work toward the first International Technology Roadmap for Semiconductors (ITRS), published in 1999. Since then, the ITRS has been updated in even-numbered years and fully revised in odd-numbered years. The overall objective of the ITRS is to present industry-wide consensus on the "best current estimate" of the industry's research and development needs out to a 15-year horizon. As such, it provides a guide to the efforts of companies, universities, governments, and other research providers or funders. The ITRS has improved the quality of R&D investment decisions made at all levels and has helped channel research efforts to areas that most need research breakthroughs. It is forecasted that by the end of this next decade (2019) it will be necessary to augment the capabilities of the CMOS process by introducing multiple new devices that will hopefully realize some properties beyond the ones of CMOS devices.
However, it is believed that most likely these new devices will not have all the properties of CMOS devices and therefore it is anticipated that heterogeneous integration either at the chip level or at the package level will integrate these new capabilities around a CMOS core. The participation and continued consensus of semiconductor experts from Europe, Japan, Korea, Taiwan, and the U.S.A. ensure that the 2011 ITRS remains the definitive source of guidance for semiconductor research as we strive to extend the historical advancement of semiconductor technology and the integrated circuit market. ON Semiconductor Corporation was founded in 1999 and acquired Cherry Semiconductor the next year. In the next six years, from 2005 to 2011, the company opened seven Solution Engineering Centers in Korea, Oregon, Taiwan, and Germany, California, China, and Japan. In addition, the company also acquired ten companies, namely LSI Logic Gresham, Oregon Design & Manufacturing Facility, ADI Voltage Regulation & Thermal Management Group, AMI Semiconductor, Catalyst Semiconductor, PulseCore Semiconductor, California Micro Devices, Sound Design Technologies, Cypress Image Sensor Business Unit, and SANYO Semiconductor.
The Application Products Group offers analog, mixed-signal, and advanced logic application specific integrated circuits (IC); power conversions and interfaces between AC and DC. The Standard Products Group offers discrete and integrated semiconductor products, such as power switching, signal conditioning and amplification, circuit protection, and voltage reference. The SANYO Semiconductor Products Group offers microcontrollers, analog and digital tuners and signal processing, and memory semiconductors. In 2013, the company introduced the industry's highest resolution optical image stabilization (OIS) integrated circuit (IC) for smartphone camera modules.
Strategic Plan Part I: Conceptualizing in Business
A solid strategic analysis is beneficial to shareholders, employees, customers, and decisions makers within a company. The core of an effective strategic plan contains a well-thought and informative mission statement. Using the ON Semiconductor Corporation as a benchmark, a mission statement has been developed to differentiate the company's products from the competition. In addition, the vision statement as plays an important role in communicating the ultimate goal of the company's strategic decisions. A driving force behind the mission and vision is the company's values and ethical principles, which often dictate the choices made during strategic planning. When it is fully implemented, the strategic plan will allow ON Semiconductor Corporation to gain a strategic advantage over its established competitors.
Mission Statement
We will transform ON Semiconductor Corporation from a traditional broad-line semiconductor company to the leading supplier of programmable solutions in systems everywhere. Semiconductor consolidation is the recent trend of semiconductor companies collaborating in order to come to a practical synergy with the goal of being able to operate in a business model that can sustain profitability. Newly established solutions will be able to supply local communities with quality products at competitive prices while simultaneously creating value for shareholders.
Vision Statement
ON Semiconductor Corporation will grow into the largest provider in emerging markets. The brand will have an established presence in Asia, South America, and Europe with locations being found within the top 10 major cities on these continents. By saturating the world's most populous metropolitan cities, ON Semiconductor Corporation will be the most recognizable Corporation in the world.
Guiding Principles, Values, and Culture
ON Semiconductor Corporation has several important ethical principles that influence major decisions in the strategic planning process. First, the company is concern about making quality products available to the lowest income groups. Therefore, it is important to keep a wide selection of low cost products available on the market. This becomes an especially important consideration as we expand in markets that experience high levels of economic struggle. Second, the company is committed to delivering exceptional customer service to its patrons. Customer loyalty is a driving factor towards the long-term success of the brand. Failing to deliver exceptional customer service could seriously hinder the ability to grow into new markets. In order for employees to express ON Semiconductor Corporation's guiding principles, it is essential to create a corporate culture that reflects these principles.
Providing ample opportunity for advancement within management hierarchy and the ability to participate in supplemental training will keep employee motivation high. As a result, employees will be eager to follow the ethical values set forth in the strategic plan. It is likely that the company will need to make slight modifications to organization culture to meet the preferences of various world cultures.
Impact on Strategic Direction
The mission, vision, and values of ON Semiconductor Corporation serve as the foundation for strategic decision making while the company gears up for expansion. When an unexpected variable causes a change in direction, the company will continue to use its mission as a guide for future choices. The primary mission is always to maximize shareholder profits, but the values determine the approach the company will take to achieve this goal. Overall, this will help the company build a corporate culture in these new markets that gains the respect of the community. If the company is considered to be helping the local community, the chances of creating an effective strategic plan are highly unlikely.
Addressing Customer Needs
Expanding into emerging markets presents a unique challenge to address customer's needs. Every country exhibits its own unique culture and it is essential to pander to the preferences of each individual culture. A system that works in the United States is not likely to see the same level of success in Bangladesh, unless serious modifications are made to the business model. To overcome this challenge, the company will conduct independent research and use paid consultants to determine how to tailor the brand's image for success in vastly different cultures. As time progresses, the company will be able to assess strengths and weaknesses by testing different models in each regional area. Gaining insightful knowledge about each country's cultural preferences will allow the company to attain a competitive advantage.
The nature of strategic management today is seen in the environment-driven strategies of successful firms competing in a diverse market. We must understand that faulty assumptions and false information can result in the formulation of poor or even disastrous plans, and change is constant and continuous; that yesterday's good plan may not be relevant or of any value today (Pearce & Robinson, 2009). We have to realize that we live in a changing world and business organizations, governmental units and other entities, just like people, have to adjust and adapt to survive.
Strategic Plan Part II: SWOTT Analysis
SWOTT Analysis of ON Semiconductor Corporation is one of the most important components. By providing quality products and prices, the corporation has established a worldwide presence. This SWOTT analysis shows the various strengths, weaknesses, opportunities, threats, and trends that will impact the company in the future. With promising growth prospects in emerging markets, the company has implemented an aggressive plan to be established throughout the world. This strategy poses several important risks and opportunities that shape the contents of the SWOTT analysis.
Economic Trends
Economic trends play a major role in the strategic decisions. The brand has an ambitions global growth plan that is sensitive to economic changes. For example, the company reports that China and India are it's main targets for new locations and expects to see significant growth as economic conditions improve. As income levels rise in these countries, it is expected that new owners will be eager to implement proven concepts into the local community. In addition, higher incomes will provide greater opportunity for a loyal customer base. However, if economic conditions start on a downward trend then an aggressive expansion could be threatened by insufficient demand for their product. If franchise owners are not finding the locations profitable, it could create irreparable damage to the company's image abroad and force the closure of new locations.
Legal and Regulatory Forces
Each new emerging market presents a unique mix of regulatory and legal challenges. For example, the company must adhere to specific regulations. Any major violations could create a major backlash to the brand to that could prevent future growth in the country.
Supply Chain Operations
Maintaining a consistent product is key to building customer loyalty for ON's. Customers expect to purchase an identical product each time they make transactions with their company. In order to make this possible, the company has a sophisticated supply chain network in place to ensure every location has products available. This feat is achieved by utilizing regional distribution networks that supply owners with the proper equipment. Building a distribution network in overseas markets is significantly more risky than the United. Unknown distributer and freight companies must be chosen by the company to handle these important operational tasks. In the future, ON's will be able to establish a strong supply network to minimize the threats faced in international supply chain operations.
Opportunities Based on SWOTT Analysis
The greatest opportunities for ON's can be achieved by differentiating the brand from its main competitors. Primary competitors to ON's market share include Intel Corp, Texas Instruments, Altera Corp and Xilinx Inc., which have established a dominating presence in international markets over the last several decades. ON's has the ability to demonstrate value to their customers by delivering a product that is completely unique from most other companies. A marketing plan that outlines their unique experience that ON's offers will help penetrate markets that are already occupied by competing companies. ON's also has a great opportunity to achieve new innovations that can reduce labor costs.
By implementing technology that can automate the duties of employees, the company can increase its operational efficiency. The company can also reduce operational costs within the supply chain by drawing on experiences in the US market. Building a new supply chain in an emerging market will allow the company to design it in the most cost effective manner. Each of these opportunities will play an important role in strategic success of the brand.
SWOTT Table External Factors
Factor
Strengths
Weaknesses
Opportunities
Threats
Trends
Global
ON's has an established image in overseas markets
Supply Chain management requires additional investment to establish in global markets
Massive new markets in Asia, especially China and India
Political unrest in African and Middle East Markets
Growing markets overseas will provide exception growth opportunities Economic
Improved economic conditions will provide suitable owners.
Greater disposable income will prompt some buys to seek more expensive alternatives. Commercial real estate recovery will provide more restaurant
locations domestically. Economic collapse and rising materials costs could impact prices. Global economic recovery is remaining consistent
Legal and Regulatory
Strong safety record
New global markets present new regulatory challenges
Establish strong relationships with foreign business partners Legal costs for breaking foreign regulations
Increased regulation in the USA could raise labor costs.
Environmental
Strong history of supporting clean environment practices
Increasing public disapproval in the USA
Show a commitment to environmental friendly initiatives
Environmental infractions could create media backlash
Consumers place greater importance on environmental initiatives. Competitive Analysis
ON's unique product line separates it from the competition Stronger brands, such as NXP have more overseas locations
Differentiate from competing brands
Closely related brands establishing locations in emerging markets. Most major brands and expanding globally
SWOTT Table Internal Factors
Factor
Strengths
Weaknesses
Opportunities
Threats
Trends
Strategy
Aggressive strategy will provide rapid growth
Rapid growth could cause investment in new innovations to lag behind
Continue to build presence in emerging markets.
Aggressive strategy may be rejected by some cultures
Asian countries are showing increasing demand for electronics
Technologies
Optimized efficiency for product processing
Technology still requires significant human capital
Automation to cut down on manual labor needs
Competitors may develop tech at a faster pace
Technology is decreasing in cost overall
Innovations
Social media marketing in place to build customer loyalty
Competitors are offering items that appeal to higher quality
Automate payment processing for rapid ordering
Negative media coverage could spread on social media
Customers prefer products that efficient
Intellectual Property
ON's brand is recognizable worldwide
Brand is associated with low quality budget oriented products Increase awareness of high quality items
Use of IP by foreign competitors without legal recourse
Internet makes it possible to market the product rapidly
Summary
ON's faces a complex set of challenges as they conduct their aggressive expansion into emerging markets. Ahead of all, the global economic climate poses the greatest risk to the company, as major changes could have a significant impact on the strategy's effectiveness. However, competitive pressure dictates that ON's must establish its presence in overseas markets as soon as possible. If the company waits to establish new locations, it many lose the opportunities provided by the current trend of global economic growth. The SWOTT analysis above provides insight that will help the brand mitigate risk as it continues to move forward with the strategy.
Strategic Plan Part III: Balanced Scorecard
As a method of further analyzing the strategic goals of ON Semiconductor Corporation, the balanced scorecard provides valuable insight into vision, mission, and values of the company. An analysis from the perspective of shareholders, customer, managers, and employees allows the company to gain a stronger understanding of how strategic initiatives will affect these relationships. Each strategic initiative can have a differing impact, depending on the relationship a person has with the company. A strategic initiative aimed at lower costs might be beneficial to shareholders in the short term, but could have a negative impact on customer and employee values. The balanced scorecard attempts to organize strategic objectives based on their specific relationship to ON Semiconductor Corporation.
Shareholder Value or Financial Perspective
Objectives
Targets
Measures
Risk Mitigation
Increase customer base by expanding product variety
Increase domestic revenue by 10% with a new product line over 5 years A trend of 0.5% growth in domestic sales per quarter.
Test new items in a limited number of locations to determine nationwide viability. Decrease international supply chain costs.
Lower supply chain costs in international markets by 5% over 2 years This objective should also result in higher operating margins Invest in long-term solutions to supply chain management.
Improve price-to-earnings ratio.
The current PEG ratio sis 9.05 (NASDAQ 2014) and should be increased to 1.50 A quarterly trend of improvement should be seen in the PEG ratio. Expand into international markets that present the highest overall value.
Customer Value Perspective
Objectives
Targets
Measures
Risk Mitigation
Improve company image by marketing new products
Increase customer recognition of new product offerings.
Growth of new product sales of 10% relative to traditional products. Conduct custom surveys to gain insight into new product reception. Improve
overall customer service
Increase positive feedback from loyal customers
Improve customer feedback by 25% over 1 year.
Implement an employee training program focused on customer service Implement delivery to large markets
Make ON's products available with rapid delivery.
Implement ON's delivery in at least 5 US cities
Test the delivery system in limited markets before mainstream launch
Process or Internal Operations Perspective
Objectives
Targets
Measures
Risk Mitigation
Streamline payments with mobile devices
Allow customers to pay with mobile devices
Enable mobile POS systems at 25% of locations
Survey customer preferences for mobile payments
Increase ordering speed with improved automation.
Eliminate need for full time staff by automating production. Reduce total labor costs by 5% over 2 years.
Determine long term ROI of investment in automation
Learning and Growth (Employee) Perspective
Objectives
Targets
Measures
Risk Mitigation
Offer new opportunities for advancement within the company
Promote more internal employees to middle manager positions
Track the progression tenured of employees within the management hierarchy. Implement a training program for employees who desire management positions Improve corporate culture with social media
Allow greater communication at all levels of company
25% employee participation on ON's blog conversations
Monitor and track system to ensure conversations are beneficial
Summary
Strategic initiatives are always associated with a certain level of risk. As an internationally recognized brand, it is essential for ON Semiconductor Corporation to make an effort to safeguard its image with any new strategic choice. Failing to maintain the image that has been developed could lead to a decreased ability to move forward with international growth of the brand. In addition, many of the strategic goals require a significant financial investment. Any large financial investment should show promise of delivering long-term value to shareholders. This is especially important in the process and internal operations category because it directly impacts the operational success of the company.
A strategic initiative in this category must be designed for the long-term sustainability of the company. Each perspective on the balanced scorecard has unique strategic implications. For example, the strategic goals of the shareholders are significantly different than those of the employees or customers. The managers in charge or implementing a strategic plan must find middle ground between the objectives of each category listed on the balanced scorecard. Each category plays an important role in the success of the organization at large and it is essential that every category be considered during the process. Ultimately, the balanced scorecard will ensure the strategy meets the objectives and values of ON Semiconductor Corporation.
ONs' competition in the semiconductor industry is widely varied. Direct competitors are other established brand manufacturers, such as Intel, Defunct, Sony, Silicon Wafer Producers, Foundry and Qualcomm. The closest competitor in terms of popularity, growth, and product line is the Samsung Electronics. In such a climate, the best investment opportunities will be awarded to companies that have the ingenuity and creativity to meet the customers' demands for fashion in an industry driven by economic conditions, demographic trends, and pricing. The industry has moved from a "buy now, upgrade later" consumer to a "buy now, upgrade now" consumer. The company's management is confident that the ONs' can achieve its aggressive sales forecasts, generating total sales of approximately $20.6 million in years to come.
In addition, ONs' management has carefully considered its market, potential customer base, and its ability to grow its sales average to capture 10% of the semiconductor industry. ON's has the potential to become a highly regarded resource in local, regional, national, and international markets. Due to the company's aggressive marketing strategy, establishment of the company as a "unique" entity in its industry, careful development of its products coupled with strategic partnerships with some of the industry's headliners, and the company's profitable revenue model, ON's has the potential to provide lucrative returns to potential investors. For ON's to achieve status as an industry leader, it must secure initial capital.
This capital will be used for start-up costs, to establish a reputable storefront, and to further develop the business, business infrastructure, internal systems, product development, and extensive marketing and geographic positioning. Providing that the company is able to acquire its funding requirements, ONs should be able to achieve operational success for many years to come.
References
Pearce, J. A. II, & Robinson, R. B. (2009). Strategic management: Formulation, implementation, and control(11th ed.). New York, NY: McGraw-Hill.
Thompson, A. A., Gamble, J. E., & Strickland, A. J. (2006). Strategy: Winning in the marketplace: Core concepts, analytical tools, cases (2nd ed.). New York, NY: McGraw-Hill.