Business Strategy and the Importance of Data-Driven Decision Making
Remember! This is just a sample.
You can get your custom paper by one of our expert writers.
Get custom essay
86 writers online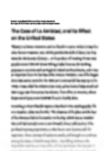 Good decision making is arguably the most important skill a successful manager can possess, but the ability to make intelligent decisions on an on-going basis requires not only intuition and experience, but also the right data. In fact, Garrison, Noreen, and Brewer (2012) identify intelligent, data-driven decision making as a business leader's most basic managerial skill.
That basic skill plays a critical role in helping a manager formulate and execute a successful business strategy. Manager's need access to relevant historical data and projections to make intelligent, fact based decisions. The use of business intelligence and analytics has become the cornerstone of strategy formulation and execution across corporations around the globe. Access to relevant data is a necessity in not only formulating a business strategy, but in monitoring the execution of that strategy.
The use of data for effective decision making is not a new concept, but since the introduction of the balanced scorecard by Robert Kaplan and David Norton in 1996, the use of data to support decision making has taken off. In addition, the adoption of enabling technologies has accelerated the use of data-driven decision making. Whether it's an operations manager monitoring key operational indicators or a sales manager forecasting sales revenue, appropriate data and the technologies which enable its most effective use, are key necessities in making intelligent and timely decisions.
Formulating and executing a business strategy is a basic requirement for just about any business, but making good decisions is the difference between a successful business and one that goes bankrupt. The key to making those intelligent decisions that aid in the formulation and execution of a successful business strategy is the use of data to support those decisions. As an encore to their balanced scorecard concept, Robert Kaplan and David Norton (2001) describe how to successfully execute a business strategy by creating an organization where everyone is focused on strategy.
At the heart of their approach was their original balanced scorecard which provides a summary of relevant data for managers. In their next book, they expand their original concept by making strategy a priority for everyone involved in the organization (2001). Although, Kaplan and Norton focused on business strategy, what they really succeeded in doing was putting data at the heart of every business process in every organization that adopted their approach. They enabled data-driven decision making as a by-product of designing a successful mechanism for executing business strategy. Kaplan and Norton understood that having access to relevant data was the key to successful decision making.
Since Kaplan and Norton, the use of data-driven decision making has expanded. Today, aggregating, displaying, and analyzing data is referred to as business intelligence and analytics. Laursen and Thorlund (2010) contend that the deployment of business analytics and a business' strategy are tightly linked. Analysis of important data sources and methods are a critical component of overall strategy development and decision making (2010). Today, successful business leaders not only recognize the use of data to make effective decisions, but they demand it. Although companies are capitalizing on the use of business intelligence and analytics today, it's clear the use of data as a tool for decision making had its roots in Kaplan and Norton's balanced scorecard (1996).
The balanced scorecard concept was originally proposed by Kaplan and Norton (1996) as a way to measure a company's performance and execute the company strategy. It was an improvement on the traditional method of using financial systems to track performance (1996). Kaplan and Norton's balanced scorecard became the norm for not only measuring performance, but also as the preferred method for executing business strategy (1996). Although the use of data was nothing new in business, the balanced scorecard gave way to an era of using data for making critical business decisions. I have been involved in business meetings for a number of years with business leaders from operations managers to senior executives.
Each meeting from operations reviews to performance or strategy always includes the review of some form of scorecard with critical business data. Simply adopting the balanced scorecard approach is not sufficient though. Managers must choose a method for implementing the approach that is efficient and gets the right data to the right people when they need it; the use of business intelligence can accomplish this goal (Paladino, 2008). Businesses have recognized the value of critical business intelligence, but some have taken the approach a step further. The most successful companies have adopted helpful business intelligence technologies available today to optimize the use of the balanced scorecard approach.
Leading business intelligence tools on the market optimize the use of data for intelligent decision making by taking volumes of data and making it easy to access, organize, and augment to quickly fit the needs of the business. These enabling technologies allow a company to efficiently use data to formulate and execute a sound business strategy. Business Intelligence offerings from SAP, IBM, Oracle, and Microsoft represent more than half of the tools available in the market and are often tailored to specific industries (Henschen, 2012).
For example, iLog is a business rule management system product from IBM that enables an insurance company to build a list of business rules that make a decision on whether or not an individual is approved for coverage based on user input (IBM ILOG, 2009). An individual enters all pertinent information into a form on the insurance company's web site (powered by the ILOG product), and a decision based on coverage is immediately provided. An insurance company whose business strategy outlines process and operational optimization and improving customer acquisition is better positioned to execute that strategy with such a product. ILOG however is geared toward a more specific purpose.
The more common business intelligence technologies take volumes of company and market data and organize it in such a way that provides a summary of valued business indicators. These technologies enable managers to make more informed decisions by having the right data readily available.
Intelligent decision making is a complex process that requires a combination of experience and intuition, but most importantly, the use of the right supporting data. The formulation and execution of a successful business strategy requires managers to make a number of intelligent decisions. Having access to relevant data to make those intelligent decisions is the key to success. Integrating the balanced scorecard into the heart of a business' management system as outlined by Kaplan and Norton (2001) is, in fact, a way to integrate data into every business process within an organization.
More recent business intelligence and analytics technologies have made adopting these methodologies much easier for businesses. Managers are finding that an investment in enabling technologies yields significant financial results through efficiency and optimization. There is a common element that exists within any organization that has developed and executed a sound business strategy. Within each business, you will find a manager or team of business leaders who recognized and implemented the use of data to drive their decision making.
References
Garrison, R. H., Noreen, E. W., & Brewer, P. C. (2012). Managerial Accounting (14th ed.). Boston, MA: McGraw-Hill Learning Solutions.
Henschen, D. (2012). Advanced analytics. InformationWeek, (1351), 7-15. Retrieved from http://search.proquest.com/docview/1220681098?accountid=7083 IBM ILOG Solutions for Insurance. (2009, July). IBM Software Group Solution Brief. Retrieved February 18, 2013, from
http://www-304.ibm.com/easyaccess/fileserve?contentid=193615 Kaplan, Robert S., and David P. Norton. The Balanced Scorecard: Translating Strategy into Action. Boston, MA: Harvard Business School, 1996. Print.
Kaplan, R. S., & Norton, D. P. (2001). The Strategy-Focused Organization: How balanced scorecard companies thrive in the new business environment. Boston, MA: Harvard Business School Press.
Laursen, G. H., & Thorlund, J. (2010). Business Analytics for Managers: Taking Business Intelligence Beyond Reporting. Hoboken, NJ: Wiley.
Paladino, B., & Williams, N. (2008). Moving strategy forward: Merging the balanced scorecard and business intelligence. Business Performance Management Magazine, 6(2), 12-17. Retrieved from http://search.proquest.com/docview/218349922?accountid=7083