Essential Characteristics for an Effective Marketing Plan
Published:
31 December 2015
Remember! This is just a sample.
You can get your custom paper by one of our expert writers.
Get custom essay
83 writers online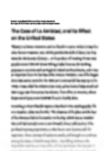 A marketing plan is a business document that is purposely written for describing the current market stance of a business as well as its marketing strategy for the period captured by the marketing plan. Marketing plan usually lasts for one up to five years. The rationale of writing a marketing plan is to visibly reveal the strategies that will be implemented to ensure that a business attains its marketing objectives. Marketing plan for a business should include a brief description of its rivals, strengths and weaknesses from a market position of both the competitors and its business. Business marketing plan also include the demand for the service or the product. The rationale of this paper is to develop a marketing plan for two new products from Cadbury Company.
This marketing plan will also include description of the service of product including the unique characteristics, pricing strategy, description of the location of Cadbury including the advantages and limitations for marketing. This marketing plan will also include market segmentation as well as the market budget including the promotional and advertising plan. Developing a marketing plan is a strenuous process, but in the long run it has a positive impact on the business yearly earnings. A Marketing plan just like a business plan should be updated regularly to address changes in demand, market conditions as well as pricing issues. Cadbury is a company that produces various cocoa products that are famous and sold across the world.
This paper provides an integrated marketing plan aimed at promoting Cadbury's finest dark chocolate in the Australian market. The paper also outlines the entire Cadbury Company, its current marketing strategies and its positioning in the confectionary industry. New chocolate products from Cadbury include Cadbury daily milk top deck, Cadbury dairy milk snack, marvelous creations peanut toffee cookie, Cadbury dairy milk mousse raspberry, marvelous creations peanut toffee cookie. The marketing plan includes the implications of launching new finest chocolate products in Australian market, exceptional packaging and different sizes in combination with the detailed promotional policies. The marketing plan also evaluates the strategies that are to be incorporated to combat other chocolate product from rival companies such as Rondnoir dark chocolate. Cadbury will use distinct marketing ingredients because of their benefit in enhancing the new product market position (Brooksbank, 1991).
The company has come up with a performance plan on how to distribute these new products to the various outlets so that they can reach to their fundamental target market of middle and upper class people with an age of 25 years and above. Cadbury's competitive advantage position is based on its status in the market as compared to other products. Cadbury's product quality ingredients and taste comprise of the company's positioning gain ('Cadbury', 2014). The new chocolate products will be distributed to all chief gift stores, supermarket chains, delicatessens, chief department stores and specialized coffee shop franchises.
Cadbury is the world principal confectionary company with a superior assortment of candies, gum, and chocolates. The company is famous for developing brands such as trident, Cadbury and halls. John Cadbury founded Cadbury Company in 1824. The company has expanded to multinational level with over 50000 employees and over 35000 suppliers across the globe. The company objective is to become the world's principal and superlative confectionary company. Cadbury mainly focus on commercial operations in South America, Britain, Ireland, Africa, US, Middle East and the Pacific region.
Consumer Analysis
           Cadbury Marketing approach and operations focus towards being the leading company in performance as well as maintaining its business operations. The worldwide confectionary market is attractive, large and with expanding dynamics. Cadbury has an estimated retail value of $141 billion. The key category is chocolate which take more than 50 percent of the world's confectionary market (Cadbury, 2010). Internationally, the confectionary market is developing at the rate of 5 percent as compared to any other packaged foods. Cadbury has been able to create appropriate range that is available for all and to all. Cadbury's major strength in Australia is in candy and chocolate. Chocolate remain the product that most clients seek a specific taste in every market.
Cadbury Company SWOT Analysis
Internal Environment
Strength
           Cadbury is the chief confectionery company with an estimated market share of 10 percent. Cadbury also boast a strong financial stance. Cadbury is proficient in production because of its leadership in creativity and sturdy brand name. Cadbury mainly focus on manufacturing chewing gum, chocolate and candy, which has enabled the company to comprehend unique consumer segments. The acquisition strategy used by Cadbury since 2003 has enabled the company to venture in new markets (Cadbury, 2010).
Weaknesses
           Cadbury entirely depends on beverages and confectioneries for its revenues whereas some of its rivals such as Nestle have differentiated products. The diversification strategy has enabled Cadbury's competitors to achieve more profits. Cadbury has a strong market at Europe while their competitors have a strong super-national experience. Cadbury must keep on enhancing its understanding and presence of new markets so that they can maintain its competitive advantage.
External environment
Threats
           Internationally, the costs of production are increasing mainly because of cocoa, sugar, costs of energy, transport and packaging. This calls for Cadbury to situate its worldwide supply chains in appropriate areas. Pressure from branded competitors also results to increased cost of advertising. There is aggressive marketing as well as price wars. Cadbury products have also been influenced by increasing cases of calorie related conditions as well as obesity.
Cadbury is also affected by existing firms since confectionery industry is overcrowded. Cadbury major rivals are Mars and Nestle who also create strong brands. Cadbury also face threat from products that can be used as substitutes to chocolate. These substitutes might have the same customer satisfaction, but sold at cheaper prices (Cadbury, 2010).
Opportunities
           The worldwide confectionery market is famous for its fast emergence and acquisition capacity. This is an opportunity to Cadbury because it will enable the company to expand to new areas through acquisitions. There is increased demand for confectionery in the highly populated nations such as India and China which creates new markets. Cadbury must reduce its costs of production in order to survive in fast moving consumer goods. Cadbury has an opportunity to reduce costs through sensible investment in R & D, increase in supply chain effectiveness, and through outsourcing. Cadbury can achieve cost minimization by producing gums without sugar and Cadbury finest chocolate for enjoyment and treats.
Cadbury range of products has a good reputation that claim for relatively strong pull. Cadbury is also known as established players in the confectionery market. Cadbury also can utilize economics of scale to negotiate for low cost raw materials. Cadbury works with best suppliers so that they can ensure low cost and consistent quality materials used to manufacture chocolate products.
Industry Analysis
           Cadbury operates confectionery factories in Australia, Tasmania and New Zealand. Premium chocolate market is rewarding in Australia and Cadbury aspires to advance this brand. Cadbury also propose that premium chocolate can be used as exciting gifts. Cadbury primary target is the upper and middle class people with an age above 25 years.
Competitor analysis
           Cadbury wish to launch the innovative bite-sized chocolate to combat the competition from Rondnoir chocolate launched in 2009 by Ferrero. The new chocolate product will be packaged uniquely and include variety of fillings because the company target upper and middle class clients.
Integrated Marketing communication plan
           Integrated marketing communications is the use of distinct media to maximize the efficiency of marketing communication scheme. Cadbury believes that brand communications is an expression of implied standards and the company's figure evenness. IMC is a famous approach since people believe that it offers the only appropriate competitive gain of marketing organizations. Cadbury can use any form of communication approach as a marketing strategy since there are very many forms of communication. Brand marketing has taken over advertising. Cadbury can opt to advertise its new products in appropriate media such as a movie or high-profile sporting deal.
Integrated marketing is very effective since it utilize different media qualities of media in communications that are cautiously designed to bring out consistent brand values regardless of the type of media encountered by the customer. The use of integrated marketing has been associated with the growth of global business. Mass media is a chief strategic element of marketing communication strategies.
Market targets
           Cadbury's primary target is middle and upper class individuals with an age over 25 years. Cadbury competitive advantage is based of the company's reputation in the confectionery market with their existing products.
Point of difference
           The innovative bite-sized chocolates will be packed exceptionally with variety of fillings. It will take over the current milk-tray boxed chocolate from Cadbury.
Positioning strategy
           Chocolate lovers all over the world can now enjoy an optimum taste that is cautiously designed to ensure maximum utility as compared to any other chocolate. Cadbury believe that this is not a common chocolate, but it conveys an instantaneous message to chocolate lovers (Ryan & Jones, 2009).
Communication Objectives
           Product awareness: Cadbury wish to attain at least 25 percent of trial rate within the entire end market within the first year of the launch.
Interest: Cadbury wish to attain a re-purchase of at least one month amongst 50 percent of the companies that tried the product.
Market penetration: The Company wishes to attain 1 percent of the market share of the grouping segment countrywide within the first year of launching.
Evaluation: The Company can come up with a questionnaire to 40 percent of the new finest dark chocolate which compare it with Rondnoir dark chocolate by Ferrero.
Trial: After assessing the new premium chocolate, the consumers are expected to prefer it owing to its exceptional packaging and bite-size.
Adoption: The new premium chocolate from Cadbury is expected to have a 75 percent adoption, which implies that the consumer will purchase this premium chocolate and give positive reviews.
Mixed strategies
           Cadbury will involve push and pull promotional approaches together in the launching of these new chocolate products. Utilization of different promotional strategies will enable the company to develop and intensify brand awareness. The new dark chocolate is at its introductory stage of product life cycle and thus it requires a lot of marketing. Cadbury can ensure they maintain a better market position by packaging their new premium chocolate like a gift. The reviews form key consumer market should be examined ad research tools applied to any point of contact such as packaging, letterhead, logistics among others to ensure a complete integrated marketing communication cycle (Ryan & Jones, 2009).
Integrated marketing communication is very crucial since it enable to bring harmony in the company by incorporating various promotional tools. The advertising, sales and direct departments can cooperate through data integration. Cadbury can achieve data integration by setting up a marketing information system that collect and share appropriate information within the company departments.
Cadbury will introduce the two new products using extensive advertising, penetration pricing and expanded distribution so that the company can increase its growth rate and revenues. Cadbury has managed to maintain market position because of excellent combination of extraordinary and cost-effective products.
The rationale for every marketing plan is to ensure success of the project. Therefore it should outline appropriate tasks to be implemented, target clients, and the value of the product manufactured (Coen, 2009).
Advertising
           Marketing requires a lot of finances because of creation of advertisements, thus the company must set enough finances for advertising campaign. For Cadbury to reach their target customers, they must consider both offline and online campaigns. The Company should also allocate enough funds to the offline marketing. Mass media adverts are to be designed to convey gratification message to the consumer. The adverts should also give appropriate reasons as to why they should abandon their current chocolate brands for the new premium chocolate manufactured by Cadbury.
Product
           Cadbury are famous for their strong brand reputation and thus all their decisions regarding their product must be in line with brand image. Their packaging and product are designed to reflect who Cadbury are. The products reflect high nutritional and quality value and creativity Cadbury provide their clients while packaging incorporates the corporate brand logo and purple corporate brand color associated with quality and reliability. Cadbury products are in form of a twisted bar to entice chocolate lovers, packaging is also colorful to attract young adults, teenagers as well as children. Cadbury products meet EU food standards because they do not use forbidden additives and non-natural colorants (Hiebing et al, 2012).
Price
           Pricing strategy is very significant in conveying the representation of a brand. This explains why Cadbury cautiously considers brand reputation and the value of the product, as well as the target market to determine its pricing of their products. For instance, Cadbury sells bar chocolates at a premium price as compared to chocolates from Tesco and Sainsbury. In deed, diverse Cadbury goods targeted at dissimilar segments of the market are priced differently.
Placement
           Cadbury chooses their distribution approach based on the brand reputation of their products. For instance Cadbury dairy milk bar has range of product because they are targeted to mass consumer. Cadbury ranges of products are available in 'mom and pop' shops, hyper and supermarkets, convenience stores and chain retail outlets. Cadbury is accessible across all distribution centers in UK market (Hiebing et al, 2012).
Promotion
           Cadbury cautiously chooses its communications strategies based on their target market and brand reputation to increase product awareness and create great customer base. Cadbury must choose appropriate promotional strategies because of the existing economic downturn so that they can achieve maximum profits from promotional expenditure. Cadbury has developed various websites for their brand. Cadbury has signed a contract with 2012 Olympic that was anticipated to give Cadbury brands global recognition ('Cadbury', 2014). The websites developed by Cadbury include: www.aglassandahalffullproduction.com, www.cadburycremeegg.co.uk and www.cadbury.co.uk. They also include advertisement through print media, TV and radio.
Marketing budget
           Budget allocation for a marketing plan is determined by percentage of profits and sales. The budget for marketing plan will also be determined by annual profit and sales target of the existing products. It is most effective to determine marketing operations to be executed as well as the marketing goals to be attained while launching new products from Cadbury. A rational method of setting marketing plan on various promotional activities must consider objectives and operations (Rowlinson, 1993).
Appraising and controlling the marketing plan
           There are many superior approaches of controlling and monitoring a marketing plan. Principles of balanced scorecard is one of the methods used to control and monitor marketing plan.
Key issues that might face Cadbury while implementing marketing plan
Too many brands and products
Consumer awareness to entice more clients
Pressure from consumers on health related matters
Hefty legislations and values for industry
The credit crunch and economic slowdown
The likelihood that the market will shrivel
Increased competition resulting to competitive prices
Thriving in a challenging market
Comprehending the competition
Entry in new markets and launching new products
Introduction of existing products in new markets
Segmentation of market
           Cadbury has segmented chocolate market in UK based on psychographics, geography and demographics to discover the target market segments for their new products (Cadbury, 2010).
References
Brooksbank, R. (1991). Essential Characteristics for an Effective Marketing Plan. Marketing Intelligence & Planning, 9(7), 17-20.
Cadbury. (n.d.). Cadbury. Retrieved October 9, 2014, from http://www.cadbury.co.uk.
Cadbury, D. (2010). Chocolate wars: from Cadbury to Kraft – 200 years of sweet success and bitter rivalry. London: HarperPress.
Cadbury, D. (2010). Chocolate wars: the 150-year rivalry between the world's greatest chocolate makers. New York: PublicAffairs.
Coen, W. A. (2009). Marketing plan. S.l.: John Wiley And Sons.
Hiebing, R. G., Cooper, S. W., & Wehrenberg, S. (2012). The successful marketing plan: how to create dynamic, results-oriented marketing (4th ed.). New York: McGraw-Hill.
Home Businesses Need a Marketing Plan Too. (n.d.). About. Retrieved October 9, 2014, from http://homebusiness.about.com/od/homebusinessglossar1/g/marketing-plan.htm
Rowlinson, M. (1993). The Invention of Corporate Culture: A History of the Histories of Cadbury. Human Relations, 46(3), 299-326.
Ryan, D., & Jones, C. (2009). Understanding digital marketing marketing strategies for engaging the digital generation. London: Kogan Page.