Overstretched European families up against the demands of work and care
Published:
13 October 2015
Remember! This is just a sample.
You can get your custom paper by one of our expert writers.
Get custom essay
99 writers online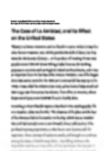 Care Policies
Introduction
            Care is defined as provision of what is appropriate for welfare, health, protection and maintenance of something or someone. Care policies are acts that that guides people to seek serious consideration or attention so that they can carry on with their daily activities in an appropriate manner. Care policies must be unique to the type of service being offered and be developed in cooperation with the service community. Policies are developed depending on the need or conditions. However, the policy has to be introduced to the community and explain the future plans of development. The main concern is to know how to develop policies that meet the needs of the society.
            In various parts of the continent there has been a reverse of roles whereby women are getting involved in paid employment. This has altered the traditional role of the father as the breadwinner of the family since this model presume that women can be dependent to care for children, frail and older relatives as well as disabled family members. The paper seeks to acknowledge how care policies are developed. The paper focus on the relationship connecting how constituencies formulate care claims and the manner these care policies are prepared and delivered in diverse regional, national and historical perspective. The main focus is on the care policies for employed parents in Europe, but it also briefly analyze policies for unpaid careers and disabled citizens.
            The paper aim at providing an explanation within particular framework of the rapport between ; the connection of claims based on the needs of those who receive and those who provide care, the logics and political frames which are concerned to meet care needs, as well as the implications of such policies to distinct care providers and care receivers. The policy should be consistent with the values, goals and the mission of the service to be provided. The policy should as well be applicable to the management structure as well as the type of service being provided. The care policy should also follow the format used in other policies. There should also be regulatory and legislative mandates governing the policy as it apply to the type of service. This among other factors will determine how well the policy addresses the need and thus provide the service in the best way possible. Every year organizations are called upon to review their policies and procedures so that they can meet the required terms.
            The book Gender and social policy in a global context by Razavi and Hassim explain how economic and social rights have been traditionally prepared and modeled by the procedure of economic and political change, and by design and normative postulations of social institutions. The book reveals that these assumptions and processes are in depth gendered even in phases where official political parity has been achieved. The book uncovers the gendered structure of the society and it highlights the significance of thinking ahead of markets and states in societal provisioning, also incorporating interaction analysis between social institutions, especially family and society. Though there have been a lot of radicalization in the care and balance of work in many communities, the book shows in many circumstances these alterations have been reestablished rather than masculinity wrinkled inequalities. In order to acknowledge the results, it is important to explore the rapport between the values and presuppositions on which social institutions are represented in different nations and the approaches in which they have structured work access and burdens to entitlements.
            Policies and procedures describe how care providers can plan to operate their program. Working parents in Europe have easy access to openly funded schemes offering superior care. European countries provide appropriate alternative models of child care. However, different European countries have different systems of child care policies. For example, French child care is anticipated basically as early childhood education and is free to all kids despite of the socio-economic type. In France, many children are registered in the full-day and undergo same national scheme, with the same prospectus and their teachers are paid good salaries by the same state bureau. On the other hand, Denmark offers a "non-school model" with a primary aim of helping working parents not to educate their children. In European countries child care expenses are considered as a social liability and are funded by the public. European countries also highly regard the Family leave Act as compared to other nations such as United States. European legislative board also emphasizes on the number of hours that parent work as a significant factor that moulds the approach of how kids are thought about and people providing the care. European working parents work for few hours and weeks so that they can have time to care for their children. This is a very important step since parent care is not easy since it requires full attention. It poses very difficult to balance time between office work and taking responsibility as a parent.
            The rates of maternal employment are high in European countries, but parents are able to balance between work and family responsibility. There are three major care policies for working parents in Europe which are: publicly provided or subsidized early childhood care and education program, paid parenting leaves that allow parents to care for their children without forfeiting their income or jobs, and working time policies that increase alternatives for part-time, reduced-hour and high-quality employment. Collective-bargaining agreements and legislation forbid employers from mistreating part-time employees. European care policies that protect parental time are attached with superior public early childhood care and education program. In unison these policies back up provision of safe, developmentally nurturing care for kids since birth until the beginning of their primary school. In Sweden, working parents are entitled to 15 months paid parental leave and the parents also have statutory right to work for at least six hours a day until their children turn 8 years. European countries acknowledge the importance of parent care since the parent is the child's first teacher. Parent care is very crucial since it will shape the child development process.
            In conclusion, European care policies are far much better off as compared to other countries such as United States. In European countries child care expenses are well thought-out as social responsibility and are funded by the public while in U.S. parents pay for child care services. European countries formulate care policies to protect the working parent by offering alternatives such as part-time, reduced-hour and high-quality employment. These care policies in European countries are very crucial to working parents since they help the parent to balance between work and family responsibility.
References
Boca, D. (2007). Social policies, labour markets and motherhood: a comparative analysis of European countries. Cambridge, UK: Cambridge University Press.
Drobnič, S. (2011). Work-life balance in Europe: the role of job quality. Houndmills, Basingstoke Hampshire: Palgrave Macmillan.
Kröger, T., & Sipilä, J. (2005). Overstretched European families up against the demands of work and care. Malden, Mass.: Blackwell.
Razavi, S., & Hassim, S. (2006). Gender and social policy in a global context: uncovering the gendered structure of 'the social'. New York: Palgrave Macmillan
The European Model. (n.d.). What we can learn from how other nations support families that work. Retrieved May 29, 2014, fromhttp://www.thirdworldtraveler.com/Europe/European_Model_Families.html