Valuation: Measuring and Managing the Value of Companies
Published:
11 December 2015
Remember! This is just a sample.
You can get your custom paper by one of our expert writers.
Get custom essay
94 writers online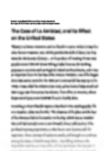 Carrefour Company
Introduction
            The modern business world has changed and organizations have embraced new technologies for them to achieve effectiveness, efficiency and competitiveness. One of the most important technology for business prosperity is Information Technology commonly known as IT. Information is an important and integral part of any organization that determines whether a firm will make sound decisions or not. Carrefour Company is one of the well-known worldwide companies that has embraced Information technology in its business processes and this has played a majorin earning a competitive edge.
Carrefour IT and Business Processes
            The company runs convenience stores, supermarkets, cash and carry supplies, hyper-cash store and hypermarkets. Carrefour also engages in non-food and food e-commerce websites and it functions as multi-location, multi-channel, and multi-location trader with its initial origin in Europe. Its products range from electronics, leisure, ornamental products, clothing items and non- food products(Koller, 2011). Carrefour contacts a large amount of its business on an online platform using its portals, ooshop.fr and Carrefour.fr. This calls for a good understanding of Information Technology for the firm to succeed and earn competitive advantage in the industry. Carrefour Company integrates Information Technology in its various business processes. Some of the ways are in communication, inventory management, data management, management information systems, security, business culture, research capacity and customer relationship management.
            Being a multi-factor company, Carrefour requires a well-structured communication channel to enable transactions and business communication to happen smoothly. The company has adapted new information technology by setting up a wide variety of communication platforms to reach the maximum number of clients and potential customers globally. Examples of the platforms used include the official company's website, email support systems for both clients and employees, phone directories and social network accounts.
            Inventory management at Carrefour has also boosted their performance due to advanced information technology. The inventory systems gather all the information of each items stored and keep track of the quality and quantities. This enables the company to minimize on inventory costs such as carrying costs and also minimize wastages especially for the food products with low shelf life.
            Information technology has also improved data management practices at the company. Employees do not to keep large file of documents, they save everything through data systems. The systems are also able to record information which is important for business decisions and this automated systems also reduce malpractices among the employees.
            Customers are the most important stakeholders to any business organization and, therefore, the need to maintain a good relationship with them. Carrefour has achieved this aspect through customer management systems (CRM) which enhances communication with the clients. The company is able to respond immediately to customers' concerns and the information is stored for future reference if the same client makes another call. This improves customer experience and increased customer loyalty to Carrefour products.
Technologies Used at Carrefour Company
            Carrefour Company mainly employs four technologies to manage its information. These systems are Transaction Process Systems (TPS), Management Information Systems (MIS), Enterprise Information Systems, and Decision Support Systems (DSS). Transaction Process Systems monitors and records all the transactions in the organization. The system mainly is responsible for recovery of data during system failures, stabilize the data, and it also integrates and connects other systems.
            MIS on the hand, does systematic study and analysis of available data to enhance decision-making. Carrefour joint forces with a company called PeopleSoft which is in charge of their global operations by offering platforms such as Customer Relations Management(Farrel, 2013). Management Information Systems enable the company to heighten their operations by frequently updating processes, procedures, and stored data.
            DSS is a unique technology that promotes sound decision-making processes at different levels of the company's hierarchy. Its main advantage is the ability to break down large volume of data and evaluate them for decision-making. The system retrieves the ideal information from the stored volumes of data and it can work both as an online or a batch process.
            EIS is important information tool mainly for the management of Carrefour Company. It makes summaries of the transactions and turns raw data into information which is applied internally. The management team at Carrefour use EIS to get summarized information from complex graphs and in the process speed up decision-making process(Koller, 2011).
Company's Success with IT adaption
            90% of the company's success is attributed to its use and early adoption of Information Technology into its business activities. The technology has improved customer relations, business process, employee relations, and product development. These are the main activities of any organization and therefore making Information Technology a major player to the success Carrefour Company is enjoying today.
            Information Technology has helped Carrefour to minimize most of the cost associated with conducting business. It has enabled the organization reduce on the space required to store information through the use of computers. It has also enhance inventory management and reduced wastages and carrying costs(Koller, 2011). Due to customer relation systems, the company is able to make more tailor products and services according to the clients' tastes and preferences. This has led more product differentiation.
References
Farrel, J. (2013). The Economics of Information Technology: An Introduction (Raffaele Mattioli Lectures). Cambridge: Cambridge University Press.
Koller, T. (2011). Valuation: Measuring and Managing the Value of Companies (Carrefour Case). New York: John Wiley & Sons, Inc.