Case for Repositioning a Bank
Remember! This is just a sample.
You can get your custom paper by one of our expert writers.
Get custom essay
93 writers online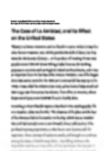 ANZ bank is over 170 years old providing a range of banking and financial products and services to more than 5.7 million retail customers on a global scale (case). . Offering 817 branches and 2600 automated teller machines (ATMs) all over Australia, ANZ is ranked in the top 4 banks in Australia along with Commonwealth Bank of Australia, National Australia Bank Ltd (NAB) and Westpac Banking Corporation. This report will identify the current position of ANZ, and how they are attempting to reposition themselves in the financial services industry. The case highlights the strengths and weaknesses of ANZ and how effective their current marketing strategy is.
The strengths of ANZ which have been identified in the case are their highly customised bankcards, their trustworthy image and reputation, knowledgeable staff and the size of the firm. ANZ's weaknesses are that their products are quite easy to imitate due to such intangibility, they are at the bottom compared to their competitors, the communication gap occurring through the reposition of their new brand and the inflexibility due to the large structure of the bank. This paper will explore two of ANZ's main strategic issues which are the communication gap of through the repositioning and rebranding as well as ANZ's competition in the financial industry. Key Strategic Marketing Issues
The banking industry is very well established and has a limited selection of different products. Due to few substitute products, firms in the industry will find it hard to differentiate themselves from their competitors. Chenet, Dagger, & O'Sullivan (2010) state that, differentiation is important because firms uniqueness is linked to target market focus, client-perceived value and competitive advantage. In result of ANZ's lack of communicating their service quality, limited product diversity and lack of unadaptable strategies they are ranked number four of the top four banks. ANZ needs to address the amount of ATMs it has throughout the country. Compared to its major competitors, ANZ is one of the banks with the least amount of ATMs available to its customers with almost half the amount of ATMs compared to NAB. Theory ANZ is rebranding and repositioning itself it the market to appear more appealing to customers.
They are moving from an outdated brand and position of 'ANZ Now' to a new brand identity and positioning strategy of 'We live in your world' implying a modern and fresh new feel to the company. Throughout the rebranding and repositioning process, ANZ is using a customer-led marketing approach by trying to find what customers want and giving it to them (Hooley, Piercy & Nicoulaud, 2012). However, ANZ is a very large firm which affects rebranding, creating a gap in the communication between the firm and their consumers. The slogan 'We live in your world' has been adapted to try and differentiate ANZ from its competitors in terms of customer satisfaction; however it has not been aimed consistently across all ANZ's communication activities. This has resulted in confusion of the customers as well as a lack of awareness of ANZ's message. Mayer (1975) found that larger firms can generally find it harder than a smaller firm to implement change across the whole organisation effectively and efficiently. Resources and Capabilities
A resource is anything that is considered to be thought of as a strength or weakness of a firm and may be defined as those tangible and intangible assets that are tied to the firm (Wernerfelt, 1984). ANZ's resources include the products they offer, size of the firm, the knowledgeable staff and the strong trust with their customers. ANZ seeks to "attract and develop the best connected and most respected people to be a part of the ANZ team" (ANZ, 2014). Having knowledgeable and highly skilled staff allows for a financial institution to create superior returns, thus a competitive advantage (lulow, V., Gerstman, J., & Barry, C. 2003). The size of ANZ allows ease of access to funds which will appeal to their customers through providing loans, insurance, small business and corporate.
Having a strong brand image and a good reputation, ANZ have had the opportunity to build trust with their customers. The large size of a firm can be a strength; however in turn can be a weakness. Mayer, T. (1975) identified that large banks have the potential to fail if customer service is overlooked. Due to the large amount of customers ANZ has, there is the possibility that relationships with customers may diminish. Furthermore, due to the large size of the firm ANZ may appear as inflexible and changes within the organisation may take a long time, such as the current repositioning of the firm. Creating confusing amongst consumers as the message is not being communicated effectively across all of ANZ. Competitive Advantage
ANZs major competitive advantage over their main competitors is this highly customised bankcards they currently offer to their customers. ANZ have used a customer-led marketing approach with their bankcards, as this approach finds what customers want, and give it to them (Hooley, Piercy & Nicoulaud, 2012). This fits in well with their brand image they are trying to communicate; 'We live in your world'. Rather than just providing bank cards to their customers as the other major banks do ANZ customises their cards allowing their customers to choose what colour card they want and further using their own pictures on their bank cards.
This is giving the customers the chance to create their own products. These customised bank cards have given ANZ a first mover advantage allowing them to enjoy the protection of a resource position barrier (Wernerfelt, 1984). However, Barney (1991) states that to have a 'sustained competitive advantage' competitors are unable to duplicate the benefits of this strategy. The customised bank cards may not last that long as a major competitive advantage due to other firms being able to easily imitate what ANZ have done.
Strategic Fit
Skinner (1969) suggested that for a firm to strategically fit, they need to tailor their production systems to perform the tasks that are vital to success and consistent with the firm's strategy. The current marketing strategy of 'We live in your world' is ANZs new an innovative fresh outlook on branding for the organisation. The strategic planning and strategic marketing of this strategy must penetrate the whole market orientation not just small sections (Hooley, Piercy & Nicoolaud, 2012). This current strategy although isn't fitting with the needs and requirements of the market. The failure of communication between ANZs resources and capabilities is causing the new strategy to not be implemented properly to its audience (Narver & Slater, 1990).
The strategy adapted isn't connecting with their customers their desired outlook of what they wish to be perceived as. ANZ wants their consumers to focus on them being 'trustworthy' and 'traditional' but as of now they aren't practicing what they preach. This is shown with customers feeling confused and unaware of the new adapted strategy. As Hooley, Piercy & Nicoolaud (2012) have found the marketing strategy needs to be aligned with the overall the relevant resources, capabilities so direction can be achieved and then the overall context of corporate strategy will be accomplished.
Recommendation
To ensure the repositioning of ANZ is effective, they need to communicate to their consumers more effectively. Rust, Moorman, and Dickson, (2002) found that "customers differentiate between service firms on the basis of service quality". Therefore, ANZ need to offer superior customer service through the use of their highly skilled and knowledgeable staff. The best way for ANZ to differentiate their selves is through superior quality. Farrell, Hitchens, & Moffat (1993) found that, superior quality is an effective management strategy as it helps separate firms from competitive rivalry by creating customer loyalty.