Case study
Remember! This is just a sample.
You can get your custom paper by one of our expert writers.
Get custom essay
102 writers online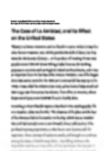 Inuit was founded in 1983 by Scott Cook (Former Procter & Gamble employee) and Tom Proulx (Stanford University Programmer), that develops and sells financial and tax solution software for consumers and small to medium sized businesses. The company has always thrived to revolutionise people's lives by solving their important business and financial management problems. Quicken was its product that was launched in 1984 and struggled the first year, but due to positive reviews in trade journals and print campaign strategies, Intuit got its first break and by 1988 Quicken was the best selling finance product on the market. Early 1990's saw Intuit growing due to success of Quicken, QuickBooks and Turbotax. These products made some significant contribution in small businesses.
Porter's five forces Analysis for Inuit:
Any organization strategy that you develop needs to include gaining a thorough understanding of the external environment that the organization is operating in. The most widely tool that can help you to do this is Porter's five force analysis. Porter's model considers five forces that determine the attractiveness of your market by analyzing the competitive intensity. Similarly Porter's five forces will help Intuit the position of the market and how much do they really stand a chance in this competitive industry, with Microsoft trying to buy them off.
1. Threat of new entrant:
Intuit's marketing strategies have helped the company evolve. Positive word of mouth an exceptional customer services is its most effective marketing tools. Roughly 8 out of 10 customers have bought Intuit's product and hence engaging with customers directly and communicating with customers on a timely basis has helped distinguish its products. This leads to a very low threat of new entrants in the market. Due to this it is very difficult for new company's to enter the market and compete with Intuit.
2. Bargaining Power of Buyers:
Since Inuit is not the only one in the market, Microsoft being the biggest competitor it increases the bargaining power of buyers giving them more than one option to choose from. Intuit is very well aware of this fact and hence spends significant amount of time and money on consumer research every year. It is very critical for Intuit to know how customers use and feel about their products. This is possible by adapting Site Visit, Lab Study and Remote study conducted by Intuit.
3. Bargaining Power of Suppliers:
The only product that Intuit needs is a compact disc and since there are many suppliers of compact disc in the market, the bargaining power of suppliers is very low. This leads to huge competition between suppliers and Intuit has an advantage.
4. Threat for Substitute Products:
There is no substitute product available for tax and financial planning software's apart from hiring specialised people in your company in that field which is turns out to be very expensive and also time consuming. Hence there is no threat for substitute products for Intuit in the market.
5. The intensity of rivalry:
Intuit faces huge competition in the market for the products they offer. Microsoft, one of their biggest competitors has tried to buy off Intuit but failed and also withdrawn its money product line after a 18 year battle with Quicken. This has been a great win for Intuit over the software giant. There are many companies providing mobile devices which have become very popular among the younger consumers and hence this increases the intensity of rivalry in the market that will be faced by Intuit.
Potential Market entry methods for Intuit:
Intuit has a very few ways it can enter the potential market i.e. mobile devices. Depending on various factors, Intuit can adopt acquisition. This will be very quick and fastest way to enter the mobile devices industry. Intuit can acquire some firms that are already in the mobile device business, have a strong customer base and have all access to the company's network files.
Reference:
Pearson Education Limited (2012). Marketing Management (14th ed.). Kotler Keller: Author.
Submitted by:
Anchal Pathak