Cultural differences, cultural values and beliefs
Published:
2 January 2016
Remember! This is just a sample.
You can get your custom paper by one of our expert writers.
Get custom essay
98 writers online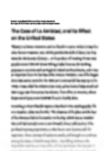 Cultural differences, cultural values and beliefs.
Q2: What would you discuss with Ruth?
I would discuss about the importance of care workers. Ruth cannot handle all these patients' issues alone.
Q3: What would you change to meet Ruth's needs?
           I would try to change her mentality about care workers. Care workers intention is caring and ensuring patient safety, but Ruth think they are undermining her efforts to take care of her family members.
Q4: Who would be involved in the discussion?
I would involve a counseling psychologist in the discussion.
Q5: What are your Short term goals for Ryan?
Learning how to drive and having good attitude.
Q6: What are your long term goals for Ryan?
Staying away from pessimism,
Enhancing his life,
Restructuring his priorities,
Quit using drugs and
Having a better outlook on life.
Q7: How could your own cultural beliefs and upbringing influence your service delivery to Ryan?
We will only perceive others in our own way; this will affect my communication with Ryan.
Q8: What types of resources could you use to facilitate effective communication with Ryan?
Cultural awareness, cultural competence and cultural sensitivity.
Q9: What strategies will you implement to ensure cultural safety and to increase the chances of Ryan participating in your service delivery?
1. Open, transparent, respectful and value free communication.
2. Reflect on Ryan's attitudes, culture and beliefs.
3. Developing trust.
4. Understanding the impact of culture shock.
5. Engage in a two-way dialogue with Ryan.
6. Identifying and shunning away from convectional barriers.
Q10: who are the community agencies or people that you could include in your service plan for Ryan.
Psychologists, spiritual counselors and a therapist who has specialized in drug addiction.
Q11: Describe your strategy and what you will say in the meeting.
           First, I will develop a case regarding indigenous people and the youths and research about opposition arguments. Then, I will stick to the issue in support of indigenous people and the youths, state few points as a back up of my position and make a clear-cut request for action. I will also relate the issue of youths and indigenous people in the society. The other strategy is to make a well articulated request since the rationale is to secure support for youths and indigenous people.
I will also put across that a thief can be anybody in the society and not necessarily a young indigenous person. Therefore, people should change their mentality about young indigenous people.
Reference
Prime learning property ltd. " HLTHIR404D working effectively with aboriginal and Torres strait islander people." student learning guide 2, no. 8 (2012): 55.