Case Study Nestlé
Remember! This is just a sample.
You can get your custom paper by one of our expert writers.
Get custom essay
91 writers online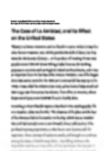 Introduction
Nestle is one of the biggest food companies in the world with sales of $47 billion annually. Nestle has undergone through a huge number of transformation throughout the years. (Palmer, Dunford & Akin, 2009). Nestle manufacture product such as different cosmetics and chocolates that has been long known as a worldwide leader in its business.
To increase its growth in operations, Nestle had picked up other markets for diversification other than the food industry which Nestlé's first pick item was the cosmetic brand. But after some time, the company had acquired other products like ophthalmic and pharmaceutical. At last, for the expansion the company was required to concentrate on enhancing productivity, business expansion and financial improvement.
Body
1. Did Nestle undergo either first-order and/or second-order change according to the case? Answer listing examples of types of change from the above story.
In the case study, Nestle went through major first order change. One of the first-order changes that occurred was in the 1900's when Nestle changed its approach to global expansion by acquiring subsidies in other countries. Prior to that, Nestle only operated with sales agents to buy their products out of Switzerland, so they changed their international strategy maintaining the company's goals and the organizational mission.
During the First World War, this had increased the demand on diary product, Nestlé took advantage of this fact as a way to expand itself into U.S. purchasing American factories, and continuing with their global expansion. In addition to increase productivity and efficiency, during the Second World War Nestle moved out of Europe.
Nestlé in 1974 then started to diversify their products in order to grow as company and increase earnings. Nestlé acquired a cosmetic company that became the major shareholder of L'Oreal. That was the first of different acquisitions of companies out of the food industry. Nestle then entered in the pharmaceutical market purchasing Alcon Laboratories, and enlarged their position in food market acquiring Carnation. Diversifying their products, Nestle drove away from their initial structure and created different products.
2. Brabeck- Letmathe emphasizes the need for incremental approach to change. Do you agree that this what he has done? Discuss the differences and similarities between his view and your view of what has occurred at Nestle, both historically and in recent times.
Yes, I believe Brabeck has incremental change because he believes that change should happen "slow and steady." If you make all changes happen at once instead of over a period of time then there will be no incremental change. He expanded Nestle with different products, which I think helped them to increase in production. He tried to implement their strengths and make them better. I believe that he could have done this better financially because having too many investors can put a financial burden on the organization. With Brabeck-Letmathe using this approach, it gave the organization a chance to keep the core values and sustain strength rather than changing it entirely.
3. What implications for change managers would apply specifically to Nestle? Outline how the Nestle management team may have reacted to each implication.
Nestle is forced to respond to a competitive mechanisms specially created for managing a specific.
The first implication for change managers within Nestle is the need to be accountable, transparent, and focused on how best to create trust between subordinates and management. From this foundation of trust, both first- and second-order change can be developed. This focus on being trustworthy to alleviate resistance to change and instead invite employees to "own" the change as well as it is critical to making any organization resilient over time.
The second implication for change managers is the pragmatism to look at what initially is perceived as a major improvement in execution and efficiency promised by IT investments and concentrate on their real contributions to the company.
Third, the implications of acquiring L'Oreal and Alcon Labs are diversions for their core business yet Nestle positions these as extensions of their core business of consumer products and succeeds as a result.
The difficulty faced by the change managers to each of these changes is to maintain the balance between the current strategies of the Nestle and the strategies prevailing with the new acquired organization. Another challenge faced by the management is when Nestle has acquired other brands which were completely different from the food brands, it was complex for the management to decide which sequence should follow, so that there will be no compromise on the success of the company. It is very clear from the case study that the CEO of Nestle focus on the long term goals as compared to short term goals. For managers, it was very difficult to work on these kinds of changes.
4. Find three examples of lessons from the front line that are evident in the Nestle case. How could these issues be overcome?
The three examples of lessons from the front line that are evident in Nestle are use of innovative technology, downsizing and acquisitions & mergers. (Joined Up Business, 2011)
Use of Innovative Technology – It is very clear that introduction of IT tool is very significant for managing the operations of the company, but after that the company has not implemented that tool. It is advisable for the company to add IT tools to make the things better and fast.
Downsizing – In simple words, downsizing refers to the elimination of employees in the organization. Downsizing assists in cutting of the cost, but at the similar time points out the issue of worker retention. It is advisable for the company to opt other method of the cost cutting as compared to affecting the employees.
Acquisitions& Mergers – It has been analyzed from the case study that Nestle has earned significant amount from Mergers & Acquisitions. A large number of cultural issues have to be taken care of. In general, when two companies merge in any form, then retention of the employee arises as a significant issue.
Conclusion
In conclusion, Nestle never believed in non- realistic objectives which demanded sudden change. The difficulty faced by the change managers is to maintain the balance between the current strategies of the Nestle and the strategies prevailing with the new acquired organization The Nestle Company has opted for worldwide diversification and initiated purchasing local subsidiaries from the outside market. Once the gaps are recognized it becomes easy to work in upward movement for the growth of the organization, changing any organization is not as simple as it seems to be. Knowledge, skills & expertise are the key areas for any organization undergoing change. At last, it can be concluded that the Nestle falls under the category of fit organization.