Case Study on Tupperware
Remember! This is just a sample.
You can get your custom paper by one of our expert writers.
Get custom essay
80 writers online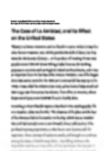 1.0 Introduction
In this report I will be analyzing a case study on Tupperware. I will be identifying the main problems faced by Tupperware and recommending solutions that could be used to help Tupperware. Tupperware was developed in the 1940's by Earl Tupper. They consisted of various types of plastic containers used in households to contain food and keep it airtight. As innovative as the product was it was not an instant hit. The target market was woman and they were not buying the product and this meant that a different approach had to be taken in order to induce sales and get the product known. This led to the beginning of the Tupperware party as a sales tool. The Tupperware party was a gathering of women mainly housewives who came together to socialize but with Tupperware available for sale. This proved to be a useful sales technique.
In the 1950's the product was a perfect fit for women most being full-time homemakers which allowed them to be able pack food and leftovers for long periods of time. However since Tupperware was not sold in the stores in meant that women and housewives alike had to had to attend Tupperware parties in order to purchase them. In the 60's and 70's Tupperware sales increased dramatically. This was because the lifestyle of most women at the time suited a product like Tupperware, also coupled with the Tupperware parties which were a huge hit in the era. In the 80's there was a there was a decline in sales, this according to the Tupperware ladies, may have been due to increase in divorces, childless, women being single and more independent. Tupperware maintains a reasonable market share internationally but has since seen a decline in both market share and sales domestically and struggles to find appropriate marketing strategies to implement.
2.0 S.W.O.T Analysis
A SWOT analysis is an analytical method, which is used to identify and categorize significant internal factors (i.e. strengths and weaknesses) and external factors (i.e. opportunities and threats) an organization faces. I will be looking at the SWOT analysis for Tupperware and using it to identify the strengths, weaknesses, opportunities and threats that Tupperware have.
2.1 Strengths
– Tupperware had a new innovative product at the time.
– Tupperware at the time had a specific target market i.e. Housewives. – Tupperware was a perfect fit for the 1950's due to many women being homemakers – Tupperware parties were the only way to buy the products making them exclusive to other businesses. – Tupperware used their parties as a form of promotion by having games and giving out gifts. – Tupperware has high customer loyalty
– Between the 1950's and 1970's Tupperware was highly profitable
2.2 Weaknesses
– Tupperware has not been able to preserve a way of life.
– Tupperware was a new and unknown product so when it came out there was no interest in it. – Tupperware could only be sold at Tupperware parties unlike other competitive products that were being sold in stores.
2.3 Opportunities
– In the past Tupperware could have sold their products in stores rather than just Tupperware parties. – Increase profitability by increasing marketing and advertising. – Increase domestic sales of Tupperware
2.4 Threats
– Competition from other companies like Rubbermaid.
– Changing environment and lifestyle.
3.0 The 5 p's of the Marketing Mix for Tupperware
The 5 p's of the Marketing mix that I will be looking at in relation to Tupperware include product, promotion, price, place, people.
3.1 Product
Tupperware consists of various types of plastic containers used in households to contain food and keep it airtight. Tupperware products were innovative when they came out. The quality of the product is said to be high and very effective in its use. The availability of Tupperware products was limited as you could only buy them from the Tupperware parties.
3.2 Promotion
Tupperware was promoted through the Tupperware parties that were held in different locations. This was their main form of promotion. In the Tupperware parties they also used social events, like games, were they gave gifts in order to increase awareness of the product. Tupperware also used Tupperware ladies to market their products directly to the customers.
3.3 Price
Tupperware products according to loyal customers are "high in quality and a price to match". So Tupperware products are expensive.
3.4 Place
Tupperware products can only be bought at Tupperware parties. Any returns would have to be done in person.
3.5 People
The people who were involved in the marketing, sales and customer service of Tupperware were the Tupperware ladies and dealers.
4.0Marketing Solutions and Recommendations
In terms of the actual product, customers felt that it was of high quality and had the features and usability expected, therefore it may not be necessary to change or improve these things. However brand image can be increased by advertising and marketing. Availability of the product and customer service can be improved by employing more Tupperware ladies and dealers. Tupperware already used Tupperware parties as a form of promoting both the products and party itself. I think Tupperware could improve their branding and public relations by increasing advertising and marketing campaigns that directly target the intended customers. Tupperware products even though of high quality are expensive. Tupperware could increase customer loyalty by reducing prices and introducing promotional campaigns that make the products more affordable.
Tupperware can also help customers by introducing discounts, payment methods and free value added incentives. Tupperware can improve customer service and support by increasing the number of Tupperware ladies and dealers. Tupperware can also widen their scope by creating different channels or mediums that can help increase awareness, brand imaging, increase profits and customer loyalty. Finally I think Tupperware should increase the number of dedicated Tupperware ladies and dealers. This can be done by increasing the level of training which will increase the level of skill that the Tupperware ladies and dealers have. This will increase the number of Tupperware parties available which will increase sales and profits. Customer loyalty will also increase as direct customer service increases.
5.0 Conclusion
As shown in the report I have analyzed and identified areas that have problems within Tupperware and I believe that I have shown that certain solution can be implemented in order to help increase sale, profits, customer loyalty and the overall service provided by Tupperware.
6.0 References
Pride, W. M., Ferrell, O. C., Lucas, B. A., Schrembri, S., & Niinnen, O. (2012). Marketing Principles: Asia Pacific Edition. (1st ed.). South Melbourne: Cengage Learning Australia.
Pride, W. M., & Ferrell, O. C. (2013). Foundations of Marketing (5th ed.). Mason, Ohio: South-Western Cengage Learning.