Case Study "Scouts Canada"
Remember! This is just a sample.
You can get your custom paper by one of our expert writers.
Get custom essay
91 writers online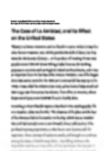 Question 1
Using the full spectrum of segmentation variables, describe how Scouts Canada could segment its market place.
Scouts Canada is a Canadian organization; therefore the organizations segmentation strategy is primarily geographic. The company focuses on the Canadian market, including all provinces and territories of the country.
Based on what the organization wants to accomplish Scouts Canada should dedicate their marketing strategies to study and segment the market based on demographics (age, family size, life cycle) and psychographics.
Demographic Segmentation fragments the market into categories according to different demographic factors, usually with regards to the wants and needs of multiple consumer groups. The organization provides opportunities for many people of different ages and gender. Whether people want to participate in a program, volunteer, or strive to be a leader. Scouts Canada caters to their target market and offers incentives to attract people in various life cycles. The programs of Scouts Canada are aimed at different age groups: Beaver Scouts (5-7), Cub Scouts (8-10), Scouts (11-13), Venture Scouts (14-17), and Rover Scouts (18-26).
They can tailor their programs to those with large families, in which each member can feel included and involved.
Psychographic segmentation – this marketing strategy incorporates the lifestyle aspect approach, because part of their mission is to provide adventure, healthy active living, getting outdoors and learning how to be environmentally friendly and responsible, etc.
Question 2
What changed first: the potential scouts member or the scouting experience? Explain your response by discussing the principles of market targeting. "It began with a vision. It was nurtured with passion. It will succeed through action."
In accordance with their targeting strategy differentiated marketing, the organization strived to alter and improve their scouting experience to appeal to a larger number of scout members by customizing separate offers to appeal to appropriate segments. They updated their programs to have an increase in appeal to a broader range of members. In doing so they also created more volunteering spots as to provide easier access and increase opportunities. They also increased their appeal to younger members by providing potential for leadership growth. In addition they had the uniforms redesigned by Joe Fresh, an innovative Canadian designer. Also they intensified their environmental campaign and centric values by planting trees, promoting recycling, and other projects. To further promote their new image they published a simple and effective scouts manual, detailing new information, as well as designing a new logo and bilingual motto to appeal to the countries two official languages. Finally they fabricated new print advertisements that highlighted health issues such as obesity, and "quirky" ads, which captured the public interest.
Question 3
What steps did Scouts Canada take to reposition its offering? An initial aspect that Scouts Canada has reconstructed is their experiences, with the hopes of expanding their potential scout member range.
The case study stated that members would start when they were very young and lose interest after a few years. So one of the things Scouts Canada had to do was find a way to retain them past those few years. The reason why Scouts Canada faced its loss of potential members was because they failed to understand their market segments. They could not tailor their product or 'membership' so that it would meet the needs of more individuals; they just kept a simple plan across the board. Because they did not apply differentiation and understanding of the cultural shift towards "being green" they suffered a high member loss between 1996-2000.
Question 4
Will Scouts Canada ever return to the membership levels its experienced in
the 1960? Why or why not? Scouts Canada has the potential to reach equal or higher membership levels than in 1960, (maximum member period), but only if they continue to take certain actions. They need to target specific groups of people who focus on being "Green" and invironmentaly friendly, as well as creat valuable exciting experiances for all. Scouts Canada's target market is relatively sturdy, and there stands much to be harnessed from it. Conclusion
Since the internal and external reefurb of the organization, membership has increased in every province. Almost 6000 scouting groups have increased membership by over 15%. Scouts Canada should strive to continue to watch and analyze the changing market, and adjust its marketing and retention strategies accordingly. They should also Implement a stronger training program for scout leaders, as they are the future of the company. Finally, they should seek to increase their efforts in focusing on alumni members because experienced members serve to help in grounding the organization and further legitimize the company's existence. Thanks to the innovative marketing strategy, the new company branding has proven a successful overall increase in acquiring new members, and maintaining loyal participation throughout the country.