Chain Gear Limited. Objectives, Mission, Products
Published:
31 December 2015
Remember! This is just a sample.
You can get your custom paper by one of our expert writers.
Get custom essay
83 writers online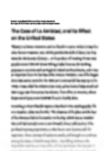 Chain & Gear Limited is a new company that will provide high quality bicycle accessories. Chain & Gear Limited is scheduled to start operations on January, 2014. The company will provide four types of accessories that include saddle bags, Led Bicycle, Air pump light and iPhone bike mount. These products will help improve the performance and safety of bicycles
Chain & Gear Limited will target small and medium sized companies, wholesalers, retailers and within the Northern part of Michigan including Detroit and surrounding areas as well as Southern Ontario. Our products will be positioned as high-end accessories. Currently there are no other companies selling these accessories in the Northern part of Michigan. The potential market for company's product is promising. Currently there are over two million bicycles owners in Michigan. We are seeking £ 1 million to be used in the production, packaging, marketing and overhead as well as for short term capital needs. The company plan on achieving direct sales of £100,000 in the target market in the first year of operation. The company plan to market their products aggressively in order to realize high profits. However, the company has ceased selling '2i' bike helmet.
Objectives
Sales of £1,000,000 in June 2014 and £1.5 million by December, 2014
Gross margin higher than 75%
Mission
           Chain & Gear Limited offers reliable, high-quality products. The company must maintain financial balance, charging affordable prices to their customers.
Company Summary
           Chain & Gear Limited is a new company that will be providing unique accessories such as saddle bag, iPhone bike mount, LED Bicycle Air Pump Lights and coffee cup holder. As a company grows it will focus improving its product to keep abreast with technology. It will also form alliances with other companies (Petrie, 2008: p12). The total start-up expense which includes legal costs, stationery, logo design and related expenses comes to £1 million. £800,000 will be raised through your bank and the remaining £200,000 will come from personal savings. Start-up assets that are required include £50,000 in short-term assets like office furniture and £150,000 in initial cash will be used to handle the first few months of operations since the sales and accounts receivables plays through the cash flow.. The firm's offices are located on lower side of Ann Arbour, Michigan.
Products
           Chain & Gear Limited offers high quality new products that will change the structure of bicycles and also improve iPhone bike mount: The iPhone Bike Mount for iPhone allows one to attach an iPhone to a handlebar of the bicycle such that one can use GPS or an appropriate app to track one's position, speed or distance travelled while one is still riding. The iPhone Bike Mount is a weather proof case that has a welded touch-sensitive membrane that lets your iPhone be completely protected from effects of the weather and still be fully functional. The inside of the iPhone Bike mount case is lined with silicones that assist in shock resistance.
The iPhone Bike Mount pivots so that you can use the iPhone in a portrait or in a landscape mode. It has a membrane protected openings for front and rear camera lenses that lets one take video or pictures while still riding. It also have a recess in a silicone liner that accepts charge cables which is suitable for stems and handlebars with a diameter of 36 mm (1.6") or smaller.It has a case dimensions of 13.2 × 8 × 3 cm (5.8 × 3.2 × 0.7"), case weight of 90 g (3.0 oz.) and a bracket height of 1 cm (0.4") (Weston,2011: p.27).
Saddle bags
           Saddle bags carry tire inflation kits, tools, spare tubes, , keys, and the like. Saddle bags offer easy mounting, convenient access and an out-of-the-way position underneath your saddle. Saddle bags are sleek and small. They are ideal multiplicity of cycling styles such as a weekend warrior, hard-core commuter, touring expert, both on-road and off-road. They have features such as Rear Zipper Closure, Inner polyester pocket on the side, Safety light attachment, post attachment, Inner mesh pocket on lid, Stiffener along top and bottom of bag, Reflective elements on lid, three Adjustable side Velcro straps for saddle bags attachments and one Velcro rear strap for the seat. They are available in black and blue colour, Small, Medium and Large. Their measurement is (H x W x D): (S) 4.75″ x 2″ x 2.75″, (M) 5.5″ x 2″ x 3″, (L) 6″ x 2.75″ x 3.5″, weight: (S) 1.05 oz., (M) 1.2 oz., (L) 1.4 oz. And fabrics: S70DL Polyamide siliconized / 210D Diamond Rip stop PU coated Polyamide (Weston, 2011: p.23).
LED Bicycle Air Pump Lights
           LED Bicycle Air Pump Light installs air tap easily on the tire and flashes vibrant colours when one wheel around. It has an assortment of, Yellow, Red, Blue and Green, giving one's roadside style a funky and bright edge. LED Bicycle Air Pump Lights functions by enhancing visibility and alertness of oncoming traffic that they are sharing the road (Petrie, 2008: p.26).
Cup holders
           Cup holder enables the cyclist to snap onto handlebar. It is constructed out of two rings and a steel spring without screws and glue. Rings are of different sizes such that cyclists can flip a cup holder over depending on the size of the drink. It comes with little storage cube which fits inside the spring. Our cup holder hold two rings together in order to keep it neat and tidy when it is not being used. Cup holders are available in black, red, and white and green (Weston, 2011: p.36).
Competition Comparison
           The competition comes in various forms. Most of our competitor is retailers. Our competitive advantage is that we can buy our products in bulk. This lowers cost such that we can afford to sell at low prices. We can afford to approach other companies and form alliances like amazon.com. The second competitor is Bicycle World. They are already established with good distribution channels. The advantage we enjoy over them is that Chain & Gear Limited sells to wholesalers, retailers and to the company will start with general corporate brochures to help establishing the positioning. This brochure will be part of start-up expenses.
Chain & Gear Limited will at first be positioned as a company that offers cheap products. Our main strategy is to build strong loyalty from customers. We will promote our products as the most technologically advanced on the
Pricing
           We will price our products in line with the other leading products. A pricing chart is shown below. To support these prices, i carried out a research to determine prices offered by other players. Research involved interviews and conversation.
Product Unit Price
iPhone bike mount:
£22
Saddle bags
£24
Cup holder £10
LED Bicycle Air Pump Lights
£40
Promotion
           We will begin promoting our products through the following several avenues. These include Direct mail campaign, campaign for print advertising, Email web promotional campaigns. Company website will be developed to supplemental to these efforts.A direct mail campaign will start immediately with special time-limited pricing discounts for those who place order within one week after the date trading started.
Distribution
Product will initially be sold through direct sales force and on the company website.
Our sales strategy that we employ is directed towards equipping the sales force with a lot of information to help them understand both the product and the market.Cloud computing accounting software is accounting software hosted on a remote server. It provides accounting and finance capabilities to firms in a fashion similar to a Software as a Service business model. Data sent to "the cloud," is processed and returned to a user. All the application functions are performed on off-site and not on the user's desktop.In cloud computing, users can remotely access software applications through the Internet or other networks through cloud application service provider. Cloud computing accounting software frees a business from having to incur the cost, install and maintain software on personal computers. It also permits employees working in a remote or branch office to access the same data and the same version of the software.
In most cases, application providers charge based on usage as compared to site license fees that are associated with traditional accounting software deployments. Accounting data backup and disaster recovery is more often than not a part of one's cloud computing accounting software account (Arias, 2011: p.35).
Types of Cloud computingXero
           Xero gives features that are needed in a cloud accounting software. It connects to one's bank and pulls in transactions on daily basis hence reduce manual data entry. It also does invoicing. They have the developer friendly API which allows third party developers to integrate apps into Xero One of the. It also has capabilities of bank reconciliation. Xero are plain smart. It will automatically match the transactions that are downloaded from one's bank to transactions he or she created in Xero to help lessen the reconciliation process (Arias, 2011: p.36).
It is generally considered as one of top accounting apps in Apple App Store. They target the mobile entrepreneur who is enabled to use their iPad for accounting purpose.
Wave is a cloud accounting system that is for free. Wave connects with one's bank such that one can categorize his or her transactions. It's a fairly simple system to use. The learning curve is quite low.
One can snap pictures of receipts and are uploaded into the receipts tab in Wave. Wave will then attempt to categorize and extract the key data needed.For a start up company Xero is recommended. This is because it can be downloaded easily using a smartphone. It also reported to learns on the go such that it attempt to predict your future transactions based on the past transactions (Arias, 2011: p.45).
The management team for Chain & Gear Limited is a diverse group that has strong skills in marketing and sales, finance and operations. Our primary criteria for hiring these executive positions are based on extraordinary past achievement.
Mr Chan brings 25 years of marketing and executive management expertise. Immediately prior to Chain & Gear Limited Mr Chan was CEO of ABC Corporation. He successfully reorganized the company, streamlining operations and improving profitability.
He has held different management positions Mr Ricky has MBA from the San Jose State University.
Jane Doeseski will join Chain & Gear Limited after ten years at EFG Software, Inc. She served recently as Senior Marketing Director and holds an MBA degree from Harvard University.
Jon Smyth will join Chain & Gear Limited as Vice President of Finance. He worked. He worked in CDE Widgets, for 12 years, holding many executive finance management positions. Mr Smyth has a strong financial background and experience at both start-up and large corporations. He graduated from Berkley University with a degree in Accounting.
The Financial PlanFinancial Needs Summary
           Investment funding needed for the capital expenses and operating expenses that are for the first year of operation.
Computer/Electronic Equipment £90,000
Office Furniture £16,000
Marketing Materials/Promotions £215,000
Office Lease for one year £60,000
Utilities £12,000
Inventory/Packaging Setup £35,000
Salaries/benefits £780,000
TOTAL Financing Needed: =SUM(ABOVE) £1,208,000.00
Revenue Model
           Chain & Gear Limited revenue will be raised through product upgrades, sales, and annual renewals of the support contracts. Future ways for revenue include product training workshops and a bi-monthly magazine.
In the first three months, financial statement is based on projections for sales for the first Phase. The second Phase will start in March of 2014; phase three in June of 2016 while the fourth phase will begin in September of 2014. The second assumption is that sales projected for year one are £1.2 million. Commissions on sales are figured on 75% of total sales (Assuming that 30% of the sold units will come from the sales in the website as well as other direct response sales). Commission rate is 12%. Financial Statements are in the Appendices of the business plan.
References
Arias, T. (2011). The cloud computing applications handbook: everything you need to know about cloud computing applications. S.l.: Emereo Pty Limited.
Petrie, K. (2008). Bicycles. Edina, Minn.: ABDO Pub..
Pinson, L. (2005). Anatomy of a business plan: a step-by-step guide to building a business and securing your company's future (6th ed.). Chicago, IL: Dearborn Trade Pub..
Velte, A. T., Velte, T. J., & Elsenpeter, R. C. (2010). Cloud computing a practical approach. New York: McGraw-Hill.
Weston, O. (2010). Bicycle accessories and repair supplies: bicycles, motorcycle accessories, motor accessories ([Nachdr. der Ausg.] Montreal ; Toronto ; Weston ; Winnipeg ; Vancouver, Canada Cycle and Motor Company Limited, 2010. ed.). Bremen: Europ. Hochsch.-Verl..
Young, P. (2008). Business plan. Chandni Chowk, Delhi: Global Media.