Change and the Management of Change
Published:
24 February 2016
Remember! This is just a sample.
You can get your custom paper by one of our expert writers.
Get custom essay
75 writers online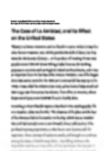 Change Management
Planning, Implementing, controlling, and reviewing the movement of an organization from its current state to a new one
Causes of Change
External
Incremental (Evolutionary)
•Occurs slowly over time (fuel-efficient cars)
Dramatic (Revolutionary)
•Can cause many problems especially if unexpected
•Might lead to total rethink of operation of organization oBusiness Process Re-Engineering
Business Process
Re-EngineeringFundamentally rethinking and redesigning the processes of a business to achieve a dramatic improvement in performance
Globalization-Increasing interdependence for countries' economies through free trade and multinational company investment
•New opportunities to sell products in other countries
•Increased competition from products made more cheaply in other countries-often by multinationals
•Use either pan-global marketing for localization strategies
•Achieve and try to maintain a competitive advantage
Technological Advances-Leading to new products and new processes
•Products: new computer games, iPods and iPhones, hybrid-powered cars.
•Processes: robots in production; computer assisted design (CAD) in design offices and computer systems for stock control.
•Staff retraining
•Purchase of new equipment
•Additions to product portfolio-Other products may be dropped
•Need for quicker product development which may require new organizational structures and teams
Macro-Economic Change-
Fiscal Policy, Interest Rates, Business Cycle•Changes in consumers' disposable incomes-and demand patterns that result from this
•Boom or recession conditions-need for extra capacity or rationalism
•Need for flexible production systems (staff flexibility) to cope with demand changes
•Explain need for extra capacity or need to rationalize
•Deal with staff cutbacks in way that encourages staff who remain to accept change Legal Changes
•Changes to what can be sold
•Working hours and conditions
•Staff training on company policy
•Flexible working hours and practices
Competitors' Actions
•New products
•Lower prices
•Higher promotional budgets•Encourage new ideas from staff
•Increase efficiency by staff accepting need to change production methods
•Ensure resources available to meet challenge
Environmental Factors
•Increase green consumerism
•Increasing concern about industry's contribution to climate change
•Social and environmental audits supported by strategic changes (recycle packaging)
Internal
Organizational Changes
•Delayering*
•Matrix structure** replaces hierarchicalº
•Retraining of less senior staff to accept more responsibility
•Job security
•Retraining staff in teamwork and project management
Relocation
•Moving operations to another region/country
•Redundancy schemes for workers who lose their jobs
•Grants for those willing to move
Cutting Costs To Improve Competitiveness
•Capital-intensive rather that labour-intensive methods
•Rationalisation of operations
•Retraining staff to operate advanced tech.
•Redundancy schemes for workers who lose their jobs
•Flexible employment contracts and working practices
*DelayeringRemoval of one or more of the levels of hierarchy from an organizational structure **Matrix StructureAn organizational structure that creates project teams that cut across traditional functional departments ° Level of Hierarchy
A stage of the organisational structure at which the personnel on it have equal status and authority
Factors Causing Resistance to Change
•Fear of Unknown (Uncertainty)
•Fear of Failure (Skills/Abilities beyond worker's capabilities)
•Losing Something of Value (Income, Status, Job Security)
•False Beliefs (Some convince themselves current system will work to avoid risks)
•Lack of Trust (Past experiences between workers and managers)
•Inertia (Might have to work harder)
Strategies to Reduce Impact of/Resistance to Change
Change Management
Force-Field AnalysisAn analytical process used to map the opposing forces within an environment (such as a business) where change is taking place
1.Outline proposal for change
2.List forces for and against change
3.Assign estimated score for each force
•Weighs importance of forces
•Helps identify who is most likely impacted by change
•How to strengthen forces supporting decision and reduce forces against it •Can implement leadership style that reduces opposition and resistance to change Project ChampionA person assigned to support and drive a project forward. Their role is to explain the benefits of change and assist and support the team putting change into practice
Project GroupsCreated by an organisation to address a problem that requires input from different specialists
Promote Change
1.Establish a sense of urgency.
2.Create an effective project team to lead the change.
3.Develop a vision and a strategy for change.
4.Communicate this change vision.
5.Empower people to take action.
6.Generate short-term gains from change that benefit as many people as possible.
7.Consolidate these gains and produce even more change.
8.Build change into the culture of the organisation so that it becomes a natural process.