The Personality of Luxury Fashion Brands
Published:
31 December 2015
Remember! This is just a sample.
You can get your custom paper by one of our expert writers.
Get custom essay
79 writers online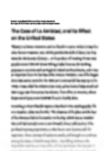 Charles and Keith is a multinational company that is fashion industry dealing with brand from Singapore. It offers both men's and women's fashion collections. Their products include ties, shoes, belts, wallets, sunglasses among others. The company is owned by Charles Wong and his brother Keith Wong. It was founded in 1996 in a place called Amara Shopping Centre in Singapore.
The purpose of this report is to highlight the progress made by Charles and Keith since the day it was founded and its future plans. The report includes analysis of the company, their customers' profile and the products offered. A comprehensive analysis has been carried out on customers demand using SWOT analysis method. It has revealed strengths such as strong brand name, uniqueness and affordability of the product, weaknesses, and opportunities available to Charles and Keith such as online market and threats. Further, porter's five forces have also been carried out. Other analysis carried out include STEEPLED and VIRO. It will also provide background information about the company.
Subsequently, the report will mention business strategies of Charles and Keith, its financial planning as well as its management considerations. At the end, the report contains conclusion and recommendations made after carrying out the analysis.
The future of the Charles and Keith looks bright. This is because our estimates highlights that new market will emerge in China whose economy has grown with over 10% in the last five years and Russia. Expenditure on fashion in the word is also expected to increase in the next one year Charles and Keith is a fashionable brand that deals with women's bags, belts, shoes and sunglasses. It was started in1996 by two brothers; Keith Wong and Charles Wong. The fist store was opened in Amara Shopping centre in Singapore. Charles and Keith is a multinational chain that has more than one hundred and seventy outlets all over the world. The company boast of getting awards like The Enterprise Award for Singapore Business Award in 2008 and Excellent Service Award in 2002.
At a tender age, the two brothers acquired the skills of running business from helping their parents in their shoe store in a place called Ang Mo Kio. Charles opened a shoe store in Amara at the age of twenty two and two years later his brother Keith joined him in 1998. Keith was in charge of designing shoes while brother dealt with sales. To enable them deal with competition, they started buying their stock from China instead of Singapore. They proceeded to open twelve more outlets in major suburban malls and shopping centres in Singapore. It was not until 2000, that they began opening outlets overseas.
Product of Charles and Keith appealed to both local and international customers due to their low prices and uniqueness because they have an in house design. Charles and Keith became a brand for selling women's and men's collection in 2007. Their products increased to include bags, ties, wallets, sunglasses and belts for both men and women.
Charles and Keith aims to increase their stores from current 170 to 500 in the next five years. In order to cater for changing taste and preferences of customers, they formed a team of seventy designers. These designers are led by Keith and they come up with new designs and trends every month. Charles and Keith have established themselves as the most preferred brand in fashion industry.
Industry Business Description
           Charles and Keith is in fashion industry. In 2010, the industry was worth over $ 2, 560 trillions. In US alone, over $ 20 billion are spent on fashion every year and it generates revenue of $ 250 billion annually. Men wear is expected to exceed $ 402 billion in 2015 while women wear is expected to exceed $ 621 billion by the same year. Fashion industry continues to grow and new market continues t emerge. An example is China. The economy of China grew by more than 10% in the last five years; this has led to Chinese citizen become interested in luxury goods as symbol of status. This presents a wide market for companies like Charles and Keith.
Charles and Keith produce fashion accessories and footwear. It serves a retain market sector and its three brand names are Charles and Keith, Charles and Keith signature label and Pedro Group Pte Ltd. Two of its products are not sold through wholesale or distribution. Franchisees are used to sell Charles and Keith and Charles and Keith signature label as sales operators all over the world where they have outlets.
Their products are stilettos, exotic pumps, fashionable bags, sunglasses, heels and wallets. The organization of the company is democratic and they have a culture of taking the opinion of all stakeholders on board whenever they make decision. The future plans of Charles and Keith is to expand networks and increase the number of outlets from the current 170 to 500 in five years time.
Conclusion
           From the analysis above, it is clear that the company has a strong name. This gives the company the strength to charge very high prices because their clients put additional value on brand name. The statement "Charles and Keith" has a very positive effect on the success of the company. SWOT analysis shows that Charles and Keith reap high profits because of having cost advantage.
It is observed from the analysis that Charles and Keith has strong management. This helps it unleash its potential and utilize it strength while at the same time eliminating weaknesses. The product of Charles and Keith are unique and as such they are easily distinguished from their competitors. This makes it possible for the company to charge high prices because their products are differentiated.
It is also observed that Charles and Keith lack a scale. This causes the company to have high cost per unit of output. This ends up having a long lasting impact on the company which reduces the value of the company. Lack of scale makes the company have low profit than it should. Five porter's forces have revealed that the suppliers are less powerful because the company requires a large number of inputs from different suppliers.
It is further discovered that their customers are very powerful they decide the future of the company. Though their products are cherished by many people, the customers' switching cost is very low which increases their power. Further, Charles and Keith are not threatened by new entrants into the industry because they have unique products and their customers are loyal to them.
Charles and Keith has a good business strategy that helps them penetrate the highly competitive industry. Their strategy involves marching ideal employees to the right job. This gives them an opportunity to realize full potential and to be innovative. It makes them to be highly organized. Their human resources management is competent and hires people from different backgrounds, skills set, ideas and nationality. This makes them have strong job responsibility and serve their customers better.
They also have a strong combination of design and affordability. This means that even in the period of recession the company will continue making huge sales. It has helped the company a great deal by employing multiple strategies in carrying out business. They signed regional distributors and gave franchises licenses. They also signed manufacturing firms. It has young and passionate employees in the teams. Their creativity, passion and their learning spirits make the brand strong.
The companies motivating factor is said to be new business goals that bring change. The company has social responsibility which encourages their staff to have ethical behaviors. The company is backed by DBS, a large bank in Singapore, which give gives the finances to expand their operations. They have an effective finance teams that give them advice on how to carry out their operations in most productive and profitable ways. The management of Charles and Keith has been seen to be democratic. They take views of everyone whenever they are making decisions. When they are developing business, they identify new segments and markets and come up with good strategies to enter while positioning and strengthening their brand.
Recommendations
           Charles and Keith should take full advantage of online markets. They can expand and increase their business at very little expenses. This would bring a positive impact on the company in the long run. It would increase their value and give them a competitive edge over their competitors because online market is defendable easily. The company should continue to support innovation because taste and preferences of their customers keep on changing at a faster rate than the rate at which they bring new products in the market. Innovation and new product would increase their customer base and at the same time increase their business. This brings short term as well as long run positive impact into the company.
With only 170 outlets in the world, Charles and Keith are missing out on large market in the world. They should increase their operations in the international market. This will not only increase revenue but also give them a competitive advantage. This is because once they enter a certain international market before their competitors. They will dominate it and build customer loyalty. They can also use revenue generated in some of their outlets overseas to drive out competitors elsewhere where competition is stiff.
They should also consider transferring their factories to areas where cost of production is low. This can be in terms of cheap labor or cheap raw materials. This will increase their profits and be able to lower prices in order to fight competition. Since they only deal with franchises and distributors, they should form partnerships with other companies. This will create synergy which benefits them. This would also make them enjoy other benefits that they could not have achieved on their own.
The company is facing stiff completion in the industry. I therefore recommend they start acquiring their competitors especially the ones that are in deep financial crises. They can also deal with competition by merging with other companies. Through this Charles and Keith will make huge profits because they will change from being price taker to price setter. Introduction of scales will make the company. The management of Charles and Keith has failed in addressing the issues of availability of threats. This makes the company unable to increase prices because customers will switch to their close substitutes. This is a real threat that if not addressed could bring short term and long term negative effects. This threat can be overcome through aggressive marketing strategies, differentiating products and building strong customer loyalty.
Charles and Keith should have a scale that measures the cost per unit of output. This will enable them to increase the volume of production while at the same time reducing cost. Introducing scale means that the company will start realizing short term positive impacts through value addition otherwise the company will continue operating without maximizing on their resources ad making low profit. The company should increase their advertisement campaign and capitalize on their brand name as we have seen through the above analysis that it is their major strength. Currently the company has three brand names,, it should come up with other brands to tap on other unexploited sectors. This will help them diversify their operations and increase revenue. They should also put their strength in getting new customers since current customers are loyal to their product.
References
Carrara, G. (2009). Exhibition Review: 4 Lines—A Fashion Exhibition + Installation—Diverse Takes On Fashion. Fashion Theory: The Journal of Dress, Body & Culture, 13(3), 379-386.
González, A. M. (2010). On fashion and fashion discourses. Critical Studies in Fashion and Beauty, 1(1), 65-85.
Kim, J. E., Kim, H. S., Choi, H. S., & Lee, K. M. (2013). Fashion Market Analysis and Consumer Research for Expansion of Korean Wave Fashion into the Singapore Market. Fashion & Textile Research Journal, 15(5), 797-807.
Melchior, M. R. (2010). "Doing" Danish Fashion: On National Identity and Design Practices of a Small Danish Fashion Company. Fashion Practice The Journal of Design Creative Process & the Fashion Industr, 2(1), 13-40.
Wu, J. (2009). Internationalizing and Industrializing Fashion: Shanghai International Fashion Culture Festival (SIFCF) Review. Fashion Practice The Journal of Design Creative Process & the Fashion Industr, 1(2), 259-266.
CHARLES & KEITH Online Store. (n.d.). CHARLES & KEITH Online Store. Retrieved February 26, 2014, from http://www.charleskeith.com/SGStore/CK/home
Charles & Keith | Flats | Covered – Ballerina – For Sale Philippines- 13230033. (n.d.). Charles & Keith | Flats | Covered – Ballerina – For Sale Philippines- 13230033. Retrieved February 26, 2014, from http://www.sulit.com.ph/index.php/view+classifieds/id/13230033/Charles+%26+Keith+%7C+Flats+%7C+Covered+-+Ballerina
Heine, K. (2010). The Personality of Luxury Fashion Brands. Journal of Global Fashion Marketing , 1(3), 154-163.
Ross, J., & Harradine, R. (2011). Fashion value brands: the relationship between identity and image. Journal of Fashion Marketing and Management, 15(3), 306-325.
Surchi, M. (2011). The temporary store: a new marketing tool for fashion brands. Journal of Fashion Marketing and Management, 15(2), 257-270.