Checkpoint – Business Organization
Published:
23 February 2016
Remember! This is just a sample.
You can get your custom paper by one of our expert writers.
Get custom essay
77 writers online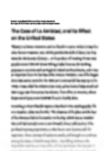 July 22, 1975, Bill Gates writes a letter to Paul Allen using the name, "Micro-soft" referring the their 60/40 partnership. Their main product is BASIC. Gates and Allen worked day and night to create the first version of Microsoft Basic, a simple computer software. They realize that the future of personal computers is in the software. The Computer Mart opens on Madison Avenue in New York. Zilog Z-80 chip is introduced. They have 3 employees including themselves and the revenue is $16,000. July 1, 1976, Microsoft refines and enhances BASIC to sell to other customers including DTC, General Electric, NCR, and Citibank. Microsoft develops its first ad campaign called, "The legend of Micro-Kid." The partnership is moving right along and gates announces that he would like nothing more than to hire 10 programmers and fill the hobby market with good software. February 3, 1977,A partnership agreement between Paul Allen and Bill Gates is officially executed. Their main product is still BASIC. In November of 1977 the company is free to market BASIC to others. Within months, Microsoft licenses BASIC for the Commodore PET and TRS-80 computers, and begins negotiating with other companies. BASIC product. Bill Gates and Paul Allen shared the title of general partner until 1977, when Bill Gates became president and Paul Allen vice president of Microsoft Corp. January 1, Microsoft moves its offices to Bellevue, Washington from Albuquerque, New Mexico. After moving to Bellevue, Microsoft continues to grow in employees, sales, and vision. Microsoft has a BASIC compiler for virtually every microcomputer on the market. However, the company recognizes that languages are only a part of the picture, which is why Microsoft makes its first foray into the mass-market possibilities of personal computers by forming the Consumer Products Division, created to develop and market retail products and to provide support for individual users. Microsoft expands its market to the European market with the addition of Vector Microsoft. Vector International signs on to represent Microsoft in the European market. Microsoft begins extending its network worldwide to computer manufacturers; they begin using Microsoft hardware and software for 2 the computers they produce.
Microsoft has already established contracts with ICL, Phillips, R2E, and several other OEMs. The arrival of the 16-bit IBM personal computer in 1981 set in motion the new era of computing, the personal computer. Within a few years, the industry would come together around two primary operating systems: Microsoft MS-DOS and the Apple Macintosh. On June 25, 1981 Microsoft reorganizes into a privately held corporation with Bill Gates as President and Chairman of the Board, and Paul Allen as Executive Vice President. Microsoft becomes Microsoft, Inc., an incorporated business in the State of Washington. On June 25, 1982, James Towne, 39, was appointed president and chief operating officer of Microsoft (July 6 1982 — June 20 1983). In July, Towne took over all operating responsibilities from Bill Gates. Previously, Towne had been vice president and general manager of the instrument division at Tektronix Inc. ebruary 18, 1983 Paul Allen resigns as Microsoft's Executive Vice President, but remains on the Board of Directors. June 20, 1983. James Towne resignes as COO August 1, 1983 Microsoft announces that Jon Shirley, 45, has joined Microsoft as President and Chief Operating Officer and will be on the board from August 1, to June 30,. He is replacing James Towne. Shirley was previously with the Tandy Corporation. In August 1983, Jon Shirley, 45, joined Microsoft as president, chief operating officer, and director. During all these changes Microsoft unveils windows an operating platform that we are all familiar with and use to this day. August 12, Microsoft celebrates its 10th anniversary with sales figures for the fiscal year of 1985 of $140 million. The company has 900 employees and a diverse product line including industry standards like operating systems, languages, business software, hardware, and computer "how-to" books. September 3, Microsoft announcesv that it has selected the Republic of Ireland as the site of its first production facility outside the U.S. The Ireland facility, located at Sandyford, County Dublin, will be a Duplication and Distribution Center for Microsoft software products to be sold in the European market.
On March 13,1986,motivated by a desire to provide value to an increasing number of employee shareholders, Microsoft stock goes public at $21.00 per share, rising to $28.00 per share by the end of the first trading day. Initial public offering raises $61 million. December31, Microsoft announces that, at the end of 1986, Microsoft employees' number 1,442. 1,162 are employed domestically, and 280 are employed internationally.