Chick-Fil-a
Remember! This is just a sample.
You can get your custom paper by one of our expert writers.
Get custom essay
99 writers online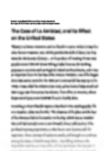 Truett Cathy once said, "No goal is too high if we climb with care and confidence." Consumers have seen this idea in action with Cathy's entrepreneurial venture of opening Chick-fil-A. Now one of the highest-profiting fast food restaurants in America, Chick-fil-A started out as merely a family-owned restaurant in a shopping mall. Truett Cathy's ambition and hard work turned his business into a gigantic success and a household name.
Mr. Cathy and his brother, Ben Cathy, opened a diner in Hapeville, Georgia known as the Dwarf Grill in 1946. The restaurant prospered over the years and eventually led to the opening of the first Chick-fil-A in 1967. Truett was credited with the invention of Chick-fil-A's boneless chicken breast sandwich, which is one of the things that the restaurant is commonly known for. The first restaurant was located in Atlanta's Greenbriar Shopping Center. This production began the establishment of restaurants in shopping malls. There are now over 1,700 locations of Chick-fil-A in thirty-nine states and Washington, D.C. In the last forty-five years of operation, Chick-fil-A has grown to be the second largest fast food chicken restaurant chain in the United States. No other fast food chain's customer service compares to Chick-fil-A's, which is a major factor in their success. The employees always reply to guest's gratitude with, "It's my pleasure." Chick-fil-A's staff is trained to be very mannerly and customers appreciate their courteousness.
The restaurant is also known for being closed on Sundays, which sets them apart from most businesses in the industry. Truett Cathy is a religious man, and although religious beliefs are not something that mixes well in business, it worked for Mr. Cathy. Even though the consumers may have different views and beliefs than Truett, the fact that his faith in something is so strong and he is not afraid to stand for what he firmly believes in gains respect for Mr. Cathy from the guests. Truett Cathy's values play a part in allowing his business to stand apart from others of its kind, which draws in many loyal customers. The United States' economy has struggled recently since the recession that came about in approximately 2007. While most companies were closing or downsizing, Chick-fil-A was economically thriving. The restaurant's system-wide sales in 2012 reached $4.6 billion, which was a fourteen percent increase from the sales in 2011. In 2009, it was written in the Atlanta Journal-Constitution that Chick-fil-A had plans of going global by opening restaurants overseas projected "within the next ten years."
There are many variations of Chick-fil-A, which also help generate sales: more than 300 Chick-fil-A's are being operated in shopping malls, thirty-three drive-thru-only restaurants exist throughout the United States, eleven Chick-fil-A Dwarf Houses (the original full-service restaurant) are in operation in the Atlanta metro area, three Truett's Grill restaurants in Georgia, around 237 licensed, non-traditional stores are in operation (college campuses, airports, etc.), and there are six satellite/"lunch counter" locations in places, such as offices. Chick-fil-A has made additions to their menu over the years to target a larger consumer base, instead of just the fried chicken eaters. Healthy options, such as Cobb Salad, Grilled Market Salad, and Asian Salad, were added to the entrée options. There are also low-calorie chicken wraps on the menu as well. The salads have between 180 and 430 calories, and the cool wrap has 330 calories. Since consumers are becoming more health-conscious, the restaurant conformed to its customers' needs in order to maintain a competitive edge. Truett Cathy has a soft spot in his heart for the youth in America, so Chick-fil-A has various ways to give back to them. There is a scholarship sponsored by Chick-fil-A called the Team Member College Scholarship. The foundation provides $1.6 million each year to cover college expenses at the school of their choice. In addition, $1.44 billion was donated over three years by Chick-fil-A to support disadvantaged youth in the Atlanta area.
The Chick-fil-A Bowl also supports higher education. It has raised over $13 million in the last ten years that went towards scholarships, foster care through WinShape homes, Lighthouse for the Blind, and academic coaches through Play It Smart. Chick-fil-A has so many loyal customers that keep them in business, so giving back to the community is a way to show gratitude. Chick-fil-A has a very successful advertising campaign that has been popular since 1995. The campaign started with a cow on a billboard painting the words, "EAT MOR CHIKIN." These cows have been spotted on television, radio, internet, and even Atlanta Braves' games. Calendars have also been made starring the cows since 1998. The phrase, "EAT MOR CHIKIN" was so catchy easy to associate with Chick-fil-A. Advertisements are very important in the business industry because they keep the public aware of a business's existence. Sometimes when television commercials come on, especially restaurant related, people receive a craving for the place they just saw.
This effect may be spontaneous, but nevertheless brings in customers. Chick-fil-A also hosts Cow Appreciation Day, which is a day when people who go to the restaurant dressed as a cow from head-to-toe are awarded with a free meal. This, the various coupons they give away at local events, and even the "free chicken sandwich" vouchers that print out on some receipts are all great incentives to bring people into Chick-fil-A. Chick-fil-A is one of the most successful restaurants ever opened in the United States. Multiple steps must be taken to accomplish a goal that is so high. Truett Cathy built his business upon five principles: 1. "Climb with Care and Confidence"
2. "Create a 'Loyalty Effect'"
3. "Never Lose a Customer"
4. "Put Principles and People Ahead of Profits"
5. "Closed on Sunday"
Even though the restaurant is closed on Sundays, it still generates more sales in the six days a week it is open than most restaurants do in seven days.
Truett Cathy possesses many morals and values, family being the highest one, after his faith. Chick-fil-A is a family business and will continue to be ran by family members and spouses of the Cathy family. So far, two generations have kept the business operating, and there is a third generation in training to take over. The third generation includes 12 grandchildren and seven spouses so far. Cathy's grandson, James Cathy, and his granddaughter's husband, Brent Fielder are going to be new additions to the company in the next few years. James told Family Business Radio that the third generation's plan for the business would be to "pay special attention to building unity and developing structures that set up
expectations and leave no one behind." The Cathy family continues to build unity by attending annual family gatherings in Florida where business talk is forbidden. It is a time for family members to bond, reconnect, and share memories. Even though there are no Chick-fil-A discussions on these trips, the relationships between family members grow stronger and create unity within the business since most of the family works for the Chick-fil-A company.
What started as a small family business in Georgia ran by two brothers has matured into a large restaurant chain bringing in multiple billions of dollars. Chick-fil-A overcame a time of economic distress and it continues to prosper. It seems that Truett Cathy had his priorities in perfect order when it came to running his business. The people always come first, customers and employees. If you have a good team of people working for you that are trustworthy and share similar values, you will be successful.