CIPD Notes
Remember! This is just a sample.
You can get your custom paper by one of our expert writers.
Get custom essay
103 writers online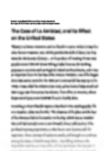 Terms of Reference
To investigate how an HR practitioner within East Surrey College (ESC) should ensure that they deliver timely and effective HR services to meet user's needs. The report was requested by Charles Sleet, HR Director, on 11/11/2013 to be presented on 14/01/2014.
Procedure
1. Understanding different customer needs in HR.
2. Communicating effectively in HR.
3. Building and maintaining effective service in HR.
1. Two HR colleagues were interviewed in order to determine who the 3 main customers of the HR department were. Furthermore, requests and enquiries that came through to HR were recorded via the same HR colleagues to identify the main needs of the customers during a period of three weeks from 13th November to 4th December. The way in which these needs are prioritised was recorded.
2. A questionnaire was issued to 20 members of staff to discover the most effective communication method. Staff members were chosen through random sampling.
3. An interview was held with the HR Business Partner to gain insight into the main areas of effective service delivery and how it is constructed.
Findings
1. Understanding Customers needs
After interviews with the two HR Practitioners, the three main customers of the HR Department were identified as follows:
Type of customer
Key needs
Candidates for interview
Gaining information on the outcome of their interview
A swift pre-employment check process, ensuring a quick start into a new job Heads of Department (HoD)
Absence levels of employees
Monitoring online training completion
Employees
Requesting a copy of their own CPD log – these are updated and kept on HR records Enquiring about upcoming training events
The HR practitioners highlighted that the needs of different customers may conflict. An example could be a HoD enquiring about the completion of a member of staffs online training courses conflicting with an enquiry coming in at the same time of a staff member urgently trying to find out when the next 'Teaching and Learning' forum is due to take place.
Maximum service delivery has to be initiated with regards to these needs – therefore the HR practitioners advised on the ways these needs are prioritised. These prioritise are;
Timescales – some requests may have longer timescales than others. These timescales therefore contribute to the importance of the arisen needs.
Consequence and risk to the company – discovering the consequences and risks to the company helps prioritise incoming needs and enquiries. For example, it would be seen as more important to provide a HoD with an absence level report for their department than it would to advise a member of staff on their current CPD record.
2. Methods of communication
After analysing feedback from the completed questionnaires, highlighted below are 3 methods of communication appropriate to employees at ESC at different levels:
Communication method
Advantages
Disadvantages
Face-to-face
Immediate feedback
Gives a personal touch, body language can be read
Can use facial expressions to enhance communication
Can be lengthy if certain attendees are unavailable to meet
No chance to go away and think about an answer
No privacy as someone could overhear
Email
Can take time over response
Large amounts of information can be sent e.g. attachments
Able to pass on information without interrupting someone
Lack of body language and tone
Impersonal
Emails can be misinterpreted
Phone
Immediate interaction with someone far away
More personal than an email
Ability to transfer calls across locations/conference calls
Can be disrupted by hindrance of poor signal
Lots of details over the phone can be hard to record
3. The key components of effective HR Service Delivery
Delivering service on time – SLAs need to be SMART, in particular they should be realistic and achievable. For example, in the HR Department at ESC HR practitioners aim employ a new member of staff in, at most, 4 weeks from the date they were verbally offered the role. This is important as it earns the department respect and often means customers will look to reply in the same, efficient way.
Delivering service on budget – It is important to ensure that you keep within budget but still deliver a high level of service as going over budget can incur costs financially. Costs that need rectifying mean that other areas would then be restricted to an even lower budget.
Dealing with difficult customers – Identify the problem, stay calm, and understand how it can be resolved.
Handing and resolving complaints –
With the secure SLA in place, the query should be met in a timely way to elude complaints. Any complaints that do arise should be dealt with in an equally timely and professional way . Keeping customers in the loop with updates on progress is key.
Conclusions
1. ESC use all 3 methods identified (phone, email, face-to-face) to communicate to employees at all levels, making sure the correct method is used
2. Consequences and timescales were key as methods used to prioritise conflicting needs in the workplace.
3. the HR Business Partner delivers and expresses a high level of service that fits with the four outlined objectives.