Cirque du soleil
Remember! This is just a sample.
You can get your custom paper by one of our expert writers.
Get custom essay
75 writers online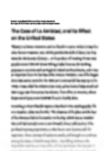 1. Based on what you read in the case, outline a rudimentary SWOT analysis for Cirque Du Soleil.
A: Strengths: Every show in 20 years has produced a profit, encourages creativity, niche, financially strong, well known, great marketing, technology, database of 20,000 potential employees, shows have a long run (10 to 12 years), talent scouts recruit from all over the world, creative, leadership. Creative production staff. Great locations. Excellent leadership.
B: Weaknesses: High turnover (people get older, can no longer perform), High production costs equals high ticket prices
C: Opportunities: New World tours and new permanent facilities in prime locations,
D: Threats: Competition, someone could create a show very similar. Partners may want to buy out.
2. Explain how Cirque du Soleil implements, evaluates, and controls the elements of its marketing plan. Implements: Cirque du Soleil builds the market share and the profits follow. Cirque du Soleil has a great deal invested in training, talent, staff etc. Targets adults, lets creative people run it, Lamarre states he guides the company with an invisible hand making sure business policies do not interfere with the creative process. It is Dragone and his team of creative and production personnel not a predetermined budget that defines the content, style and material requirement for each project. Evaluates and controls: Every show makes a profit
3. List and describe at least three keys to Cirque Du Soleil's competitive advantage.
1. It provides a product/service differentiation competitive advantage. Through production innovations, shows evoke awe, wonder, inspiration and reflection.
2. A niche competitive advantage. It's unique, productions have distinct personalities, and shows have a language, a conversation with the audience.
3. Built a sustainable competitive advantage, example Mystere costs $45 million to produce and returned over $430 million